Chandler Helicopter Lift Services

Get a free price estimate for your helicopter service today!
Call FairLifts at 1-800-318-8940 now!
Professional Chandler Helicopter Lift Solutions
FairLifts delivers access to a fully comprehensive range of professional helicopter lift services in and around the Chandler, Arizona area. As a result of our alignment with an extensive range of global operators, FairLifts will not only secure reservations, they can additionally coordinate helicopter applications throughout your project, from start to finish.
Agents source the most appropriate applications, helicopter aircraft, and service providers to make certain your project is facilitated to an effective and successful completion. They can also provide information about all of the amazing professional services we can organize helicopter solutions for including logistical transport of executives or work crews, precision placements and external lift operations plus so much more. Let FairLifts help your business or corporation to secure professional helicopter applications or lift solutions in Arizona today.
Heavy lift helicopters can be dispatched seven days a week!
Call FairLifts at 1-800-318-8940 now!
Chandler progressive helicopter lift solutions offer a range of benefits to Arizona businesses
The city of Chandler is a blend of modern era progressiveness and hometown traditions looking to attract new industries each and every day. The city boasts a healthy infrastructure with a number of utilities and roadways being made available to support economic development and entice people to either relocate to or visit the small community situated just southeast of Phoenix.
Recently, the city underwent redevelopment in efforts to create a more fun and inviting vibe. They re-paved streets and established new and improved marketplaces for small businesses like restaurants and civic centers. It's only safe to assume that as the city continues to reinvent itself, the need for helicopters will become more apparent. Helicopters are used widely throughout the construction and development and real estate industries. Fairlifts is dedicated to delivering expert helicopter lift and practical solutions to the business community in Chandler and the residents alike.
Experts are standing by to get you a fast quote for your sling load job!
Call FairLifts at 1-800-318-8940 now!
How FairLifts helicopter lift solutions can help you
Helicopter lifts, long line, and external load solutions are used across a number of industries. Read on to see our beneficial solutions to help you on your next project.
Construction Helicopter Assistance
Helicopters are used to advantage in preparation of, removal or rehabilitation of sites dedicated for construction development. They can be used to erect tower cranes after transporting the pieces needed to build them, they can convey heavy loads and pipeline, concrete and wood and various other materials to locations or move and transport machinery between sites.
From the transport of materials, like wood, steel, concrete or pieced transport as in the transport of bricks, helicopter lifts have been instrumental in making things happen more effortlessly and timely. Heavy lift applications make use of cargo hooks and suspension cables to move objects, even transport vehicles to various locations, near, and far.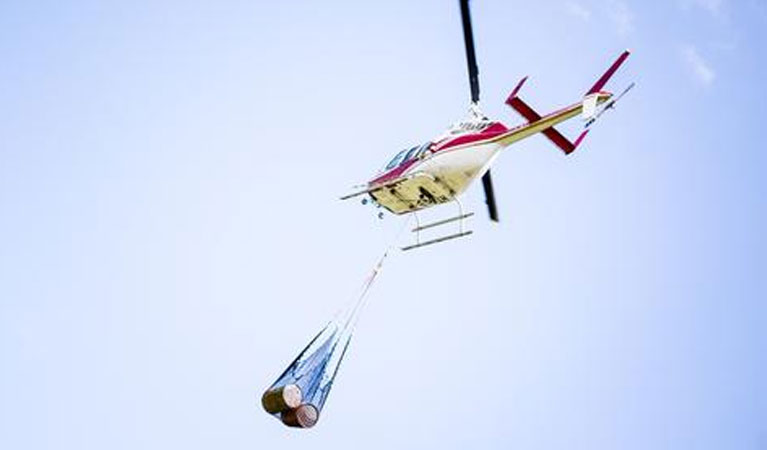 Freight and air cargo solutions
Helicopter delivery of time-sensitive cargo or oversized air cargo is often the fastest way to get something where it needs to be when time is of the essence. Marine transport takes days, even weeks> Some planes cannot deliver items quickly to areas that are not easily accessible and then other types of transport are put into to play, costing more time and ultimately more money. When you need rapid P2P transport, book helicopter cargo charters.
When there's no time for delays, turn to helicopter solutions to deliver much-needed supplies following accidents or natural disasters, rapid response during firefighting efforts, rendering aid to accident sites and delivery of critical care staff to staging sites or scenes of accidents. Helicopters can additionally transport critical care, medically fragile and injured parties to hospitals, treatment centers and between facilities.
FairLifts: Complete Helicopter Services for Chandler, Arizona
As well as these surrounding cities and beyond!
Gilbert, AZ - Mesa, AZ - Tempe, AZ - Scottsdale, AZ - Paradise Valley, AZ - Phoenix, AZ - Apache Junction, AZ - Fountain Hills, AZ - Glendale, AZ - Coolidge, AZ - Peoria, AZ - Casa Grande, AZ - Avondale, AZ - Goodyear, AZ - Sun City, AZ
Reach out to FairLifts for complete helicopter solutions
If you are ready to start the reservation process or just need some more information specific to a particular service, reach out and contact FairLifts through our customer support. Call 1-800-318-8940 today!
Call FairLifts at 1-800-318-8940 now!