Des Moines Helicopter Lift Services

The #1 Choice in Iowa: Des Moines Helicopter Lift Solutions
Call FairLifts at 1-800-318-8940 now!
Expertly Facilitated Helicopter Lift Solutions in Des Moines
When time becomes a factor, take transportation into your own hands. With the services offered exclusively by FairLifts' affiliate operators across Des Moines, you're all but guaranteed an a professional solution to your construction or  cargo transport dilemma. It's the secure, expedient solution you can trust, and prices to travel by air have never been more affordable. Take advantage of a temperature-controlled cabin, serviced by some of the industry's finest experts, for transportation to and from locations of your choice in Des Moines.
Now, you can book services on demand without a compromising price tag. Precision helicopter services are both competitively priced and convenient, the true definition of FairLifts - quality hospitality. Cutting edge, state-of-the-art technology can make short work of any of your transportation needs, no matter how urgent, inconvenient or extensive they may be.
If you're in need of a helicopter lift immediately...
Call FairLifts at 1-800-318-8940 now!
Des Moines Communities Make Use of Helicopter Options
Few locations prove better suited for flying than Des Moines, a location gifted with long periods of optimal flight conditions during the height of flight season. Home to must-see attractions like Blank Park Zoo and Living History Farms, Des Moines proves a better sight from above. And gifted a continental climate, the region offers an ideal setting to pair with local topography.
You're allowed the rare chance to soar high over the capital of Iowa, taking in the historic landmarks, identifiable natural structures, and more for yourself! From local farmers' markets to frequent live entertainment, Des Moines is a dream of a destination, a true vacation that flies entirely under the radar. Now, you're given the chance to effectively pursue everything that the city offers while engaged in helicopter applications for your business or industry.
Experts are standing by to get you a fast quote for your sling load job!
Call FairLifts at 1-800-318-8940 now!
Widespread benefits through a dedicated partner network
FairLifts partners with proven, local aerial affiliates, who can deliver world-class lift and executive charter services. The entire endeavor proves a professional experience, entirely worth the investment. And with so many benefits that are yours the second you make the decision to book a FairLifts affiliated helicopter solution, you have more reasons than ever to start saving both time and money in Des Moines.
Other Solutions in Des Moines and Iowa...
For any job, trust a construction helicopter to make even the toughest job a simple one. Whether you're erecting a building, tearing down an old project in preparation for a new one, or optimizing any construction project, a helicopter transforms a tedious undertaking into an opportunity for a simple, straightforward progress.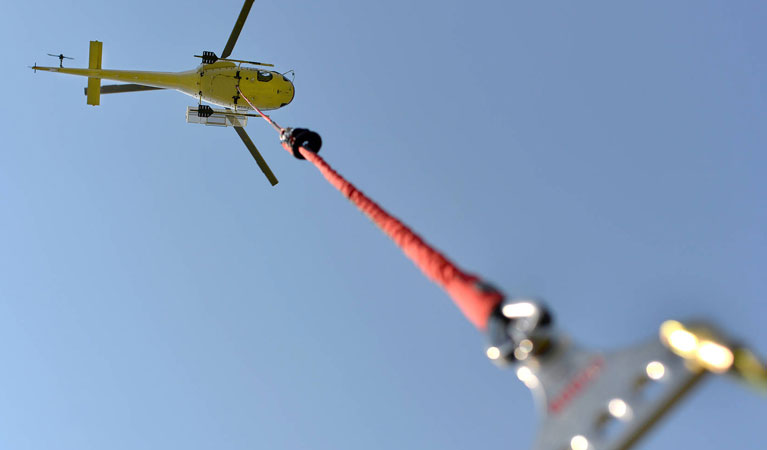 For times when your cargo proves particularly sizable, a helicopter solution is the answer. Trust a heavy lift helicopter, to make short work of your heavy payload. No matter the size or shape of the item, a heavy lift helicopter solves the problem in a fraction of the time.
Freight/Cargo Helicopters
An expansive affiliated helicopter fleet includes helicopters that are already optimized for all of your freight and cargo needs. These helicopters can do more than transport your cargo and freight from one destination to another: they can do so in an affordable fashion, in an expedient manner, often to difficult-to-reach locations.
Emergency Helicopter Lifts
When time is a factor, an emergency lift helicopter can capitalize on every second. Emergency response helicopters can facilitate emergency procedures and can also help make this year's agricultural output a productive one. Address the urgency of your needs in a timely, efficient manner, with a FairLifts reserved emergency or agricultural helicopter.
We Provide Complete Helicopter Solutions Des Moines, Iowa
We also serve numerous areas around Des Moines, Iowa:
Ankeny, IA - Pella, IA - Urbandale, IA - Indianola, IA - Grinnell, IA - Clive, IA - Newton, IA - Marshalltown, IA - Johnston, IA - Ames, IA - Oskaloosa, IA - Altoona, IA - Boone, IA - Fort Dodge, IA
Connect with The Professionals at FairLifts Today
Make the easy decision to book helicopter lift services in Des Moines today, from a dedicated customer service agent who can answer all questions. Call now to put executive charters and helicopter lift operations to work for you. Once you fill out the contact form, you can expect a response within 24 hours!
Call FairLifts at 1-800-318-8940 now!