Helicopter Sling Load Operations

learn more about helicopter sling load capabilities
Call FairLifts at 1-800-318-8940 now!
Transport cargo faster with Helicopter Sling Load Operations
Helicopter sling loads, external loads, and long line lift capabilities are fast, safe, reliable and effective means of conveying heavy loads to a specific destination. Helicopter sling load operations may become necessary when air freight cargo needs to be transported to remote destinations. These methods are also commonly used to traverse difficult terrain, or in situations where the cargo needs to be delivered to higher elevations.
In order to execute helicopter sling load operations, the helicopters are equipped with cargo hooks to secure loads to the aircraft. Helicopter sling load missions are conducted by experienced long-line pilots and crew.
If you need a sling load helicopter quote fast...
Call FairLifts at 1-800-318-8940 now!
Aircraft used in helicopter sling load operations
The type of helicopter for each mission is selected based upon a few factors, but are generally selected because they have a powerful turbine engine and the maximum cargo hook capability to carry thousands of pounds. The United States Army has used aircraft like the Boeing CH-47 Chinook and the Sikorsky UH-60 Blackhawk due to the ability of their cargo hook to securely move thousands of pounds of cargo. In the civilian sector, a number of aircraft have been used, like the Eurocopter AS350 or the Bell 206 Jet Ranger.
Providers deliver access to a range of slings to securely convey objects. The slings are selected based upon size and type of load, the intended purpose of the transport and the conditions over which it will be transported environmentally and otherwise.
Industries who utilize Helicopter Sling Loads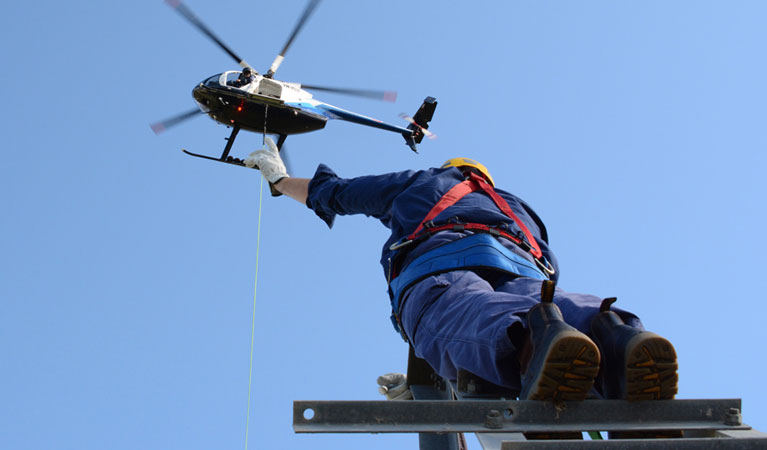 The ability to move materials or equipment to and away from locations, or even simply to re position them at the work site is integral to operations being conducted effectively and is therefore important across a number of fields. Industries and sectors that most commonly utilize helicopter sling load lift capabilities are:
Construction and Development

Mining and Mineral Industries

Geological Exploration

Energy Resources, Oil, and Gas

Communications
---
Emergency Medical Services

Disaster Relief and Response

Government

The Marine Industry

Manufacturing
Schedule a Helicopter Sling Load Service
Call FairLifts at 1-800-318-8940 now!