Aerial Pipeline Inspections
Helicopters Make Regular Inspections a Breeze

We provide fast, free quotes
Call FairLifts at 1-800-318-8940 now!

Pipeline infrastructure is extraordinarily important in the day to day functions of our country. Currently, there are more than 2.4 million miles of pipelines. These are highways that enable our fuel and energy consumption. As energy demand is on the rise, there's a focus on strict pipeline regulations, with a spotlight on pipeline inspections that ensures that leaks and failures do not occur. These programs combine structural condition assessment with the regular verification of containment surveys to further reduce the risk of catastrophic failure.
However, these assessment efforts require man-hours, with pipeline inspection being a highly labor-intensive process. Inspections include the accurate review, identification, and mitigation of anomalies. With the use of FairLifts helicopters, we can help with various aspects of the inspection process.
FairLifts makes pipeline inspections easy!
Call FairLifts at 1-800-318-8940 now!
Helicopters for Pipeline Inspections
Airborne sensors will detect chemical plumes from the pipeline at a distance. Onboard GPS and mapping software record location and the intensity of the plume, providing real-time evaluation of the potential dangers or lethality of the situation. Helicopters, in particular, are useful for these assessments. They are significantly more agile and versatile when deployed. Unlike airplanes and other aircraft, helicopters can hover and do not need large airspace to conduct maneuvers, including turns and shifts in their flight patterns.
Our helicopters can be retrofitted to sample the air as it moves through a plume or senses a plume at standoff distance using thermal imaging or laser spectrometry. These sensors measure gases in the air. However, it requires the experience of a FairLifts operator who can command the systems and safely fly within the proximity of a plume to successfully detect it.

These sensors benefit from low altitude and speeds — which is a feature that is inherent to the helicopter as a survey tool. Airplanes can only carry standoff sensors as their flight altitudes are not ideal for accurate sampling. Helicopters are also ideal for remote areas, or offshore pipelines. They can be launched via helipads, with our network of operators being able to approach pipelines in a pinch.
Videos are also rapidly becoming a default method for documenting current conditions along a pipeline. With the addition of GPS and time data, contractors and specialists can have access to video frames via the cloud. Pipeline integrity specialists use our mapping and gas leak data solutions to help drastically reduce post-flight mapping and reporting processes. A fixed mount camera or an aircraft-mounted sensor retrofitted onto our helicopters can be used that enable companies, stakeholders, and vendors the ability to view and share data.
To carry out these surveys, the aircraft used includes the Bell 206B helicopter, a two-bladed, single- or twin-engine helicopter, which provides primary visual inspection, personnel transport, maintenance budgeting, right-of-way video, as well as emergency response and equipment transport services. The Schweizer 300 CBI, a single, three-bladed main rotor and piston-powered light utility helicopter, which provides superior visibility and slower patrol speed, is also used to conduct pipeline inspections.
The aerial pipeline patrol services that helicopters can provide include the following:
Anomaly Surveys

Construction Tours

Emergency Evacuations

Environmental Agency Visits

Flights to Construction Sites
Foreign Line Obstructions

Heavy Equipment Inventory

Land Management

Leak Detection

Pipeline Break Positions
Pre-Construction Surveys

Remote Location Transport

Right Of Way Surveys

Surveys of Pipeline Construction
FairLifts employs a strategic approach to corrosion prevention. For example, we can partner with contractors to proactively inspect pipeline coating systems and assess their ability to protect them. FairLifts utilize survey techniques while identifying locations where active corrosion may be occurring. During an ongoing survey, the level of protection is continuously measured, enabling engineers to employ accurate and appropriate remediation efforts.
Aerial Pipeline Surveys Save Time, Money, and Prevent Costly Repairs
call 1-800-318-8940 for an accurate inspection.
FairLifts Pipeline Inspection
Given that loss of pipeline products through unidentified leaks results in profit losses in excess of 15% per year, aerial pipeline inspections are not only a safety issue but also an important loss prevention tool. Also, the ability to measure greenhouse gases in the environment has become increasingly relevant as the world combats climate change.
Helicopter pipeline inspections are the fastest and most dependable way to monitor oil and gas pipelines. Advanced imaging technology allows experts to quickly and efficiently respond to leaks without road, impenetrable terrain or property line restrictions in order to minimize the environmental impact of pipeline anomalies and ensure proper service to consumers.
Traditional surveying and assessments of pipelines are prohibitively expensive and inefficient, which can keep a pipeline company from performing proper inspections. The expense further increases the amount of overhead for a contracting company, which can adversely impact how profitable the company can be, especially in the highly competitive arena of industrial energy management. Helicopter inspections solve these problems by providing fast, convenient, and cost-effective inspection options. All classes of helicopters are available in a pinch, even assisting in the most complex situations.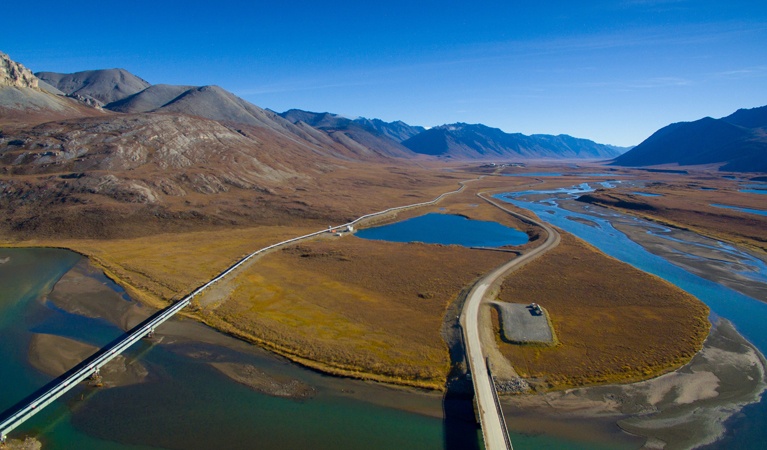 We Offer You Advantages You Can't Get Elsewhere!
The main advantage is the use of aerial sensors. FairLifts not only use visual inspections as part of the assessment process, but sensors can detect different types of damage. Some of these damage manifests as a physical leak, while other sensors are able to detect chemical leaks that aren't visible to the naked eye. We can use the aid of thermal imaging to automatically sense an increase in temperature in the surrounding pipeline. This can reveal potentially dangerous leaks before a catastrophe occurs. FairLifts helicopters can be used in a rotating schedule to ensure the structural integrity of pipelines. Any leaks can be recorded and archived, with the final report outlining the precise location of the methane leak so they can be investigated by maintenance crews.
Benefits of Choosing Aerial Pipeline Inspection Services
Anomaly Surveys

Encroachments

Erosion Abnormalities
Exposed Pipes

Missing Signs and Markers
Slope Stability Abnormalities

Spills and Leaks
Third-Party Activity

Vegetation Abnormalities
FairLifts provide aerial survey services to identify these potential anomalies. Our professional operators specialize in LIDAR and GIS technologies which help technicians evaluate and analyze the images of pipelines in a single day instead of waiting for several weeks for updated data. We also recognize that pipeline assessments and inspections are riddled with bureaucracy. We do not want to add to that problem, with a booking process that is simple and straightforward. Simply call today to learn more about how we can help with pipeline inspections, cargo shipments, leak detection, and crew support.