Helicopter Support for Pipeline Inspections and Surveys in Alabama
Inspections - Surveys - LIDAR - FODAR - GIS - Mapping - Patrols

Helicopter Support for Pipeline Inspections and Surveys in Alabama

Inspections - Surveys - LIDAR - FODAR - GIS - Mapping - Patrols
Call FairLifts to get started today.
Call FairLifts at 1-800-318-8940 now!
Helicopter Pipeline Inspections and Surveys in Alabama
FairLifts can arrange a variety of aerial services including Alabama pipeline inspections. We only work with professional pilots and crew to bring you aerial pipeline inspections, surveys of the land, and other transportation services by helicopter. We can arrange the transportation of crew members, ship necessary cargo, perform a variety of inspections and surveys, and help you detect leaks and respond accordingly.
Since the government requires regular inspections, these helicopter services are vital to stay up and running and meet all regulations. A helicopter can perform the job quickly, analyzing large chunks of land and pipeline in a relatively short time.

Oil Production on the Rise : Alabama Pipeline Inspections
Alabama ranks as one the of the top 17 producers for oil and in the top 16 for natural gas in the United States. Oil production in Alabama has risen over the years. In 2009, roughly 5 million barrels of oil were produced; by 2015 this amount nearly doubled at 9 million barrels.
On the other hand, natural gas production has experienced a decrease. Both the oil and gas industry in Alabama contributed $11.3 billion to the economy, equating to 6.4 percent of the state's gross domestic product.
Learn more about our services.
Call FairLifts at 1-800-318-8940 now!
Helicopter operations can help with oil and offshore operations.
Pipeline and Hazardous Materials Safety Administration (PHMSA) requires data to regularly be reported to the federal government with regard to pipelines. Failing to report this data could result in a $100,000 fine for each day it is not reported and can go up to $1,000,000 in fines, which means pipeline patrol is important.
Alabama pipeline inspections can use technology such as LIDAR—which can create 3-D images of land and quickly give accurate data specific to the region. GIS, or geographic information system mapping, can also give an accurate estimate of land.
Services FairLifts can arrange in Alabama include: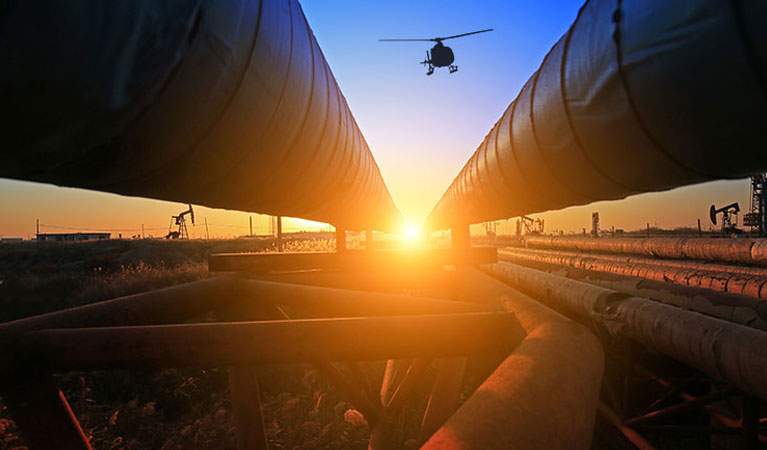 Pipeline inspections and surveys
Because of regulations requiring pipeline inspects, it is important to be able to perform aerial line surveillance in a timely manner. A helicopter can fly close and travel far faster than performing pipeline inspections from the ground. Not to mention, aerial line surveillance can implement the use of technology such as LIDAR.
---
Shipping cargo quickly and efficiently is important when working on pipelines. A helicopter is able to support massive amounts of weight and can help you transport what you need to an exact location in a timely manner—quicker than is possible by the ground.
Emergency Response and Leak Location
Detecting a leak as soon as possible is important to not only ensure money is not being wasted but that the environment is being preserved. A helicopter can oftentimes detect a leak far quicker and help you respond to an emergency situation more efficiently.
---
A helicopter can help transport your workers to any locations. This can include difficult to reach locations from the road. A helicopter can travel faster and more precisely to exact locations, which can save on time wasted traveling using other methods.
Speak with a representative today.
Call FairLifts at 1-800-318-8940 now!
Connect with Alabama's leader in helicopter support for aerial pipeline inspections, surveys and more...
FairLifts can ensure you meet reporting deadlines by scheduling only the most efficient pilots and crew to complete aerial Alabama pipeline inspections in a timely and efficient manner. We offer these other services throughout the state of Alabama to help the oil and gas industry.
We have operators standing by, reading to answer questions you may have—whether you have questions about the services or are simply looking for a quote—around the clock. Call a team member today; we are available 24/7.

We work hard to provide helicopter solutions for petroleum, natural gas, and other companies with pipelines near all of these Alabama municipalities:
Abbeville - Andalusia - Anniston - Ashland - Ashville - Athens - Bay Minette - Birmingham - Brewton - Butler - Camden - Carrollton - Centre - Centreville - Chatom - Clanton - Clayton - Columbiana - Cullman - Dadeville - Decatur - Dothan - Double Springs - Elba - Enterprise - Eutaw - Evergreen - Fayette - Florence - Fort Payne - Gadsden - Geneva - Greensboro - Greenville - Grove Hill - Guntersville - Hamilton - Hayneville - Heflin - Huntsville - Jasper - LaFayette - Linden - Livingston - Luverne - Marion - Mobile - Monroeville - Montgomery - Moulton - Oneonta - Opelika - Ozark - Pell City - Phenix City - Prattville - Rockford - Russellville - Scottsboro - Selma - Talladega - Troy - Tuscaloosa - Tuscumbia - Tuskegee - Union Springs - Vernon - Wedowee - Wetumpka