Helicopter Support for Pipeline Inspections and Surveys in Arizona
Inspections - Surveys - LIDAR - FODAR - GIS - Mapping - Patrols

Helicopter Support for Pipeline Inspections and Surveys in Arizona

Inspections - Surveys - LIDAR - FODAR - GIS - Mapping - Patrols
State-of-the-Art Airborne Remote Data Capture and Digital Imagery Technology.
Call FairLifts at 1-800-318-8940 now!
Helicopter Pipeline Inspections and Surveys in Arizona
Aerial pipeline inspections conducted in helicopters are an ideal way to expediently check for anomalies and ROW compliance for pipeline corridors that extend across the state of Arizona. FairLifts is a leader in securing aerial helicopter with and experienced pilots to execute pipeline inspections and to conduct surveys for the utility and energy resource industries.
When you connect with FairLifts, you will be presented with a number of alternatives to satisfy your particular service request. Agents listen as you relay the specifications of your project or task and then source an appropriate solution. The operators we reserve services for, deliver access to an extensive fleet of helicopters outfitted in the latest technologies and data systems whose primary function is not to simply spot anomalies and isolate leaks but also to precisely pinpoint their location. Local helicopter operators and pilots work closely with government agencies, utility companies and oil and gas producers to deliver results swiftly, safely and thoroughly.

How Arizona Benefits from Helicopter Support in Pipeline Leak Detection
The state of Arizona is an excellent example where aerial pipeline inspections could prove to be more beneficial than those conducted terrestrially. The diversity in Arizona's topography which features deserts, plains, peaks, valleys, and various rock formations means pipelines may either need to traverse or circumvent an area to deliver an array of resources to the state's seven million inhabitants. This is one consideration pipeline companies must negotiate. Another is in the pursuit of a proactive approach in efforts to improve upon pipeline leak awareness. This was especially true as recently as last year, when inclement weather led to a rupture in a pipeline carrying raw sewage from Mexico into the United States. The 8.5-mile pipeline transports roughly 14 million gallons of sewage a day from Nogales, Arizona and neighboring communities to a treatment plant in Rio Rico, Arizona. Residents in Santa Cruz County and surrounding communities that previously saw the wastewater spill onto their properties following the 2017 rupture are concerned it could happen again.
One way to avoid leaks in pipelines is to make use of aerial surveys. Conducted routinely, aerial pipeline inspections and surveys, which deliver a wider field of vision and detect leaks using sophisticated LIDAR / FODAR technologies can reduce reaction time significantly, avoiding widespread interruption of services, and can serve to highlight areas where outdated systems need to be replaced prior to leaks or fractures occurring.
Coordinate pipeline patrol services or conduct aerial line surveillance affordably.
Call FairLifts at 1-800-318-8940 now!
Proficient and Professional Helicopter Support Applications for Arizona's Utility Industries
Aerial support secured for utility companies and oil and gas producers through FairLifts delivers a number of advantages over our competitors. We work alongside proficient operators and pilots to ensure that the result of your service request exceeds expectations. Helicopters used in pipeline patrols, inspections, and compliance checks are piloted by experienced individuals and may be outfitted with state of the art systems technologies that deliver accurate representations of pipelines and their surrounding easements and rights of way. To receive a brief explanation of some of the helicopter application services available to you through FairLifts, read on...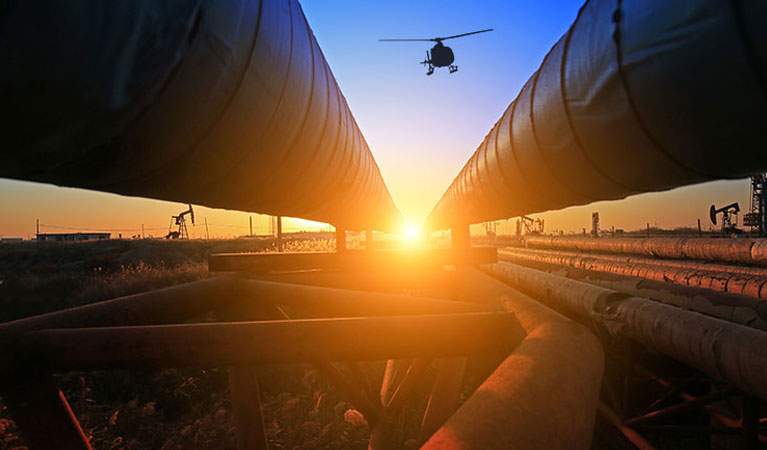 Pipeline inspections and surveys
Aerial pipeline inspections and surveys conducted in helicopters allow for a wider vantage point and are more effective and efficient. Helicopters are easily maneuverable and can achieve access to remote destinations, locations lacking in adequate infrastructure or service areas that may be situated in higher elevations. They additionally can mitigate the need for ground crews as the helicopter can fly at lower elevations for extended periods of time allowing for closer monitoring of pipelines.
---
In order to repair leaks or ruptures or in the installation of new systems, helicopters may be used to convey heavy machinery and materials via external load applications or in the transporting of various types of equipment and gear to be used in conjunction with surveying technologies. Helicopters are used widely in cargo transport as their inherent design capabilities make them ideally suited to land in difficult to access destinations and to take off from the same location without difficulty.
Emergency Response and Leak Location
Leak detection systems like LIDAR and GIS data acquisition make use of sensors and laser technologies to capture images of properties as well as relay discrepancies in scattered light to determine if fractures are present. While these technologies are measuring for anomalies, they are also attempting to detect the presence of gases like hydrocarbons. Helicopters are equipped with advanced avionics that supplies a continual GPS feed to isolate the precise location of the detected leak(s). This allows for an immediate response by utility personnel to repair the leak(s) before widespread outages and damage to surrounding properties occur.
---
Helicopters are an excellent resource in the transport of work crews to remote, difficult to access or offshore locations. They are often used to effect in the executive conveyance of senior staff members for job-site or electrical grid inspections, to conduct surveys and compliance checks and in point to point logistical transport to various destinations. When offshore operations or remote centers are hit with weather or otherwise related emergencies helicopters may be dispatched to perform pick-up of crews or for SAR (Search and Rescue) efforts.
Experts are standing by to get you a fast quote for your pipeline survey in Arizona!
Call FairLifts at 1-800-318-8940 now!
Connect with Arizona's leader in helicopter support for aerial pipeline inspections, surveys and more...
Local operators deliver expertly facilitated aerial operations for utility and oil and gas production companies all across the globe. Partnered resources in Arizona extend to professional operators and pilots who have experience in conducting routine compliance checks of easements and rights of ways, in the detection of aerial and ground-based gas leaks via the use of LIDAR and GIS data acquisition technologies, even in the organization of preliminary route studies. Representatives are available 24/7 to respond to inquiries regarding these services and many more. Connecting with FairLifts is easy and convenient. Simply complete the online contact form or call anytime.

We work hard to provide helicopter solutions for petroleum, natural gas, and other companies with pipelines near all of these Arizona municipalities:
Phoenix, Tucson, Mesa, Chandler, Scottsdale, Glendale, Gilbert, Tempe, Peoria, Surprise, Flagstaff, Kingman, Winslow, Holbrook, Yuma, Sierra Vista, Kayenta, Peach Springs, Lake Havasu City, Quartzsite, Tuba City, Snowflake, White River, and more.