Helicopter Support for Pipeline Inspections and Surveys in California
Inspections - Surveys - LIDAR - FODAR - GIS - Mapping - Patrols

Helicopter Support for Pipeline Inspections and Surveys in California

Inspections - Surveys - LIDAR - FODAR - GIS - Mapping - Patrols
FairLifts arranges dependable and cost-efficient pipeline surveys
Call FairLifts at 1-800-318-8940 now!
California Aerial Pipeline Inspections
California is a monster of a state. There are diverse terrains, ranging from scorching deserts in the south, northern forests, vast, western shorelines and eastern mountain ranges. California is also home to several pipelines. Helicopters can conduct California pipeline inspections throughout remote locations. Hovering closer to the ground, these helicopters can deliver in-depth, accurate information. FairLifts offers a wide network of partners with seasoned helicopter pilots able to show detailed information about the integrity of your pipelines. Still cameras, LIDAR mapping and video provide same-day analysis preventing any dangerous conditions down the road.

Oil and Gas Industry Adds Jobs in California
The oil and gas industry is a heavyweight employer in California. According to a 2017 economic study, these industries account for 368,000 jobs annually. Oil and gas stabilizes the state's tax base, generating almost $26 billion in tax revenues. Offshore oil drilling reflects a fact of life whether Californians are for or against it. As a result, the need for aerial line surveillance is critical. FairLifts can also arrange for logistical support when gigantic machinery or parts need to get to inaccessible work sites. If you have questions, we have answers.
For serious pipeline patrols, call a serious company.
Call FairLifts at 1-800-318-8940 now!
California pipeline inspections and Services
FairLifts prides itself on exceeding customer expectations and by having the widest array of helicopter partners for California pipeline inspections. With the state's delicate shorelines and daily risk for earthquakes, both regulatory and environmental groups continue to demand pipeline integrity. California's natural gas and oil pipeline activity is centered around the San Joaquin Valley, Kern County and in the Los Angeles Basin. With a safety-first orientation, FairLifts has a variety of ways to conduct accurate, safe and efficient pipeline patrols.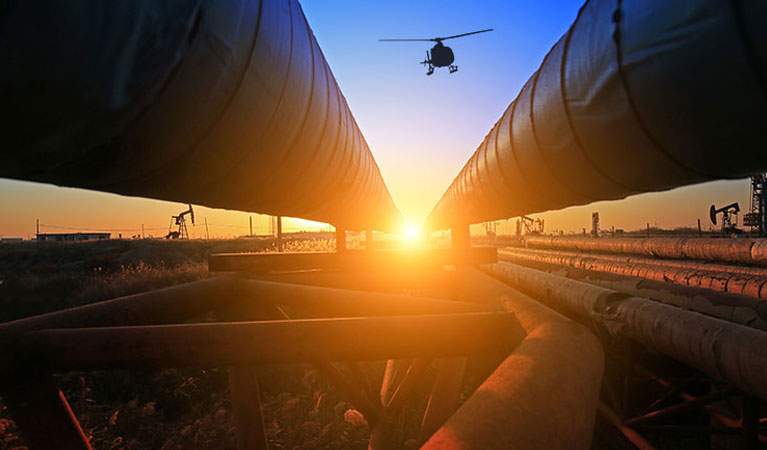 Pipeline inspections and surveys
Pipeline inspections can be risky for ground crews. These inspections are labor-intensive, leaving no room for error. Helicopters are ideal for LIDAR (Light Detection and Ranging) technology because it creates three dimensional information which provides precision mapping from the air. This is technology at its best.
---
Substantially cut the delivery time for loads of metal, bulky or awkward equipment by using FairLifts to schedule pipeline cargo shipments. Heavy lift helicopters can be specially outfitted for logistical transport with or without cargo hooks, depending on the situation. FairLifts can help customers assess their needs.
Emergency Response and Leak Location
Pilots use GPS systems to relay pictures of any trouble hot spots for same-day analysis. As helicopters hover overhead, pilots who can also double as operators, are able to take an accurate picture of a problem along the pipeline and even dispatch a repair technician.
---
Moving crews back and forth is over the head of ground operations. It can take hours. But with a helicopter, crew movement can save money as well as time. FairLifts' customer support teams are knowledgeable about the ins and outs of crew transport. We make it easy.
FairLifts arranges expert aerial pipeline inspections.
Call FairLifts at 1-800-318-8940 now!
Connect with California's leader in helicopter support for aerial pipeline inspections, surveys and more...
California pipeline inspections are a necessary protocol for oil and natural gas pipeline maintenance. Heavy lift helicopters can be instrumental with preventive measures that keep equipment running smoothly and communities and on-site personnel safe. Advanced technology, like GIS, captures geologic imagery helping technicians in a remote location can spot problems before they occur. Experienced pilots can safely maneuver helicopters while taking high resolution pictures and hovering overhead.

We work hard to provide helicopter solutions for petroleum, natural gas, and other companies with pipelines near all of these California municipalities:
Alturas - Auburn - Bakersfield - Bridgeport - Colusa - Crescent City - Downieville - El Centro - Eureka - Fairfield - Fresno - Hanford - Hollister - Independence - Jackson - Lakeport - Los Angeles - Madera - Mariposa - Markleeville - Martinez - Marysville - Merced - Modesto - Napa - Nevada City - Oakland - Oroville - Placerville - Quincy - Red Bluff - Redding - Redwood City - Riverside - Sacramento - Salinas - San Andreas - San Bernardino - San Diego - San Francisco - San Jose - San Luis Obispo - San Rafael - Santa Ana - Santa Barbara - Santa Cruz - Santa Rosa - Sonora - Stockton - Susanville - Ukiah - Ventura - Visalia - Weaverville - Willows - Woodland - Yreka - Yuba City