Helicopter Support for Pipeline Inspections and Surveys in Connecticut
Inspections - Surveys - LIDAR - FODAR - GIS - Mapping - Patrols

Helicopter Support for Pipeline Inspections and Surveys in Connecticut

Inspections - Surveys - LIDAR - FODAR - GIS - Mapping - Patrols
Call to get a quote on a Connecticut pipeline inspection
Call FairLifts at 1-800-318-8940 now!
Connecticut Pipeline Inspections and Surveys
Pipeline inspections are a crucial part of any oil or gas operation. Aside from being required by law, pipeline inspections can prove vital when detecting leaks and responding accordingly. FairLifts can arrange Connecticut pipeline inspections and other services to help you transport crew to where they need to go, provide emergency services for pipeline leaks, and assist in shipping cargo.
FairLifts only partners with the best pilots and crew to perform timely aerial pipeline inspections in Connecticut. Air methods often prove to be quicker than ground methods.

A Boost in Oil and Gas Jobs in Connecticut
Recently, Connecticut has found a surge in the increase of jobs related to the gas and oil industry. Exact numbers are in the ballpark of 54,500 jobs from the gas and oil industry in just 2015 alone. This added $7.25 billion to the state's economy in the same year. FairLifts can assist with oil and gas operations in Connecticut. This includes helping out offshore operations as well.
Don't delay on your Connecticut aerial pipeline inspection
Call FairLifts at 1-800-318-8940 now!
Connecticut Pipeline Services
FairLifts uses the latest technology to bring your accurate and reliable pipeline surveys. Technology used includes LIDAR—which can create 3D images of any type of terrain—to provide quick Connecticut Pipeline Inspections. These inspections prove crucial to meeting the standards of the Pipeline and Hazardous Materials Safety Administration (PHMSA). FairLifts arranges a variety of aerial services that include helping ship pipeline cargo, assisting with the inspection of pipelines, locating leaks in pipelines (and assisting with emergency efforts to repair these leaks), and transporting your crew members to where they need to go.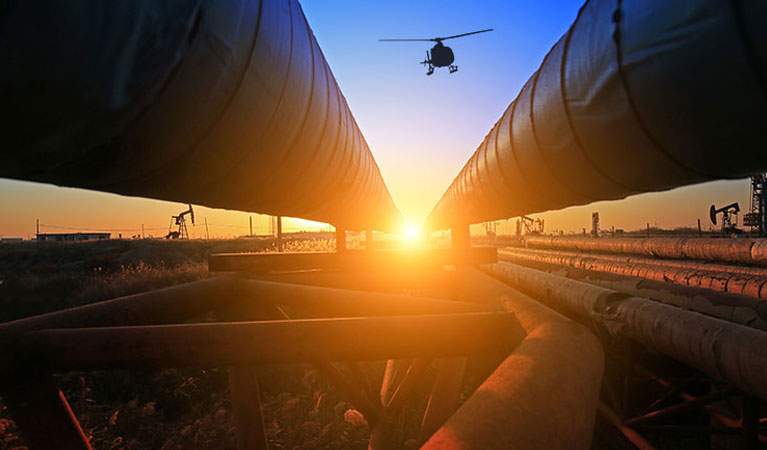 Pipeline inspections and surveys
Gas and oil operations often rely on pipeline inspections on a regular basis. A helicopter arranged by FairLifts can perform these inspections in a timely manner—much often quicker than if you would try to perform this inspection from the ground—and use the latest technology available.
---
Because of a helicopters strength, heavy cargo can be transported quickly and efficiently through the air. A helicopter's hovering capability and ability to fly in close proximity of virtually any location can aid in transporting cargo to exactly where it needs to go.
Emergency Response and Leak Location
Discovering leaks in pipelines is crucial in avoiding loss of transmission of energy resources and the possible environmental ramifications. An aerial pipeline survey can help detect leaks and assist in providing a quick response to fixing any leaks.
---
Traveling on the ground is slower. This is why a helicopter provides the advantage when transporting crew to exactly where they need to go. Just like a helicopter can transport cargo to an exact location, a helicopter can transport your crew to a precise location as well.
Experts are standing by to get you a fast quote for your pipeline survey in Connecticut!
Call FairLifts at 1-800-318-8940 now!
Call for a Connecticut Pipeline Inspection Today
FairLifts reserves the perfect Connecticut Pipeline Inspections. Arranging these services is no problem when you give us a call. Team members are waiting to speak with you—and are available 24/7—to answer your questions, provide you with quotes on services we can arrange, and provide assistance.
These services are customizable and flexible to meet your needs in Connecticut. We are associated with pilots and crew throughout the entire state.

We work hard to provide helicopter solutions for petroleum, natural gas, and other companies with pipelines near all of these Connecticut municipalities:
Bridgeport - Hartford - Litchfield - Middletown - New Haven - New London - Putnam - Rockville - Willimantic