Helicopter Support for Pipeline Inspections and Surveys in Georgia
Inspections - Surveys - LIDAR - FODAR - GIS - Mapping - Patrols

Helicopter Support for Pipeline Inspections and Surveys in Georgia

Inspections - Surveys - LIDAR - FODAR - GIS - Mapping - Patrols
FairLifts arranges for pipeline surveys in Georgia
Call FairLifts at 1-800-318-8940 now!
Georgia Pipeline Inspections Merge Technology With Precision
If you've ever considered aerial line surveillance for your pipeline leak prevention in Georgia, this is your opportunity to save time, money and hassles. FairLifts' partners provide an entire turnkey operation that will give your Georgia Pipeline Inspections a higher level of precision.
From that first phone call with a FairLifts customer support representative, we will discuss the scope, location and logistics of your pipeline survey. Your all-inclusive costs will include a fully-equipped helicopter outfitted with state-of-the-art leak detection equipment, cameras and a well-qualified pilot who knows the ins and outs of the pipeline area.

Georgia's Natural Gas Pipeline
The Northwest Georgia Expansion Pipeline, an Atlanta Gas Light Project, is a necessary upgrade to serve the natural gas needs of a growing community. The pipeline begins near the Bartow/Paulding county lines and snakes through ten miles of rugged country.
With active communities in the vicinity, a safe pipeline is crucial. That's why Georgia Pipeline Inspections conducted by helicopter is more thorough than ground pipeline inspections. Helicopters can hover close to the ground and utilize laser technology to detect leaks that can disrupt communities. FairLifts is your go-to resource for safe, accurate pipeline patrols.
Let FairLifts schedule your next pipeline patrol
Call FairLifts at 1-800-318-8940 now!
Georgia Pipeline Inspections taken from the Air
If your company is conducting Georgia Pipeline Inspections, leave nothing to chance. FairLifts' customer service team can not only connect you with a member of our regional network of helicopter operations' partners; we can also walk you through the pipeline inspection logistics from beginning to end. Seasoned pilots, many with multiple certifications, can operate the helicopter and take the digital survey images using optical remote sensing technology. If a leak is detected, the pilot can dispatch a pipeline repair technician while still in the air. That's service.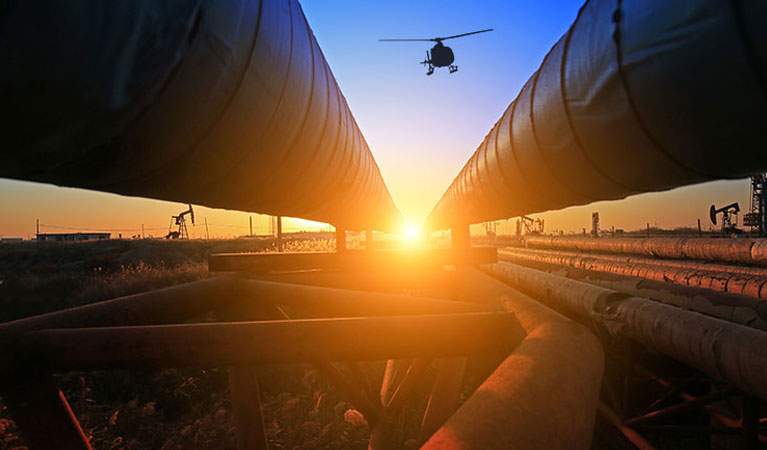 Pipeline inspections and surveys
With an aerial line inspection, reduce your risk of potential pipeline hazards. Continuous bubbling, erosion and human tampering can all be detrimental to the pipeline and the safety of surrounding communities. Expert pipeline inspections use the human eye and high intensity sensors to provide precise information.
---
Most pipelines are located in tough, often inaccessible locations. An air crane or heavy lift helicopter shaves hours and even days off the delivery time of massive pipeline cargo to the work site. In the long run, using a helicopter will save you both time and money.
Emergency Response and Leak Location
Stuff happens. With a highly trained pipeline patrol team on the case, any potentially disastrous situations can be averted quickly and efficiently directly from the helicopter. Many operators use LIDAR technology which includes lasers and scanners as prevention against pipeline leaks.
---
Rugged terrain and inhospitable climates can be difficult for ground crews. Helicopters are a swift, efficient mode of crew transport that can slice hours off of travel time between work sites. Plus, helicopters are comfortable, leaving crew members rested and ready to hit the ground running.
Aerial line surveillance gets the job done
Call FairLifts at 1-800-318-8940 now!
FairLifts Brings Advanced Technology to Aerial Pipeline Inspections
Natural gas pipeline inspections are important work. In fact, Georgia's Department of Transportation levies heavy fines against companies for even minor infractions that can endanger workers and communities.
With a wide network of professional helicopter partners, FairLifts arranges pipeline patrols in state-of-the-art helicopters. These helicopter teams include engineers, pilots and other skilled technicians with outstanding safety records. Helicopters equipped with GIS and LIDAR technology can detect even the slightest variations in the earth's surface near a pipeline, meaning the difference between life and death.

We work hard to provide helicopter solutions for petroleum, natural gas, and other companies with pipelines near all of these Georgia municipalities:
Abbeville - Adel - Alamo - Albany - Alma - Alpharetta - Americus - Appling - Arlington - Ashburn - Athens - Atlanta - Augusta - Auraria - Bainbridge - Barnesville - Baxley - Berrien - Blackshear - Blairsville - Blakely - Blue Ridge - Brownsborough - Brunswick - Bryan Courthouse - Buchanan - Buena Vista - Butler - Byron - Cairo - Calhoun - Camilla - Campbellton - Canton - Carnesville - Carrollton - Cartersville - Cassville - Cedartown - Chatsworth - Clarkesboro - Clarkesville - Claxton - Clayton - Cleveland - Clinton - Clyde - Cobbham - Cochran - Colquitt - Columbus - Conyers - Cordele - Covington - Crawfordville - Cumming - Cusseta - Cuthbert - Dahlonega - Dallas - Dalton - Danielsville - Darien - Dawson - Dawsonville - Decatur - Donalsonville - Douglas - Douglasville - Drake's Ferry - Drayton - Dublin - Eastman - Eatonton - Ebenezer - Elberton - Elberton - Ellaville - Ellijay - Evans - Fairburn - Fayetteville - Fitzgerald - Folkston - Forsyth - Fort Frederica - Fort Gaines - Fort Valley - Franklin - Franklinville - Gainesville - Georgetown - Gibson - Glascock - Gray - Greensboro - Greenville - Griffin - Hamilton - Hardwick - Hartford - Hartwell - Hawkinsville - Hazlehurst - Hiawassee - Hillsborough - Hinesville - Hoboken - Holmesville - Homer - Homerville - Horry - Irwinton - Irwinville - Isabella - Jackson - Jacksonborough - Jacksonville - Jasper - Jefferson - Jefferson - Jeffersonville - Jesup - Johnstonville - Jonesboro - Kiokee - Knoxville - LaFayette - LaGrange - Lakeland - Lanier - Lawrenceville - Leesburg - Lexington - Lincolnton - Livingston - Louisville - Lowndesville - Ludowici - Lumpkin - Lumpkin - Lyons - Macon - Madison - Magnolia - Marietta - Marion - McDonough - McIntosh - McRae - Metter - Milledgeville - Millen - Monroe - Monticello - Morgan - Morgan - Morganton - Moultrie - Mount Vernon - Nahunta - Nashville - New Lebanon - Newnan - Newnan - Newton - Ocilla - Oglethorpe - Ohoopee Mills - Old Carrolton - Pearson - Pembroke - Perry - Pond Town - Preston - Quitman - Reidsville - Riceborough - Ringgold - Rome - Sandersville - Savannah - Soperton - Sparta - Spring Place - Springfield - St. Marys - St. Patrick - Stark(s)ville - Stark(s)ville - Statenville - Statesboro - Summerville - Sumterville - Sumterville - Sunbury - Swainsboro - Sylvania - Sylvester - Talbotton - Tazewell - the plantation of Arthur Lott - Thomaston - Thomasville - Thomson - Tifton - Toccoa - Trader's Hill - Trenton - Troupville - Tuckasee King - Tuckersville - Tuckersville - Valdosta - Van Wert - Vienna - Waresborough - Warrenton - Warthen - Washington - Watkinvsille - Watkinvsille - Waycross - Waynesboro - Waynesville - Waynesville - Webster - Winder - Woodbine - Woodstock - Wrightsville - Zebulon