Helicopter Support for Pipeline Inspections and Surveys in Indiana
Inspections - Surveys - LIDAR - FODAR - GIS - Mapping - Patrols

Helicopter Support for Pipeline Inspections and Surveys in Indiana

Inspections - Surveys - LIDAR - FODAR - GIS - Mapping - Patrols
Call today for a quote on Indiana pipeline services
Call FairLifts at 1-800-318-8940 now!
Helicopter Pipeline Inspections and Surveys in Indiana
Helicopters can play a vital role in any oil or gas operation. The federal government imposes regulations, requiring regular pipeline inspections. Using a helicopter to perform these inspections saves time and often, manpower. Indiana pipeline inspections can be arranged when you contact us. FairLifts arranges a variety of other pipeline services. A few of these services include emergency services, leak detections, and helping with shipping cargo.
FairLifts works with a variety of certified pilots and crew to complete these pipeline inspections. These services are customizable because we want you to get exactly what you want.

The Gas and Oil Industry in Indiana
The Trenton Field was the first sizeable oil field located in Indiana with the discovery of gas in 1876. Thousands of wells were drilled after. East-central Indiana started its development in 1886. By the early 1900s, the oil and gas industry experienced a decline in the northern portion of the state. However, an area known as the Illinois Basin experienced an increase. Production in the industry peaked by 1956 with 12 million barrels being produced. Gradually, the production has decreased since then.
Customize your pipeline service in Indiana today
Call FairLifts at 1-800-318-8940 now!
Indiana Pipeline Services
FairLifts is connected to a variety of pilots who use the newest pipeline survey technology. One example of technology includes LIDAR; this creates 3-D images of various terrain. Helicopters provide quick pipeline inspections which are important when meeting regulations set by Pipeline and Hazardous Materials Safety Administration (PHMSA) Services. FairLifts arranges helicopters to identify the location of leaks in pipelines, perform pipeline inspections, help with emergency efforts to repair pipelines and transport necessary crew members.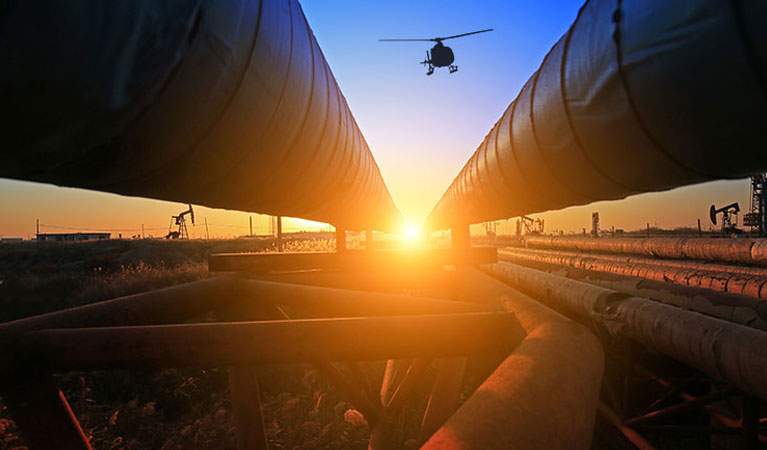 Pipeline inspections and surveys
Helicopters provide vital pipeline inspections and surveys. FairLifts arranges quality pipeline inspections throughout the state of Indiana for any oil or gas operations. A helicopter can perform these inspections quicker and more accurately than a ground method would.
---
A helicopter can aid in shipping cargo. A helicopter can ship any cargo in a timely manner. Helicopters have tremendous strength for heavy cargo shipments and are flexible in being able to transport this cargo to any location deemed necessary.
Emergency Response and Leak Location
Locating leaks is a necessary part of any Indiana pipeline operation. Detecting leaks is also important to prevent losing money and damaging the environment. Aerial pipeline surveys find leaks quickly, providing a view from above. Additionally, a helicopter can aid in fixing leaks.
---
Transportation on the ground is slow and sometimes difficult depending on the terrain. A helicopter can provide this transportation quicker and has more flexibility on getting crew to an exact location—including difficult to reach spots.
Experts are standing by to get you a fast quote for your pipeline survey in Arizona!
Call FairLifts at 1-800-318-8940 now!
Schedule Your Indiana Pipeline Inspection Today
FairLifts arranges Indiana pipeline inspections to help any oil or gas operation. The services are customizable; we are sympathetic of your needs and want to get the job done. We are connected to a worldwide network of pilots and crew, meaning we can arrange these services throughout the entire state. Call us today and speak with a helpful member of our team. We are available 24/7 and are able to answer your questions and provide you with a quote on pipeline services.

We work hard to provide helicopter solutions for petroleum, natural gas, and other companies with pipelines near all of these Indiana municipalities:
Albion - Anderson - Angola - Auburn - Bedford - Bloomfield - Bloomington - Bluffton - Boonville - Brazil - Brookville - Brownstown - Columbia City - Columbus - Connersville - Corydon - Covington - Crawfordsville - Crown Point - Danville - Decatur - Delphi - English - Evansville - Fort Wayne - Fowler - Frankfort - Franklin - Goshen - Greencastle - Greenfield - Greensburg - Hartford City - Huntington - Indianapolis - Jasper - Jeffersonville - Kentland - Knox - Kokomo - Lafayette - LaGrange - LaPorte - Lawrenceburg - Lebanon - Liberty - Logansport - Madison - Marion - Martinsville - Monticello - Mount Vernon - Muncie - Nashville - New Albany - New Castle - Newport - Noblesville - Paoli - Peru - Petersburg - Plymouth - Portland - Princeton - Rensselaer - Richmond - Rising Sun - Rochester - Rockport - Rockville - Rushville - Salem - Scottsburg - Shelbyville - Shoals - South Bend - Spencer - Sullivan - Tell City - Terre Haute - Tipton - Valparaiso - Vernon - Versailles - Vevay - Vincennes - Wabash - Warsaw - Washington - Williamsport - Winamac - Winchester