Helicopter Support for Pipeline Inspections and Surveys in Iowa
Inspections - Surveys - LIDAR - FODAR - GIS - Mapping - Patrols

Helicopter Support for Pipeline Inspections and Surveys in Iowa

Inspections - Surveys - LIDAR - FODAR - GIS - Mapping - Patrols
Reserve aerial pipeline inspections and surveys in Iowa
Call FairLifts at 1-800-318-8940 now!
Expertly Coordinated and Conducted Aerial Pipeline Inspections in Iowa
Aerial pipeline inspections are an excellent means of expeditiously checking for line anomalies and ROW compliance for utility corridors that extend throughout the state of Iowa. FairLifts, a proven leader in securing helicopter support for pipeline inspections and surveys, sources suitable options for oil and gas producers and utility companies alike.
When companies contact us, they are presented with an array of alternatives specifically geared toward satisfying the objectives of their particular service request. Agents make use of the project's specifications and their expertise to determine a workable solution that sees the project completed quickly and successfully. Local operators deliver access to an extensive fleet of helicopters outfitted with cutting-edge technologies and data systems whose primary function is not to simply spot anomalies and isolate leaks but also to precisely pinpoint their location. Local helicopter operators and pilots work closely with government agencies, Iowa utility entities and oil and gas producers to deliver results swiftly, safely and adequately.

Iowa Aerial Support in Pipeline Leak Detection
The state of Iowa is an excellent representation of why it's necessary to take a proactive approach to preventing the leaking of valuable resources into the environment. Not only is it costly to energy resource producers to have their supply lost or displaced, but it is also time consuming and arduous to clean up and some of the substances leaked may prove harmful to fragile ecosystems and the surrounding environments.
Pipeline leak awareness and isolation is imperative as the inhabitants of Iowa know it firsthand. Last year, in 2017, an underground pipeline that spans several midwestern states, including Iowa and carrying nearly 140,000 gallons of diesel fuel ruptured. The leak was initially spotted coming from a 12 inch underground pipeline located on a farm in Worth County, Iowa. Although most start out small, according to utility industry insiders, leaks can rapidly become more catastrophic as the result of the pressure that is applied to the product in the pipeline, meaning that once the leak or rupture has appeared, the product will spill forth very quickly. Luckily the Iowa leak was detected and repairs were initiated before the diesel entered into a nearby water source, Willow Creek and an environmentally protected area.
Pipelines in the United States carrying resources like diesel, gasoline, jet fuel, natural gas, Naphtha, Propane, and Butane must be routinely inspected in compliance with US DOT regulations. Conducted routinely, aerial pipeline inspections and surveys, which deliver a wider field of vision and detect leaks using sophisticated lasered technologies can increase reaction time significantly, avoiding widespread interruption of service and damages to surrounding properties.
Make certain your company's energy resources will arrive to service areas without delay
Call FairLifts at 1-800-318-8940 now!
Fully Comprehensive Helicopter Support for Iowa's Utility Industry
FairLifts is the leader in coordinating aerial pipeline inspections and surveys for some of the nations most high profile oil and gas producers and Iowa's locally based utility companies. Through a concentrated effort to connect with proficient providers who employ or contract experienced pilots and crews, we can deliver access to a plethora of utility-centric services including aerial pipeline inspections and site surveys where a helicopter's manifest attributes are highlighted to better serve the industry.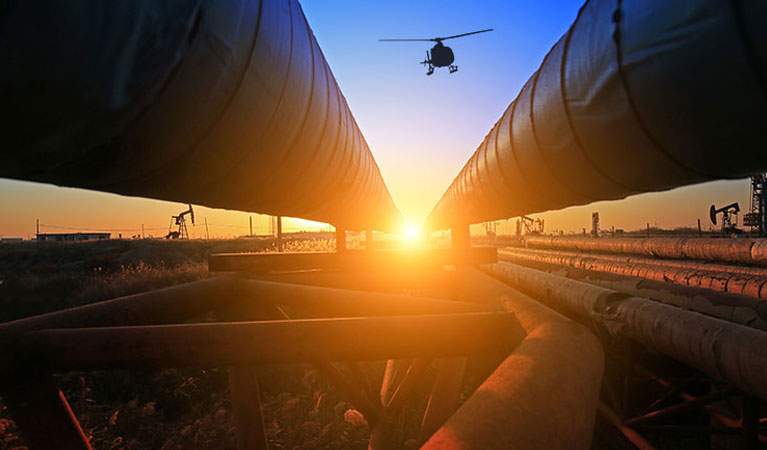 Pipeline inspections and surveys
Aerial pipeline inspections and surveys conducted in helicopters allow for a more expansive vantage point and are more effective and efficient. Helicopters are easily maneuverable and can achieve access to remote or isolated areas, locations lacking adequate infrastructure or service areas that may be situated in higher elevations. They additionally can mitigate the need for supplemental ground crews as the helicopter can fly at lower elevations for extended periods of time allowing for closer and more widespread monitoring of pipelines.
---
In order to repair leaks or ruptures or in the construction of new systems, helicopters may be used to convey heavy machinery and materials to site locations or in the transporting of various types of equipment and gear to be used in conjunction with surveying technologies safely and easily. Over the road vehicles or attempts to transport heavy equipment terrestrially can result in delays. Helicopters are used widely in cargo transport as their inherent design capabilities make them ideally suited to land in difficult to access destinations, to convey heavy or outsized loads and to take off from the same location without difficulty.
Emergency Response and Leak Location
Advanced leak detection systems like LIDAR and GIS make use of sensors and laser technologies to capture images of properties as well as relay discrepancies in scattered light to determine if fractures are present. While these technologies are measuring for anomalies, they are also attempting to detect the gas signatures that could indicate a fracture or rupture in the line. Helicopters are equipped with advanced avionics that supply real-time GPS feeds to precisely identify the location of the detected leak. This allows for an immediate response by utility personnel to repair the leak before widespread outages and damage to surrounding properties occur.
---
Helicopters are an excellent resource in the transport of personnel to remote, difficult to access or offshore locations. They are often used in the executive conveyance of senior staff members for job-site or electrical grid inspections, to conduct surveys and compliance checks, for crew change-overs and in ad hoc logistical transport to various destinations. When offshore operations or remote centers are hit with weather or when emergencies occur, helicopters may be dispatched to perform pick-up of injured persons, to deliver supplemental work crews, or for SAR efforts.
Book expert leak detection inspections and services
Call FairLifts at 1-800-318-8940 now!
Connect with a leader in reserving aerial pipeline inspections, surveys and more....
FairLifts' agents source expert aerial support for utility production companies in Iowa and across the country. Professional operators and experienced pilots combine forces to deliver accurate, timely and effective results for routine compliance checks of easements and ROWs, leak detection services and for preliminary route studies. Representatives are available 24/7 to respond to your questions, to deliver complimentary price quotes and to start the reservations process.

We work hard to provide helicopter solutions for petroleum, natural gas, and other companies with pipelines near all of these Iowa municipalities:
Adel - Albia - Algona - Allison - Anamosa - Atlantic - Audubon - Bedford - Bloomfield - Boone - Burlington - Carroll - Cedar Rapids - Centerville - Chariton - Charles City - Cherokee - Clarinda - Clarion - Clinton - Corning - Corydon - Council Bluffs - Cresco - Creston - Dakota City - Davenport - Decorah - Denison - Des Moines - Dubuque - Eldora - Elkader - Emmetsburg - Estherville - Fairfield - Forest City - Fort Dodge - Fort Madison - Garner - Glenwood - Greenfield - Grundy Center - Guthrie Center - Hampton - Harlan - Ida Grove - Independence - Indianola - Iowa City - Jefferson - Keokuk - Keosauqua - Knoxville - Le Mars - Leon - Logan - Manchester - Maquoketa - Marengo - Marshalltown - Mason City - Montezuma - Mount Ayr - Mount Pleasant - Muscatine - Nevada - New Hampton - Newton - Northwood - Onawa - Orange City - Osage - Osceola - Oskaloosa - Ottumwa - Pocahontas - Primghar - Red Oak - Rock Rapids - Rockwell City - Sac City - Sibley - Sidney - Sigourney - Sioux City - Spencer - Spirit Lake - Storm Lake - Tipton - Toledo - Vinton - Wapello - Washington - Waterloo - Waukon - Waverly - Webster City - West Union - Winterset