Helicopter Support for Pipeline Inspections and Surveys in Maine
Inspections - Surveys - LIDAR - FODAR - GIS - Mapping - Patrols

Helicopter Support for Pipeline Inspections and Surveys in Maine

Inspections - Surveys - LIDAR - FODAR - GIS - Mapping - Patrols
Reserve aerial pipeline inspections and surveys in Maine
Call FairLifts at 1-800-318-8940 now!
Helicopters Facilitate Experienced Aerial Pipeline Inspections in Maine
Aerial pipeline inspections are the most effective means of checking for line anomalies, fractures and ROW compliance across utility corridors. FairLifts reserves helicopter support for pipeline inspections and surveys in Maine. Through an extensive network of local and globalized vendors, Fairlift's account managers source suitable options for oil and gas producers and utility companies in Maine and beyond.
When utility companies or contractors in Maine contact us, they are presented with workable options specifically geared toward satisfying the objectives of their particular project or task. Agents make use of project specifications and their expertise to determine a workable solution that sees the project completed quickly and successfully. Experienced operators deliver access to an extensive fleet of helicopters fitted with cutting-edge technologies and data systems whose primary function is intended to spot anomalies and isolate leaks while accurately pinpointing their location. Local helicopter operators and seasoned pilots work closely with government agencies, Maine utility companies, and oil and gas producers to deliver results swiftly, safely and adequately.

Maine's Energy Producers Will Benefit From Aerial Pipeline Inspections
As recently as August of 2018, the state of Maine made headlines when a group of environmentalists opposed the constructing of a proposed 27-mile long pipeline stating that the company contracted to install the line had previous violations for non-inspection compliances. The Granite Bridge pipeline is expected to extend along the state's Route 101 corridor from Stratham to Manchester and will purportedly make the distribution of gas the pipeline conveys to area inhabitants a more efficient and cost-effective process. Proponents of the pipeline insist that the installation of the pipeline could ultimately save utility customers nearly 900 million dollars over the course of 20 years.
Circumstances like this are one of the reasons it's imperative that Maine utility contractors and oil and gas production companies conduct routine inspections and compliance checks. Pipeline inspections are necessary to not only maintain federal compliance but also to ensure that energy resource producers don't suffer the loss of supply and additionally that pipeline substances do not seep into fragile ecosystems and the surrounding environments. Local officials elected to determine the best course of action in when discrepancies arise are placed in compromised positions when expected to leverage the population's need for access to affordable energy options and protecting their local environments.
This is why FairLifts not only strives to offer the most comprehensive service options available but additionally the most proficient operators to conduct said services. Aerial pipeline inspections are a more timely, cost-effective, and accurate means of relaying information regarding pipeline integrity and ensuring compliances are updated and maintenance inspections are conducted routinely. Reserving helicopter support to facilitate pipeline inspections can save utility contractors time and money and ensure pipelines are intact so they can resume business as usual.
Coordinate pipeline patrol services or conduct aerial line surveillance affordably.
Call FairLifts at 1-800-318-8940 now!
Comprehensive Helicopter Supported Services for Pipeline Management in Maine
FairLifts coordinates helicopter support for aerial pipeline inspections and surveys for oil and gas producers and locally based utility companies in Maine. Through an expansive network of proficient providers and experienced pilots and crews, clients are offered access to a range of utility-centric services including aerial pipeline inspections and site surveys where a helicopter's multitude of attributes are highlighted to better serve the industry.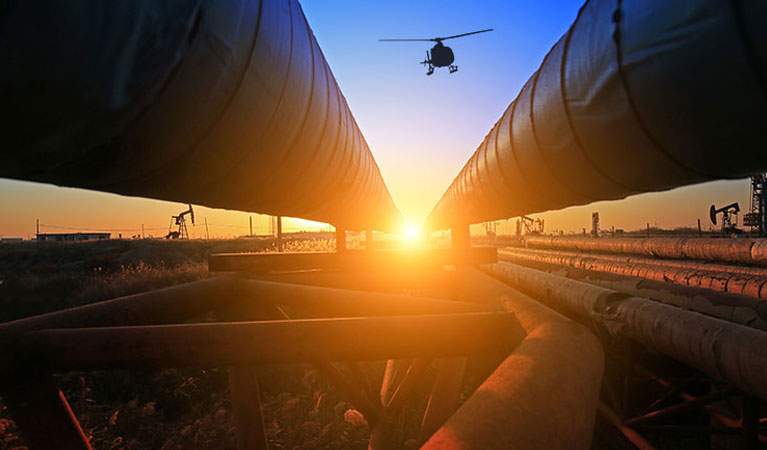 Pipeline inspections and surveys
Aerial pipeline inspections and surveys are more efficient and allow for a wider field of vision. Helicopters are maneuverable and can achieve access to remote areas, locations lacking adequate infrastructure or service areas that may be situated in higher elevations. They also mitigate the need for a supplemental ground crew as the helicopter can fly at lower elevations for extended periods of time allowing for closer and more widespread monitoring of pipelines.
---
Helicopters are often used to convey heavy machinery and materials to site locations or in the transporting of various types of equipment and gear to be with surveying technologies. Using OTR vehicles to transport heavy equipment across Maine's diversified terrain can result in delays. Helicopters inherent capabilities make them ideally suited to land in difficult to access destinations, to convey heavy or outsized loads and to take off from the same location without difficulty.
Emergency Response and Leak Location
Advanced leak detection systems like LIDAR and GIS make use of sensors and laser technologies to determine if fractures are present. Helicopters are equipped with advanced avionics that supply real-time GPS feeds to accurately identify the location of the leak. This permits an immediate response by utility personnel to repair the leak before widespread outages and damage to surrounding properties occur.
---
Helicopters are coordinated to provide conveyance of crews to remote or offshore locations as well provide safe and secure conveyance of senior executives and utility contractors for job-site or electrical grid inspections, to conduct surveys and compliance checks, for shift changes, and in ad hoc logistical transport to various destinations.
There's no better time than now to ensure your energy resources will arrive
Call FairLifts at 1-800-318-8940 now!
Contact FairLifts to Secure Aerial Pipeline Inspections and Services
Agents source expert aerial support for Maine's utility companies and contractors. Professional operators and experienced pilots combine forces to deliver precise, timely and effective results for routine compliance checks of easements and ROWs, leak detection services and for preliminary route studies. Representatives are available 24/7 to respond to your concerns, to deliver complimentary price quotes and to start the reservations process.

We work hard to provide helicopter solutions for petroleum, natural gas, and other companies with pipelines near all of these Maine municipalities:
Alfred - Auburn - Augusta - Bangor - Bath - Belfast - Dover - Foxcroft - Ellsworth - Farmington - Houlton - Machias - Paris - Portland - Rockland - Skowhegan - Wiscasset