Helicopter Support for Pipeline Inspections and Surveys in Michigan
Inspections - Surveys - LIDAR - FODAR - GIS - Mapping - Patrols

Helicopter Support for Pipeline Inspections and Surveys in Michigan

Inspections - Surveys - LIDAR - FODAR - GIS - Mapping - Patrols
Get in touch with FairLifts and let's talk about your pipeline inspection needs in Michigan
Call FairLifts at 1-800-318-8940 now!
Comprehensive Aerial Pipeline Inspection Services in Michigan
Routine pipeline inspections are a matter of routine across Michigan. Historically, this procedure was carried out on land and later by means of airplanes using video to analyze the pipeline. Helicopter pipeline surveillance has proved far superior to both these methods. The low-flying maneuverability of helicopters makes them the perfect vehicle for pipeline inspections.
Today, FairLifts coordinates access to specially trained personnel armed with state-of-the-art full-color digital video and photographic systems to carry out these pipeline patrols throughout the state of Michigan. The latest optical remote sensing technology and laser detection assist them to pinpoint possible leaks and provide detailed digital survey imagery of their findings.

The Natural Gas Industry in Michigan
Maintaining the integrity of hazardous liquid and gas transmission pipelines is vital to ensure safety for the environment as well as citizens of Michigan. As such, an ongoing program of inspections to predict and prevent possible leakages are imperative along the length of all pipelines crossing the state.
Michigan's extensive natural gas industry network incorporates utilities, transmission pipelines, production, and underground storage. There are over 110,000 miles of pipelines which criss-cross across the state as well as 125,000 miles of fuel pipelines.
The rugged, hilly terrain which occurs throughout this state makes it particularly suitable for helicopter pipeline inspections.
Book emergency response and leak location assistance in Michigan
Call FairLifts at 1-800-318-8940 now!
Helicopter Pipeline Survey Options in Michigan
Pipeline operators are required to inspect their pipelines regularly for potential leakages by the Department of Transportation. Thanks to experienced personnel and the latest technology these anomalies are quickly and easily detected during a helicopter survey.
Dependant on their findings, swift action can be taken if needed. Emergency response can be dispatched in an instant. By means of helicopters, the components needed for repairs can be delivered to site quickly as well as any necessary to crew to assist in clean-up and repair operations.
Helicopters play an integral role throughout the cycle of pipeline inspections as follows: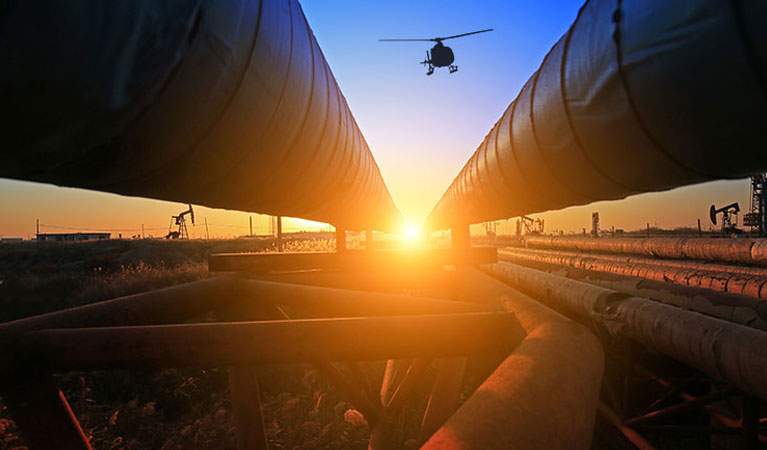 Pipeline inspections and surveys
Dead vegetation, erosion, bubbling or filmy water can are all tell-tale signs of potential leaks and should be attended to as a matter of urgency. Helicopter surveys make use of qualified personnel who can easily detect these problems and record them on GPS-encoded imagery for immediate analysis by the customer.
---
Heavy lift helicopters are able to transport materials for pipeline construction and repair over any terrain, including to offshore rigs, by means of cargo hooks. Likewise, key personnel can be airlifted quickly, safely and easily to remote, rugged areas which would take days to reach by conventional means.
Emergency Response and Leak Location
Helicopters are an important part of the response team if a leak should occur in a pipeline for any reason. Aerial surveillance can quickly pinpoint the exact location of the problem area using laser technology that can detect minute leakage into the soil. In this way, major catastrophes can be contained.
---
With helicopter services, you can get the necessary personnel on site timeously and safely. Whether you need top-notch personnel for pipeline inspections, construction for repairs or emergency staff for repairs, you can count on a helicopter to have them at the right place at the right time.
Call now to learn more about aerial pipeline inspections in Michigan
Call FairLifts at 1-800-318-8940 now!
Connect with Michigan's leader in helicopter support for aerial pipeline inspections, surveys and more...
Helicopter services offer a wide range of options with regard to pipelines, particularly in difficult to access places. On land and sea, these aircraft outperform all others in terms of flexibility and maneuverability.
The pilots have a high degree of control over the speed and altitude of the helicopter allowing for detailed record taking and digital photography.
It's clear that teaming up with helicopter services is the intelligent choice for pipeline owners and operators in Michigan. FairLifts has a wide range of service partners who can provide you with an array of helicopters to suit your exact requirements.

We work hard to provide helicopter solutions for petroleum, natural gas, and other companies with pipelines near all of these Michigan municipalities:
Adrian - Allegan - Alpena - Ann Arbor - Atlanta - Bad Axe - Baldwin - Bay City - Bellaire - Bessemer - Beulah - Big Rapids - Cadillac - Caro - Cassopolis - Centreville - Charlevoix - Charlotte - Cheboygan - Coldwater - Corunna - Crystal Falls - Detroit - Eagle River - Escanaba - Flint - Gaylord - Gladwin - Grand Haven - Grand Rapids - Grayling - Harrison - Harrisville - Hart - Hastings - Hillsdale - Houghton - Howell - Ionia - Iron Mountain - Ithaca - Jackson - Kalamazoo - Kalkaska - L'Anse - Lake City - Lapeer - Ludington - Manistee - Manistique - Marquette - Marshall - Mason - Menominee - Midland - Mio - Monroe - Mt. Clemens - Mt. Pleasant - Munising - Muskegon - Newberry - Ontonagon - Paw Paw - Petoskey - Pontiac - Port Huron - Reed City - Rogers City - Roscommon - Saginaw - Sandusky - Sault Ste. Marie - St. Ignace - St. Johns - St. Joseph - Standish - Stanton - Suttons Bay Township - Tawas City - Traverse City - West Branch - White Cloud