Helicopter Support for Pipeline Inspections and Surveys in Missouri
Inspections - Surveys - LIDAR - FODAR - GIS - Mapping - Patrols

Helicopter Support for Pipeline Inspections and Surveys in Missouri

Inspections - Surveys - LIDAR - FODAR - GIS - Mapping - Patrols
Fast pipeline inspections anywhere in Missouri
Call FairLifts at 1-800-318-8940 now!
Aerial pipeline inspections support and services
Mandated government pipeline inspections in Missouri can be a lengthy and tedious job that can consume great time and personnel resources. Helicopter support is not only the fastest way to get the job done, it's the best way. Get video or infrared images that can detect defects before they become costly repairs, and do it all in a fraction of the time it would take ground inspectors. FairLifts works with the best, most experienced operators in Missouri and we can make all the arrangements for any aerial pipeline job.

Discover the Efficiency of Missouri Aerial Pipeline Inspections
With more than 53,000 miles of gas pipelines and more than 5,100 miles of liquid pipelines - not to mention all the distribution networks - there's a major need for quick, effective inspection services in Missouri.
Helicopter inspection services can do the job of dozens of ground crews, plus helicopters can perform anywhere, regardless of roads or environmentally-restricted or sensitive areas. Able to mobilize quickly, carry imaging equipment, parts, personnel or more to any site on the grid, helicopters can be an extremely valuable asset to any pipeline maintenance or repair project team.
Emergency pipeline repair support
Call FairLifts at 1-800-318-8940 now!
Discover the Efficiency of Aerial Pipeline Inspections in Missouri
Pipeline inspections aren't just government mandated exercises, they are vital to any oil or natural gas company's bottom line. Catching potential pipeline defect or leaks before they become major issues can make or break a company. Helicopter services provide the fastest, most effective method of inspection there is. Plus, aerial support can do more. Helicopter support can get repair crews to sites quickly and with all the parts and supplies they'll need for any emergency repair job. Put the power and versatility of helicopter support to work for your team.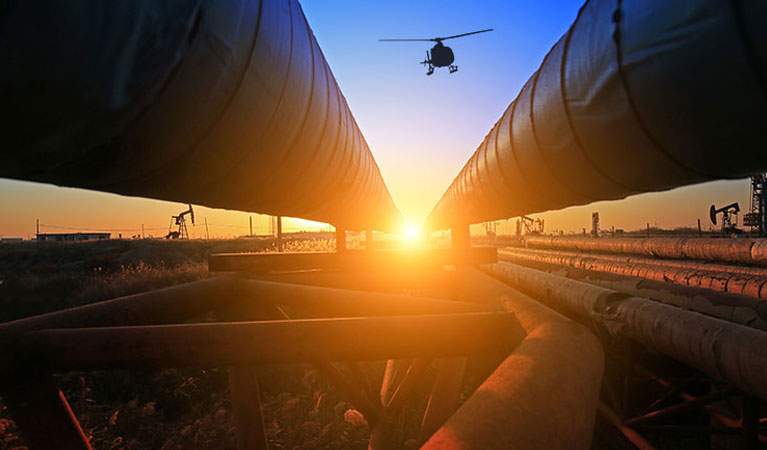 Pipeline inspections and surveys
Inspect miles of pipeline in a fraction of the time with aerial surveillance services. Not only can helicopters easily take inspectors along for the ride, they can also capture high-definition video, and/or thermal images in-flight, so inspectors can take a closer look later.
---
A great deal of pipeline cargo shipments are done by freight train for safety reasons. Transportation by train eliminates the need for trucks to pass through towns and on interstate highways. However, with more and more issues with the aging infrastructure of tracks, aerial pipeline cargo shipments are quickly becoming a viable, go-to option. Heavy lift helicopters are capable of carrying cargo long distances and to even the remotes areas in Mississippi.
Emergency Response and Leak Location
Locating a leak in your pipeline can be like high-stakes detective work and is often a frustrating exercise, and fixing it quickly is vital to avoid supply delays and costly repairs. Helicopters can quickly access suspected leak locations and get repair crews on-scene quickly.
---
Get crews anywhere they need to be along the pipeline grid quickly and safely with aerial support. Don't sweat traffic snarls or how to best access remote spots. Helicopters provide fast "door-to-door" service to get any personnel and supplies anywhere on the grid.
Detect pipeline defects early with aerial inspections
Call FairLifts at 1-800-318-8940 now!
Connect with Missouri's leader in helicopter support for aerial pipeline inspections, surveys and more...
FairLifts' has a network of professional experienced helicopter operators ready to give oil and gas companies the aerial advantage. Get pipeline inspections completed quickly and effectively, or get parts, supplies or crews to any spot along the pipeline grid in no time.
We're standing by 24/7 to answer questions, provide free quotes, or book aerial pipeline services so you don't have to endure the hassle. Helicopters can literally make all the difference and save money in any emergency response, and they are unsurpassed in completing required pipeline inspections. Book today.

We work hard to provide helicopter solutions for petroleum, natural gas, and other companies with pipelines near all of these Missouri municipalities:
Albany - Alton - Ava - Benton - Bethany - Bloomfield - Bolivar - Boonville - Bowling Green - Buffalo - Butler - California - Camdenton - Carrollton - Carthage - Caruthersville - Cassville - Centerville - Charleston - Chillicothe - Clayton - Clinton - Columbia - Doniphan - Edina - Eminence - Farmington - Fayette - Forsyth - Fredericktown - Fulton - Gainesville - Galena - Gallatin - Grant City - Greenfield - Greenville - Harrisonville - Hartville - Hermann - Hermitage - Hillsboro - Houston - Huntsville - Independence - Ironton - Jackson - Jefferson City - Kahoka - Kansas City - Kennett - Keytesville - Kingston - Kirksville - Lamar - Lancaster - Lebanon - Lexington - Liberty - Linn - Linneus - Macon - Marble Hill - Marshall - Marshfield - Maryville - Maysville - Memphis - Mexico - Milan - Montgomery City - Monticello - Mount Vernon - Neosho - Nevada - New London - New Madrid - Oregon - Osceola - Ozark - Palmyra - Paris - Perryville - Pineville - Platte City - Plattsburg - Poplar Bluff - Potosi - Princeton - Richmond - Rock Port - Rolla - Saint Charles - Saint Joseph - Salem - Savannah - Sedalia - Shelbyville - Springfield - St. Louis - Ste. Genevieve - Steelville - Stockton - Trenton - Troy - Tuscumbia - Union - Unionville - Van Buren - Versailles - Vienna - Warrensburg - Warrenton - Warsaw - Waynesville - West Plains