Helicopter Support for Pipeline Inspections and Surveys in Montana
Inspections - Surveys - LIDAR - FODAR - GIS - Mapping - Patrols

Helicopter Support for Pipeline Inspections and Surveys in Montana

Inspections - Surveys - LIDAR - FODAR - GIS - Mapping - Patrols
Take advantage of aerial Montana pipeline services
Call FairLifts at 1-800-318-8940 now!
Discover a superior pipeline network solution in Montana
It's time that you became aware of what so many pipeline network operators in Montana already know to be true: your pipeline aspirations are met and exceeded the moment you install a helicopter into the mix. With the freedom and the easy flexibility that a helicopter gives you at your respective pipeline site, you can expedite your operations, everything from site inspections to cargo transportation, in a fraction of the normal time. Dedicated helicopter pilots routinely take to the skies in Montana, for the immediate and lasting benefit of local pipeline specialists.

Discover the home for optimized pipeline services in Montana
TIn the American north, pipeline networks account for a large portion of the overall regional revenue. You can find yourself optimizing the extent of pipeline operations in Montana, climbing to the top of the industry in terms of total productivity. Enhance your existing pipeline ventures whenever you decide to implement a helicopter on the premises of your pipeline procedures, allowing a chopper to accomplish all of the heavy lifting.
Home to four independent oil refineries and a heavy natural gas presence, the state's many pipeline networks deserve an efficient aerial solution.
Account for Montana pipeline operations by air
Call FairLifts at 1-800-318-8940 now!
A wide variety of helicopter pipeline services in Montana
No matter your individual pipeline inspections needs in Montana, there promises to exist a solutions package that can comfortably accommodate not only your budget but also your individual preferences. A professional network of dedicated, trained helicopter pilots waits to optimize the extent of your pipeline ventures, and those pilots are only an easy decision away. From cargo shipments to crew transportation, emergency response services, and holistic site inspections, a helicopter can do it all in Montana. Personalize a helicopter package today, for provisions that can suit your own unique pipeline circumstances.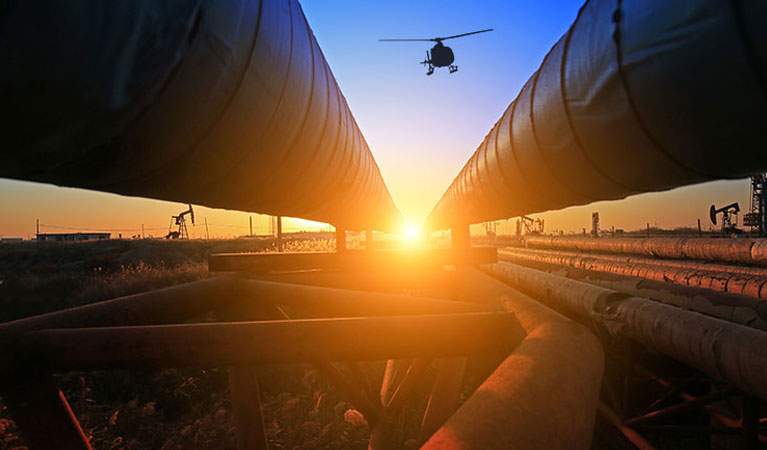 Pipeline inspections and surveys
Perform pipeline inspections and surveys with ease like never before, from the unique perspective that a helicopter alone can provide. Obtain a holistic perspective from above the ground, thanks to the capacity of a helicopter in Montana to hover over and examine grounds for extended periods of time.
---
No matter the size or the shape of the cargo, pipeline cargo shipments are expedited by helicopters with ease. Cargo is moved easily from one location to the next, even from one pipeline destination to another, when you can load your materials onto a chopper and forget about transporting them.
Emergency Response and Leak Location
Whenever time is of the essence, you want to trust the services of helicopter providers in Montana. You can locate and contain leaks in record time at your pipeline network, with the capacity to identify compromises from above. Have a helicopter on site within minutes for damage control, evacuation and more.
---
It's easier than ever to move crews from one location to the next when helicopters expedite the extent of your transportation on any Montana pipeline site. Now, you can have workers at the locations that most need attention, keeping your operations at maximum capacity for a sustainable advantage.
Employ pipeline services by helicopter today
Call FairLifts at 1-800-318-8940 now!
Take advantage of world-class pipeline inspection services by helicopter
It's easier than ever to take advantage of pipeline inspection solutions in Montana. Thanks to a wide variety of helicopter services, from a dedicated network of helicopter providers, in order to instantly optimize your output in the American north. Contact any of our customer service representatives today, to have any of your outstanding questions answered. You can also call today to book your package! And if you would prefer to employ an Internet solution, you can fill out a customer contact form online today.

We work hard to provide helicopter solutions for petroleum, natural gas, and other companies with pipelines near all of these Montana municipalities:
Anaconda - Baker - Big Timber - Billings - Boulder - Bozeman - Broadus - Butte - Chester - Chinook - Choteau - Circle - Columbus - Conrad - Cut Bank - Deer Lodge - Dillon - Ekalaka - Forsyth - Fort Benton - Glasgow - Glendive - Great Falls - Hamilton - Hardin - Harlowton - Havre - Helena - Hysham - Jordan - Kalispell - Lewistown - Libby - Livingston - Malta - Miles City - Missoula - Philipsburg - Plentywood - Polson - Red Lodge - Roundup - Ryegate - Scobey - Shelby - Sidney - Stanford - Superior - Terry - Thompson Falls - Townsend - Virginia City - White Sulphur Springs - Wibaux - Winnett - Wolf Point