Helicopter Support for Pipeline Inspections and Surveys in New Jersey
Inspections - Surveys - LIDAR - FODAR - GIS - Mapping - Patrols

Helicopter Support for Pipeline Inspections and Surveys in New Jersey

Inspections - Surveys - LIDAR - FODAR - GIS - Mapping - Patrols
State-of-the-Art Airborne Remote Data Capture and Digital Imagery Technology.
Call FairLifts at 1-800-318-8940 now!
Pipeline inspection services throughout New Jersey
Performing pipeline inspections, maintenance or repairs can be a major challenge in New Jersey. Population density, traffic, and environmental restrictions - especially wetlands - are all constant challenges throughout the Garden State.
FairLifts can help any pipeline operator overcome those challenges. We work with professional pilots and aviation operators around the state - and the world - so we can line up aerial pipeline inspection support and other services in no time. Helicopters provide the fastest, most accurate way to perform mandatory inspections and get crews, equipment and supplies to repair or construction sites quickly, every time.

Aerial pipeline assistance in New Jersey
As one of the most densely populated states in the country, New Jersey is a busy place to do any work, especially inspecting pipelines. Aerial inspection support can help alleviate many headaches faced by traditional ground forces. Helicopters can breeze over I-95 without worrying about traffic, and can work along the shore or anywhere else. And with the stores of cheap natural gas being harvested in Pennsylvania, New Jersey is facing numerous proposals for even more gas pipelines, putting a larger premium on fast, efficient inspection services that skilled helicopter operators provide.
Coordinate pipeline patrol services or conduct aerial line surveillance affordably.
Call FairLifts at 1-800-318-8940 now!
Proficient and Professional Helicopter Support Applications
Aerial pipeline inspections are easily the fastest way to perform these government-mandated jobs. But they're also extremely effective as helicopters can not only carry inspectors along for the ride but also imaging equipment so others can take a closer look at the office. But helicopter assistance is more than just inspections. Helicopters are the fastest, most effective way to respond to emergencies. Able to carry personnel, equipment, supplies and more to any site along the line, helicopters are the best vehicles for emergency repairs when time can truly equate to money.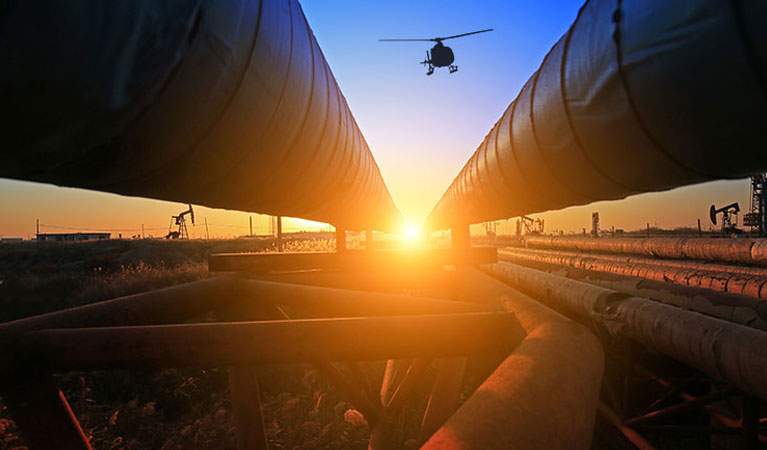 Pipeline inspections and surveys
Fly along miles of pipelines, carrying inspectors, video and imaging equipment or both with aerial inspection services. Detect leaks and defects before they become major issues with proper inspections completed quickly and effectively with helicopters, freeing ground crews up for other projects.
---
While trucks are subject to New Jersey's merciless traffic problems, helicopters fly above it all. Plus, they have the hauling power to deliver sections of pipelines, equipment, personnel, supplies, and everything needed for any construction or repair job quickly and without delays.
Emergency Response and Leak Location
Leaks are a pipeline operator's nightmare, since they can not only disrupt supply, but also result in costly repairs. Aerial inspections can help detect pipe defects with infrared camera images, help quickly pinpoint existing leaks, and get crews and supplies out for repairs.
---
Transporting crews around New Jersey in a timely manner is a gamble, not to mention pipelines don't always follow neatly along roads. Helicopters eliminate the guesswork and can quickly transport crews (and equipment) anywhere on the grid whether it's rush hour or not.
For Aerial Pipeline Hauling, Deliveries and Emergencies Assistance,
Call FairLifts at 1-800-318-8940 now!
Always ready to arrange aerial pipeline support
At FairLifts, we work with a nationwide network of professional aviation operators who are ready and able to perform any pipeline related mission. Helicopters eliminate delays and provide high quality images that are perfect for inspections, and they can land almost anywhere to deliver crews and/or repair supplies. Demand for pipeline inspection assistance in New Jersey is increasing, so contact our customer service experts today. Connecting with FairLifts is easy and convenient. Simply complete the online contact form or call anytime.

We work hard to provide helicopter solutions for petroleum, natural gas, and other companies with pipelines near all of these New Jersey municipalities:
Belvidere - Bridgeton - Camden - Cape May Court House - Elizabeth - Flemington - Freehold Borough - Hackensack - Jersey City - Mays Landing - Morristown - Mount Holly - New Brunswick - Newark - Newton - Paterson - Salem - Somerville - Toms River - Trenton - Washington Township - Woodbury