Helicopter Support for Pipeline Inspections and Surveys in New Mexico
Inspections - Surveys - LIDAR - FODAR - GIS - Mapping - Patrols

Helicopter Support for Pipeline Inspections and Surveys in New Mexico

Inspections - Surveys - LIDAR - FODAR - GIS - Mapping - Patrols
State-of-the-Art Airborne Remote Data Capture and Digital Imagery Technology.
Call FairLifts at 1-800-318-8940 now!
Helicopter Pipeline Inspections and Surveys in New Mexico
FairLifts arranges a variety of helicopter services on many different platforms. One such platform is for oil and gas operations. Helicopters can aid any of these operations by providing a variety of services, including detecting leaks, helping with emergency services, shipping cargo, and transporting crew members. These services are completely customizable, and we only partner with certified helicopter pilots and crew members to bring you these services.

The Gas and Oil Industry in New Mexico
The oil and gas industry contributes to New Mexico's economy in an important way. In 2016, the oil and gas industry contributed a whopping $11.3 billion to the New Mexico economy. A total of around 100,000 jobs in New Mexico are in either the oil or the gas industry. A total of twenty-five oil producers in New Mexico produced a total of 136 million barrels of oil in 2016 alone. (This was a four percent increase from the previous year.) FairLifts arranges these helicopter services to benefit many oil and gas operations throughout the state of New Mexico.
Coordinate pipeline patrol services or conduct aerial line surveillance affordably.
Call FairLifts at 1-800-318-8940 now!
New Mexico Pipeline Services
FairLifts arranges pipeline helicopter services. Helicopter services we arrange include some of the latest in pipeline survey technology; we can set up services that implement the use of LIDAR, which is a 3-D image scan that analyzes terrain. These services can prove vital to meet regulations required by law for pipeline inspections. (The Pipeline and Hazardous Materials Safety Administration, known as PHMSA, requires regular pipeline inspections.) Aerial pipeline inspection services are completely customizable and include many options. Read more below.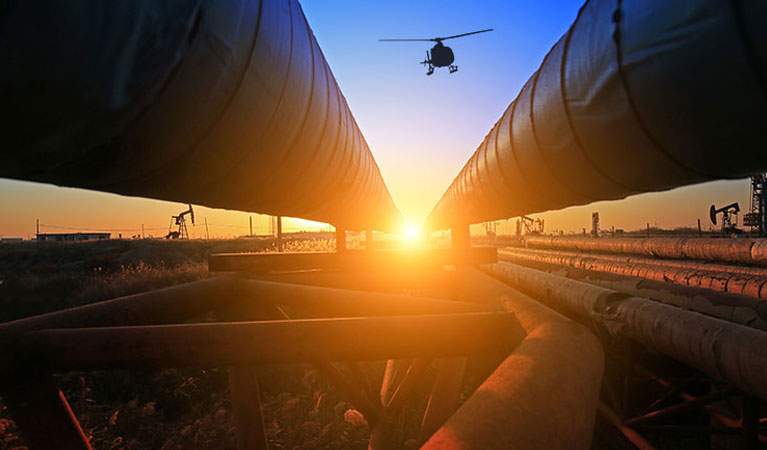 Pipeline inspections and surveys
A helicopter can deliver high-quality pipeline inspections and surveys. FairLifts arranges these services which can benefit your oil or gas operation, proving vital for your operation. Because of the aerial view, a helicopter delivers an accurate view and provides it quickly.
---
A helicopter is a versatile machine capable of assisting with transportation on a variety of levels. This includes pipeline cargo shipments. A helicopter provides heavy lifting capabilities to lift a shipment anywhere you need it to go in a precise manner that can help your operation in a meaningful way.
Emergency Response and Leak Location
Detecting leaks early on, or as soon as possible, is important in any oil or gas operation. The aerial view a helicopter provides can benefit from searching for leaks and oftentimes can find these leaks quicker than a ground crew could. A helicopter can aid in emergency response.
---
Transporting a ground crew to anywhere they need to go is an important part of a successful gas and oil operation. A helicopter provides precise transportation—no matter what the terrain is like—to specific locations in a quick manner that is more effective than ground transportation.
To Receive a Quote for Gas and Oil Pipeline Inspections,
Call FairLifts at 1-800-318-8940 now!
Call FairLifts Today for New Mexico Pipeline Inspections
FairLifts can assist you with any gas or oil operations throughout the state of New Mexico. Helicopter services can take the burden away from a ground crew, providing accurate data, assisting in transporting crew members, and shipping cargo. Connecting with FairLifts is easy and convenient. Simply complete the online contact form or call anytime.

We work hard to provide helicopter solutions for petroleum, natural gas, and other companies with pipelines near all of these New Mexico municipalities:
Alamogordo - Albuquerque - Aztec - Bernalillo - Carlsbad - Carrizozo - Clayton - Clovis - Deming - Estancia - Fort Sumner - Gallup - Grants - Las Cruces - Las Vegas - Lordsburg - Los Alamos - Los Lunas - Lovington - Mora - Mosquero - Portales - Raton - Reserve - Roswell - Santa Fe - Santa Rosa - Silver City - Socorro - Taos - Tierra Amarilla - Truth or Consequences - Tucumcari