Helicopter Support for Pipeline Inspections and Surveys in New York
Inspections - Surveys - LIDAR - FODAR - GIS - Mapping - Patrols

Helicopter Support for Pipeline Inspections and Surveys in New York

Inspections - Surveys - LIDAR - FODAR - GIS - Mapping - Patrols
Pipeline inspection, crew transport, and pipeline leak assistance – all of it is just a call away
Call FairLifts at 1-800-318-8940 now!
Aerial Pipeline Inspection in New York – Redefining the Way Pipelines are Maintained
Pipelines should be routinely inspected to ensure there are no erosions, leaks, or construction excavation throughout the regions of New York. However, the overall process to inspect pipelines on the ground is not only labor-intensive but hazardous as well. That's why pipeline inspections conducted via helicopters are more effective as compared to on-ground inspections. At FairLifts, we reserve aerial pipeline inspections via advanced helicopters in New York and beyond.
Since the state is highly populated, skilled pilots are capable of observing the pipelines even at a lower altitude while hovering over problem areas. High-resolution cameras help to produce GPS-encoded images so customers can easily view the exact location of pipeline anomalies in New York and react immediately.

The New York State and the Urgent Need for Pipeline Inspection
New York has a population of more than 20 million individuals. Being the most populous state, the concern for the safety of gas pipelines tops the list. That's mainly because energy can be efficiently moved over pipelines that are stretched over 180,000 miles across the country. This highlights the urgent need to ensure that all pipelines throughout New York exist without any leaks.
Luckily, observing anomalies in New York's petroleum and natural gas pipelines is now possible with FairLifts. Through FairLifts, qualified pilots capture detailed images of leaked, defected pipelines via state-of-the-art helicopters so customers can immediately view the exact location of the pipelines. This makes dispatching a pipeline technician convenient.
Scheduling aerial pipeline inspection in New York just got more convenient
Call FairLifts at 1-800-318-8940 now!
Pipeline Inspection: Surveys, Cargo Shipments, Leak Location Assistance, and More
Typically, ground surveys are used for inspecting pipelines that are stretched across the entire state. However, aerial pipeline inspection proves to be more effective in New York since it covers pipelines spread across thousands of miles in a single day – thus, reducing the maintenance costs associated with ground inspection.
With aerial imaging, operators make it possible to provide exceptional pipeline inspection services in New York. The result is the accurate and timely collection of high-resolution, detailed, and digital images of pipelines that need to be immediately fixed.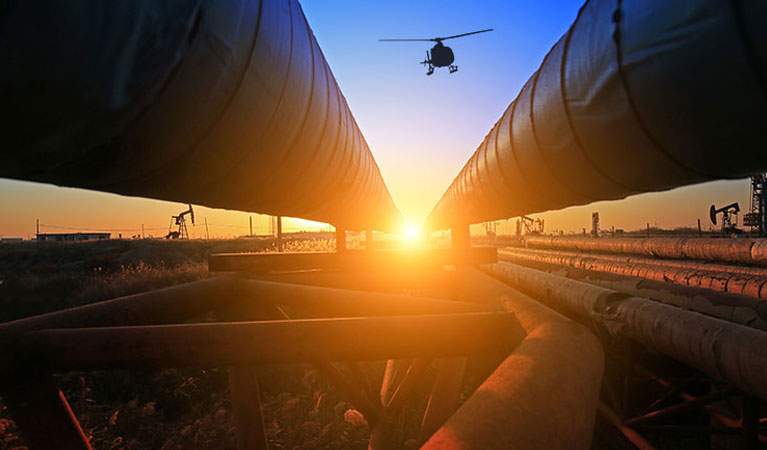 Pipeline inspections and surveys
FairLifts provides its aerial pipeline survey service to identify any erosion, damage, leak, or anomaly in the pipelines of New York. Collaborating with professional helicopter operators, helicopters are equipped with LIDAR technology and GIS which help technicians evaluate and analyze the images of pipelines in a single day.
---
At FairLifts, we know how crucial it is to make sure that oil and gas operations are running smoothly in New York. To ensure immediate delivery of energy resources, we make pipeline cargo shipments possible by offering reservation of timely solutions. Whether it is pipeline construction you are looking for or managing oversized loads, helicopter support will make the task smooth and cost-effective for you.
Emergency Response and Leak Location
Not sure how to respond to an emergency situation at an onshore or offshore site? At FairLifts, we know how to safeguard your crew during a medical emergency. Besides coordinating immediate repairs for pipeline leaks, we also reserve life-saving emergency helicopter response and delivery of medical equipment and staff via helicopters.
---
FairLifts books helicopters to solve your crew transport concerns. Cargo and freight services, oil exploration operations, executive tours, equipment delivery, and emergency flights are now possible via logistical transport services. At FairLifts, we cover both onshore and offshore locations, as well as, those located in remote or hard to access areas of New York.
Repair leaks in pipelines now. Call us and we will arrange the work for you
Call FairLifts at 1-800-318-8940 now!
Contact FairLifts for Aerial Pipeline Inspection in New York
Pipeline inspection doesn't have to be a cumbersome and time-consuming task, especially when you have the option to choose aerial pipeline inspection services over ground surveys. At FairLifts, we strive to not only reduce your pipeline survey costs but also make sure that pipeline inspection and other related tasks are carried out in as little time as possible.
By partnering with experienced helicopter operators and using helicopters equipped with LIDAR, GPS, and GIS technology, FairLifts is proud to reserve pipeline inspection services in New York. Our company representatives are available 27/4 so please feel free to contact us.

We work hard to provide helicopter solutions for petroleum, natural gas, and other companies with pipelines near all of these New York municipalities:
Albany - Albion - Auburn - Ballston Spa - Batavia - Bath - Belmont - Binghamton - Buffalo - Canandaigua - Canton - Carmel - Catskill - Cooperstown - Cortland - Delhi - Elizabethtown - Elmira - Fonda - Fort Edward - Geneseo - Goshen - Herkimer - Hudson - Ithaca - Johnstown - Kingston - Lake Pleasant - Little Valley - Lockport - Lowville - Lyons - Malone - Mayville - Mineola - Monticello - New City - Norwich - Oswego - Owego - Penn Yan - Plattsburgh - Poughkeepsie - Queensbury - Riverhead - Rochester - Schenectady - Schoharie - Syracuse - Troy - Utica - Wampsville - Warsaw - Waterloo - Watertown - Watkins Glen - White Plains