Helicopter Support for Pipeline Inspections and Surveys in North Carolina
Inspections - Surveys - LIDAR - FODAR - GIS - Mapping - Patrols

Helicopter Support for Pipeline Inspections and Surveys in North Carolina

Inspections - Surveys - LIDAR - FODAR - GIS - Mapping - Patrols
For early leak pipeline leak detection and assistance in North Carolina
Call FairLifts at 1-800-318-8940 now!
Complete Aerial Pipeline Inspection Services in North Carolina
According to law, routine pipeline inspections should be carried out regularly across the state of North Carolina. In the past, these patrols 'were carried out on foot and/or with airplanes. Today, low-flying and highly maneuverable helicopters are the ideal vehicles to detect and record leaks and inconsistencies along pipelines in any terrain.
FairLifts extensive portfolio of partners means you can benefit from helicopter aerial pipeline inspections using up-to-the-minute technology and trained personnel to get the results you need. Full-color digital imagery, laser technology, and optical remote sensing technology are all at your disposal when you book through FairLifts.

Monitoring North Carolina's Extensive Pipeline Network
There are currently thousands of miles of oil and gas pipelines running through North Carolina. These will soon be joined by a portion of the 600-mile-long Atlantic Coast Pipeline. Along every inch of the way, there is the potential for toxic and dangerous leakage to occur. When it comes to pipeline damage or malfunction, it's important to act quickly and that's where helicopter surveillance gives you the edge.
Across plains, plateaus and mountain sides, as well as offshore, helicopter aerial inspections ensure that the construction and maintenance of these pipelines as well as necessary repairs can be carried out efficiently.
Call for emergency leak detection services
Call FairLifts at 1-800-318-8940 now!
Pipeline Related Helicopter Services in North Carolina
Thanks to close ties with a range of professional and expert pilots and specialists, FairLifts reserves a comprehensive range of helicopter services for pipeline operators.
The latest technology and experienced onboard personnel make early detection of leaks possible by means of helicopter patrols. Operators can be notified instantly of any anomalies and take immediate action to mitigate environmental damage or safety concerns.
Helicopters can deliver the necessary equipment and crew to the site quickly and safely to carry out repairs if necessary.
Some of the areas where helicopters are vital to pipeline operators in North Carolina are as follows: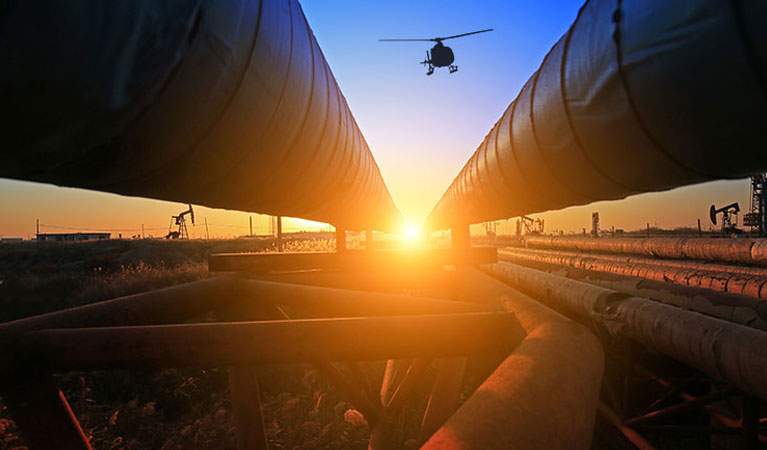 Pipeline inspections and surveys
The signs of potential pipeline leaks are erosion, dead vegetation, bubbling or filmy water. All of these require immediate attention to prevent hazardous spills. By means of helicopter surveys, qualified onboard personnel can pick up these tell-tale signs immediately and provide the customer with GPS encoded imagery for analysis and action.
---
Pipeline construction and repair can be challenging when equipment needs to be transported over difficult terrain. Heavy-lift helicopters make these tasks much easier and quicker by transporting materials and equipment to the site. Key personnel can also be airlifted quickly to where they are most needed, both onshore and offshore.
Emergency Response and Leak Location
If a leak in a pipeline is detected, response teams and equipment must be transported out to the site as quickly as possible to limit the hazards. Aerial surveillance using laser technology is the quickest way to detect leaks, alert the customer and get the necessary repairs underway urgently.
---
Pipelines need people during the construction phase, for routine inspections, and when repairs are necessary. Transporting the necessary people and equipment overland is time-consuming and costly. Helicopter crew transport cuts these costs and ensures that your operations are kept running at an optimum at every stage of the pipeline life cycle.
Satisfy your pipeline inspection needs in North Carolina
Call FairLifts at 1-800-318-8940 now!
Choose FairLifts for Securing Helicopter Support for North Carolina's Pipelines
FairLifts' industry partners give you access to highly skilled and trained personnel as well as a range of helicopters to suit your every need. Helicopters are by far the most superior option when it comes to aerial pipeline services in difficult terrain or in time-critical instances.
Get in touch and we can connect you with pilots and professionals who are at the top of their game when it comes to aerial pipeline patrols and services. The very latest digital and laser technology is at your disposal when you make use of FairLifts' portfolio of services in North Carolina.

We work hard to provide helicopter solutions for petroleum, natural gas, and other companies with pipelines near all of these North Carolina municipalities:
Abolished - Albemarle - Asheboro - Asheville - Bakersville - Bayboro - Beaufort - Bolivia - Boone - Brevard - Bryson City - Burgaw - Burnsville - Camden - Carthage - Charlotte - Clinton - Columbia - Columbus - Concord - Currituck - Danbury - Dobson - Durham - Edenton - Elizabeth City - Elizabethtown - Fayetteville - Franklin - Gastonia - Gatesville - Goldsboro - Graham - Greensboro - Greenville - Halifax - Hayesville - Henderson - Hendersonville - Hertford - Hillsborough - Jackson - Jacksonville - Jefferson - Kenansville - Kinston - Laurinburg - Lenoir - Lexington - Lillington - Lincolnton - Louisburg - Lumberton - Manteo - Marion - Marshall - Mocksville - Monroe - Morganton - Murphy - Nashville - New Bern - Newland - Newton - Oxford - Pittsboro - Plymouth - Raeford - Raleigh - Robbinsville - Rockingham - Roxboro - Rutherfordton - Salisbury - Sanford - Shelby - Smithfield - Snow Hill - Sparta - Statesville - Swan Quarter - Sylva - Tarboro - Taylorsville - Trenton - Troy - Wadesboro - Warrenton - Washington - Waynesville - Wentworth - Whiteville - Wilkesboro - Williamston - Wilmington - Wilson - Windsor - Winston-Salem - Winton - Yadkinville - Yanceyville, and more.