Helicopter Support for Pipeline Inspections and Surveys in Ohio
Inspections - Surveys - LIDAR - FODAR - GIS - Mapping - Patrols

Helicopter Support for Pipeline Inspections and Surveys in Ohio

Inspections - Surveys - LIDAR - FODAR - GIS - Mapping - Patrols
For pipeline enhancements by helicopter
Call FairLifts at 1-800-318-8940 now!
Transformative Ohio pipeline operations by helicopter
Outfit your respective pipeline operations in Ohio with the industry's newest solution, a helicopter. Capitalize on increased productivity and flexibility, whenever you make the easy decision to enhance your outlook with a helicopter specifically optimized for pipeline procedures. Characterized by cutting-edge surveying technologies, heavy lift capacities and the ability to transport personnel from one location to another, these pipeline helicopters allow you to focus on the immediately relevant aspects of your business efforts. Meanwhile, professional helicopter operators make short work of even the most challenging pipeline endeavors, from freight transportation to leak location assistance.

Optimal flying conditions in the Buckeye State
Fortunately, Ohio hosts mild climatic conditions for a majority of the year. Flat topography furthermore makes for streamlined helicopter maneuverability, from one corner of your pipeline network to another. And even when weather conditions prove an inhibition for ground workers, Ohio helicopters can often overcome dark skies for the lasting accomplishment of your ventures.
From the 713-mile Rover Pipeline to the interstate Nexus Pipeline between Ohio and neighboring Michigan, pipeline networks decorate a majority of the state. Schedule an Ohio helicopter provider today, to give you the edge from oil to offshore endeavors.
Immediately improve pipeline network capabilities with helicopter-facilitated aerial solutions
Call FairLifts at 1-800-318-8940 now!
Diversified helicopter solutions for all your Ohio pipeline needs
No matter how individualized your pipeline procedures, rest assured that there exists a helicopter provider which can effectively satisfy your immediate and lasting pipeline operations in Ohio. Dedicated helicopter providers in the Buckeye State will work within the parameters of your personal budget, to craft a helicopter package that maximizes your output onsite at your pipeline. Find yourself ahead of the competition, employing a wide portfolio of aerial services that range from pipeline inspections to surveys, crew transportation to cargo shipments. Your individual preferences are satisfied the moment you implement helicopter logistics on the premises of your Ohio pipeline network.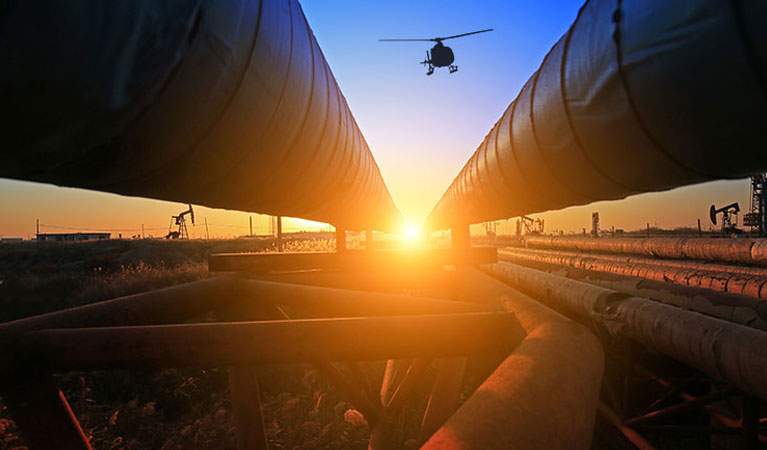 Pipeline inspections and surveys
Afford your pipeline inspector with a holistic perspective above the ground, thanks to a helicopter's unique capacity to reach the skies in a moment's notice. Helicopters subvert difficult terrain, and can hover for extended periods of time whenever you need the extra seconds for accurate survey readings.
---
Onshore and offshore pipeline cargo shipments are made simple and secure by helicopter, for the safe delivery solution that keeps you ahead of the corporate curve. No matter the size or weight of the freight, a helicopter optimized for pipeline application expedites cargo shipments, to any and all destinations.
Emergency Response and Leak Location
When every second matters, helicopter-facilitated emergency response operations are the only solution you can depend on. Expedited evacuation procedures, search and rescue operations and all varieties of security logistics keep helicopters in high demand. Locate and resolve pipeline leaks, thanks to an optimal aerial perspective from a helicopter's side.
---
It's easier than ever to prioritize your pipeline ventures, than with crew transportation. Put the unparalleled lift capacity of industry-leading helicopter prowess to work, safely lifting and moving multiple personnel at a single time. Move crews in only minutes, to keep your attention where it's needed most on the premises.
Realize increased pipeline production, with aerial services
Call FairLifts at 1-800-318-8940 now!
Reach out to a customer service representative today
Now is the time to put personalized helicopter solutions to work, to realize increased operations onsite at your Ohio pipeline site. Take advantage of unrivaled pricing and flexible payment plans, while you discover the advantage that is the aerial element. Call 1-800-318-8940 to reach a customer service agent, who can answer any remaining questions and can begin helping you land a helicopter package. Agents are available at every hour of every day, so don't hesitate to call. You can also submit a customer contact form online, for a response within 24 hours.

We work hard to provide helicopter solutions for petroleum, natural gas, and other companies with pipelines near all of these Ohio municipalities:
Akron - Ashland - Athens - Batavia - Bellefontaine - Bowling Green - Bryan - Bucyrus - Cadiz - Caldwell - Cambridge - Canton - Carrollton - Celina - Chardon - Chillicothe - Cincinnati - Circleville - Cleveland - Columbus - Coshocton - Dayton - Defiance - Delaware - Eaton - Elyria - Findlay - Fremont - Gallipolis - Georgetown - Greenville - Hamilton - Hillsboro - Ironton - Jackson - Jefferson - Kenton - Lancaster - Lebanon - Lima - Lisbon - Logan - London - Mansfield - Marietta - Marion - Marysville - McArthur - McConnelsville - Medina - Millersburg - Mount Gilead - Mount Vernon - Napoleon - New Lexington - New Philadelphia - Newark - Norwalk - Ottawa - Painesville - Paulding - Pomeroy - Port Clinton - Portsmouth - Ravenna - Sandusky - Sidney - Springfield - St. Clairsville - Steubenville - Tiffin - Toledo - Troy - Upper Sandusky - Urbana - Van Wert - Wapakoneta - Warren - Washington Court House - Wauseon - Waverly - West Union - Wilmington - Woodsfield - Wooster - Xenia - Youngstown - Zanesville, and more.