Helicopter Support for Pipeline Inspections and Surveys in Oregon
Inspections - Surveys - LIDAR - FODAR - GIS - Mapping - Patrols

Helicopter Support for Pipeline Inspections and Surveys in Oregon

Inspections - Surveys - LIDAR - FODAR - GIS - Mapping - Patrols
State-of-the-Art Airborne Remote Data Capture and Digital Imagery Technology.
Call FairLifts at 1-800-318-8940 now!
Take to the Air for Crucial Oregon Aerial Line Surveillance
In October 2016, a devastating gas pipeline explosion rocked a Portland, Oregon neighborhood. Pipeline leaks can be just as destructive as unexpected pipeline blasts. Proactive aerial pipeline inspections are fast-becoming the norm to prevent these disasters before they occur. In Oregon, there are approximately 16,000 pipelines throughout the state and a massive one being planned to run through Douglas County.
State, federal and local regulatory commissions have been facing a huge amount of pressure from environmental groups as well as residents who want assurances that old and new pipelines are being properly maintained and installed. Regular aerial pipeline patrols via helicopter are faster and much more adept than traditional ground inspections. Aerial pipeline inspections and surveys are quicker and can cover more area than conventional methods. Immediately gain access to the professional and vast array of aerial pipeline patrols through FairLifts and discover a new view of Oregon's pipeline network.

How Arizona Benefits from Helicopter Support in Pipeline Leak Detection in Oregon
This Pacific Northwest state is home to a diverse landscape from the stunning coastline to its 50 mountain ranges and six inviting state forests. Portland is also on the cutting edge of the artistic community and is home to the only leprechaun colony west of the Emerald Isle. Oregon houses the world's largest mushroom too. Of course there is Crater Lake, which is the deepest lake in America and the tenth on the globe. While oil and gas drilling boomed in the 60s, Oregon still has large acreages of public land open to oil and gas leases as well as the potential for offshore exploration. Aerial pipeline inspections and surveys are a critical piece in maintaining the network of pipelines and the more than 90 natural gas wells located within the state.
Coordinate pipeline patrol services or conduct aerial line surveillance affordably.
Call FairLifts at 1-800-318-8940 now!
Uncover the Capabilities of Oregon Aerial Pipeline Inspections
FairLifts can connect local and federal agencies, gas and oil companies, contractors and more with the growing network of pilots in Oregon specializing in aerial pipeline inspections and other aerial services geared toward the oil and gas industry. An array of aerial options are available including inspections, surveys, shipping, crew transport and emergency response and leak location. Find out more about the aerial pipeline services at your disposal in Oregon.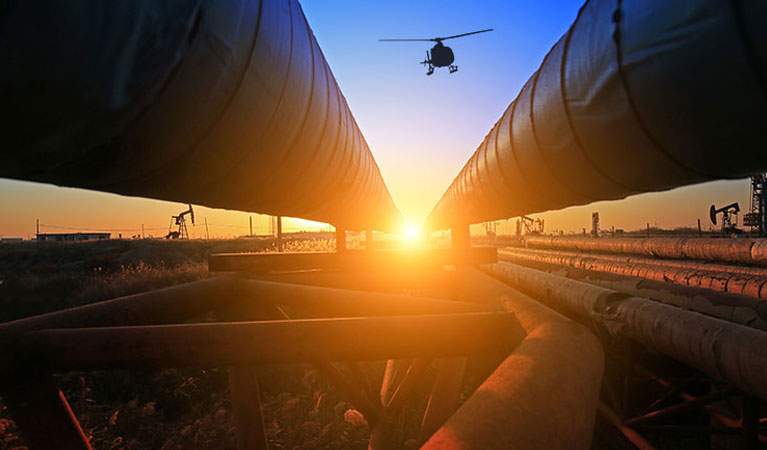 Pipeline inspections and surveys
When pipeline accidents like the 2016 gas line explosion in Portland occur, people do not want new pipelines running through their community and begin to doubt the stability of existing ones especially with the aging infrastructure issues plaguing much of the country. With 16,000 pipelines running throughout Oregon, proactive pipeline inspections and surveys equal peace of mind. Aerial pipeline inspections and surveys are reliable, efficient and cost-effective.
---
As more and more problems arise with aging railroad infrastructure across the nation, aerial pipeline cargo shipments are becoming an economical and safer choice. Heavy lift helicopters can deliver cargo to Oregon's diverse landscape, reaching both remote and offshore destinations.
Emergency Response and Leak Location
Pipeline explosions and leaks wreak havoc on many levels. Of course, there is the tragic loss of life. However, the long range factors are the impact on the environment as well as the surrounding communities. When a pipeline emergency erupts or a leak is suspected, time is critical and that quick response often comes from the air. Aerial assistance can reach affected areas much faster than conventional ground transport especially when remote and offshore area are involved.
---
Aerial lift options provide oil and gas companies, government agencies, contractors, construction companies, inspectors and more with a wealth of transportation choices. From pipeline crew transport to site inspection personnel to supplies and beyond, aerial transport choices are numerous and surprisingly budget-friendly.
Find out about the benefits of aerial pipeline inspections in Oregon
Call FairLifts at 1-800-318-8940 now!
Connect with Oregon's leader in helicopter support for aerial pipeline inspections, surveys and more...
When pipeline emergencies occur or immediate leak detection is needed, FairLifts can open the door to efficient, affordable and fast aerial pipeline inspections, emergency response teams, surveys and more. Our seasoned staff is available seven days a week for free quotes and consultations or to answer pipeline patrol questions. Simply call us directly or use our convenient online contact form.

We work hard to provide helicopter solutions for petroleum, natural gas, and other companies with pipelines near all of these Oregon municipalities:
Albany - Astoria - Baker City - Bend - Burns - Canyon City - Condon - Coquille - Corvallis - Dallas - Enterprise - Eugene - Fossil - Gold Beach - Grants Pass - Heppner - Hillsboro - Hood River - Klamath Falls - La Grande - Lakeview - Madras - McMinnville - Medford - Moro - Newport - Oregon City - Pendleton - Portland - Prineville - Roseburg - Saint Helens - Salem - The Dalles - Tillamook - Vale