Helicopter Support for Pipeline Inspections and Surveys in Pennsylvania
Inspections - Surveys - LIDAR - FODAR - GIS - Mapping - Patrols

Helicopter Support for Pipeline Inspections and Surveys in Pennsylvania

Inspections - Surveys - LIDAR - FODAR - GIS - Mapping - Patrols
Call FairLifts and speak with one of our client service agents for a free consultation
Call FairLifts at 1-800-318-8940 now!
FairLifts Reserves Aerial Pipeline Inspection Solutions in Pennsylvania
FairLifts offers decades of experience in reserving helicopter support for pipeline infrastructure with a network of qualified and professional operators who understand how to identify problem areas and the processes of maintenance, using today's latest and most reliable technology.
A global network of operators is well equipped to help clients identify irregularities which are hazards in the waiting, or ones which present dangerous environmental issues for repair or maintenance. We are able to access and pinpoint areas that are damaged, corroded, defective, or in need of repair through proper inspections, surveillance, and transport so our clients can continue operating a healthy pipeline system.

Pennsylvania The Home of Quaker State Oil and its Pipelines
The State of Pennsylvania has been involved with natural gas and oil since the early 19th century. Although it was primarily used by native Americans for centuries through seeps, the industrialization of it began in 1862 in Titusville, which is known as the "Birthplace of the Oil Industry".
There are currently thousands of miles of pipeline throughout Pennsylvania which transport Marcellus Shale gas across the state line. FairLifts can offer scheduled helicopter services to help with construction, maintenance, surveying and transport for both land and offshore operations.
Tell us where you want to start and we will help you finish job
Call FairLifts at 1-800-318-8940 now!
Utility Specific Services Available in Pennsylvania Maintain Pipeline Health
Pipelines are vital in the lives of every community. They are rarely considered because they faithfully function, and remain unseen being underground in many areas. Turn on the heater, and the gas comes on. Instant power comes from flicking a light switch. Small and larger things are supplied through underground pipelines. The U.S. currently has the largest pipeline chain in the world with 207,800 miles of liquids pipelines, 300,000 miles of gas pipelines, and over 2.1 million miles of gas distribution pipelines. This network is crucial to everyday functional life and requires regular maintenance to continue to function securely.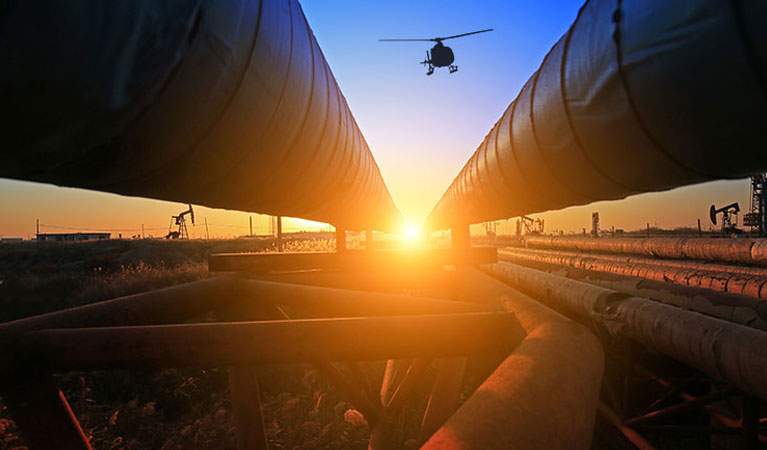 Pipeline inspections and surveys
Pipeline inspections include patrolling pipelines to observe the conditions above ground on or within the pipeline's ROW. The purpose of airborne high-quality camera systems is to identify safety conditions and operations surroundings to fix and/or prevent damages. Helicopters fly at the perfect height to obtain an accurate viewpoint.
---
Lifting and transporting heavy equipment and materials can be expedited with aerial support. Helicopters can carry thousands of pounds of external loads for several operations including, aerial trimming around power transmission and pipelines, fire suppression, construction, heli-logging, electrical line work, and servicing oil rigs, and stocking remote outposts with supplies.
Emergency Response and Leak Location
DOT safety regulations call for routine pipeline surveys regularly, which are necessary to find leaks in pipelines. Leaks can cause property loss, injury or death in extreme cases. An aerial emergency response is vital in case of accidents to help move patients to proper medical facilities quickly especially from remote locations.
---
Helicopters have the ability to provide inland and offshore crew transport service to oil & gas locations including hard to reach areas, inaccessible landscapes, and remote locations. The advantages of aerial transport are quick and safe movement between locations for production, exploration operations, delivering supplies, equipment, and emergency response services.
Book a helicopter to service all of your pipeline inspections
Call FairLifts at 1-800-318-8940 now!
Connect with Pennsylvania's leader in helicopter support for aerial pipeline inspections, surveys and more...
FairLifts reserves a variety of services to ensure our clients receive the kind of support they deserve when it comes to completing full pipeline projects and everything in between.
We have access to a network with a full fleet of helicopters along with high-quality equipment, and a fully experienced operations staff that is named among the best in the industry and who are focused on delivering top-notch services with the goal of ensuring the job is complete and the project passes the client satisfaction test, and the operations are regulation compliant.

We work hard to provide helicopter solutions for petroleum, natural gas, and other companies with pipelines near all of these Pennsylvania municipalities:
Allentown - Beaver - Bedford - Bellefonte - Bloomsburg - Brookville - Butler - Carlisle - Chambersburg - Clarion - Clearfield - Coudersport - Danville - Doylestown - Easton - Ebensburg - Emporium - Erie - Franklin - Gettysburg - Greensburg - Harrisburg - Hollidaysburg - Honesdale - Huntingdon - Indiana - Jim Thorpe - Kittanning - Lancaster - Laporte - Lebanon - Lewisburg - Lewistown - Lock Haven - McConnellsburg - Meadville - Media - Mercer - Middleburg - Mifflintown - Milford - Montrose - New Bloomfield - New Castle - Norristown - Philadelphia - Pittsburgh - Pottsville - Reading - Ridgway - Scranton - Smethport - Somerset - Stroudsburg - Sunbury - Tionesta - Towanda - Tunkhannock - Uniontown - Warren - Washington - Waynesburg - Wellsboro - West Chester - Wilkes-Barre - Williamsport - York