Helicopter Support for Pipeline Inspections and Surveys in South Dakota
Inspections - Surveys - LIDAR - FODAR - GIS - Mapping - Patrols

Helicopter Support for Pipeline Inspections and Surveys in South Dakota

Inspections - Surveys - LIDAR - FODAR - GIS - Mapping - Patrols
Arrange certified pipeline inspections, surveys or patrol solutions in South Dakota today
Call FairLifts at 1-800-318-8940 now!
Certified South Dakota Pipeline Inspections, Surveys, and Patrols
FairLifts arranges cost-effective and efficient certified pipeline inspections, surveys, and patrols in South Dakota to detect anomalies from leaks, erosion, construction or excavation. We ensure detailed, GPS-encoded, imaging of problem areas to facilitate an immediate response. In South Dakota, ground pipeline inspections, surveys, and patrols are not always possible in out-of-the-way areas, so aerial inspections are crucial to check lines at lower altitudes, where helicopters are able to hover or land to capture detailed images.

South Dakota: Energy in the Mount Rushmore State
South Dakota ranks sixth in the nation in ethanol production capacity with 7% of the U.S. total. Last year, hydroelectric power provided more than two-fifths of South Dakota's net electricity generation, the largest share of any energy source in the state. Wind power provides roughly 30% of South Dakota's total net electricity generation and wind supplies a larger share of state generation in South Dakota almost every other state in the US. Oil production produces between about 1.1 million and 1.8 million barrels per year in South Dakota, while per capita retail electricity sales are well above the national average since three out of every ten households use electricity as their primary energy source for home heating.
Coordinate fixed oil and gas pipeline inspections, surveys or patrols in South Dakota today
Call FairLifts at 1-800-318-8940 now!
Licensed South Dakota Pipeline Inspection, Survey and Patrol Solutions
FairLifts coordinates licensed pipeline inspections, surveys and patrol solutions for the oil and gas industry in the state of South Dakota. Qualified pilots are available to deliver affordable and efficient pipeline inspections and surveys, cargo shipments, emergency response, leak location assistance, and crew transport.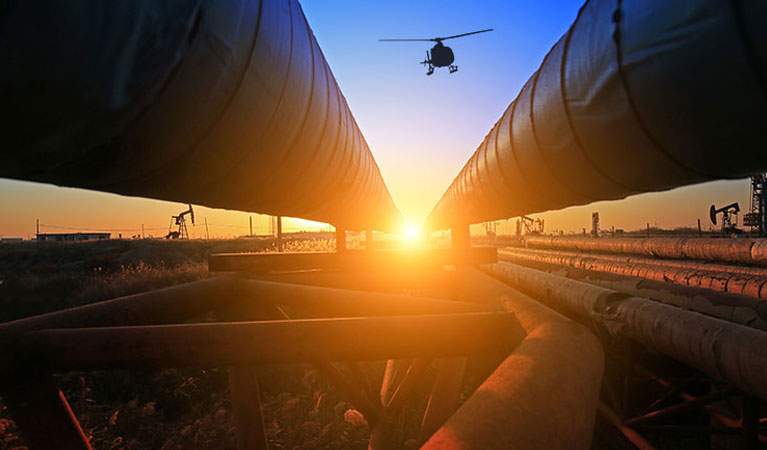 Pipeline inspections and surveys
FairLifts arranges reliable pipeline inspections and surveys to locate anomalies, leaks, damage or erosion. Local providers facilitate helicopters equipped with sensor light detection and ranging (LIDAR that is integrated into a Geographic Information System (GIS) to evaluate images and GPS information immediately.
---
FairLifts' agents organize steadfast pipeline cargo shipments for logistical support, isolated facilities, pipeline construction, outsized loads and precision long-lining for large drill rigs and pipeline infrastructures. Via a local network of providers enables swift helicopter solutions to keep oil and gas industry operations on course.
Emergency Response and Leak Location
FairLifts arranges immediate emergency response and leak location assistance during critical crises at offshore and onshore oil and gas sites to provide life-saving support to crews and staff, as well as urgent repairs. A network of helicopter providers also delivers staff and equipment for vital medical assistance, as well as crews and equipment for repairs.
---
FairLifts schedules immediate crew transport to offshore and onshore locations for production and exploration operations, ad hoc supply and equipment delivery missions, emergency flights, freight and cargo services, and company tours. Operators ensure dependable transport for the oil and gas industry.
Ensure continuing oil or gas production helicopter service in South Dakota
Call FairLifts at 1-800-318-8940 now!
Contact FairLifts for South Dakota Pipeline Inspection, Survey and Patrol Solutions
Our knowledgeable account managers are readily available to organize certified helicopter solutions and to provide additional information and quotes for pipeline inspection, survey and patrol solutions in South Dakota.

We work hard to provide helicopter solutions for petroleum, natural gas, and other companies with pipelines near all of these South Dakota municipalities:
Aberdeen - Alexandria - Armour - Belle Fourche - Bison - Britton - Brookings - Buffalo - Burke - Canton - Chamberlain - Clark - Clear Lake - Custer - De Smet - Deadwood - Dupree - Elk Point - Faulkton - Flandreau - Fort Pierre - Gann Valley - Gettysburg - Hayti - Highmore - Hot Springs - Howard - Huron - Ipswich - Kadoka - Kennebec - Lake Andes - Leola - Madison - Martin - McIntosh - Milbank - Miller - Mitchell - Mound City - Murdo - Olivet - Onida - Parker - Philip - Pierre - Plankinton - Rapid City - Redfield - Salem - Selby - Sioux Falls - Sisseton - Sturgis - Timber Lake - Tyndall - Vermillion - Watertown - Webster - Wessington Springs - White River - Winner - Woonsocket - Yankton