Helicopter Support for Pipeline Inspections and Surveys in Tennessee
Inspections - Surveys - LIDAR - FODAR - GIS - Mapping - Patrols

Helicopter Support for Pipeline Inspections and Surveys in Tennessee

Inspections - Surveys - LIDAR - FODAR - GIS - Mapping - Patrols
Tor all your pipeline service requirements in Tennessee
Call FairLifts at 1-800-318-8940 now!
Professional Pipeline Inspections in Tennessee
By law, regular pipeline inspections are required throughout the state of Tennessee. These allow for early detection of potential safety and environmental risks caused by pipeline leaks or breakages. In the past, these surveys were done by means of fixed-wing aircraft or on foot. These methods soon proved time-consuming and inefficient.
Helicopter pipeline patrols offer a host of benefits to the oil and gas industry's routine pipeline inspections. Technological advances, skilled pilots and experienced crew mean that these tasks can be carried out quickly and efficiently by means of a helicopter. This diminishes risk and saves costs in the long term.

The Oil and Gas Industry in Tennessee
Gas and oil drilling in Tennessee occur in 11 of the state's counties and the state is home to one of the largest pipeline systems in the USA, the Tennessee Gas Pipeline, which spans 11,900 miles.
This infrastructure needs regular inspections and maintenance to ensure the safety of the populace and environmental integrity of this picturesque state.
Aerial pipeline inspections by helicopter play a significant role in ensuring that these pipelines remain in good working order always. The hills, mountains, and valleys of Tennessee are easily traversed by helicopter, making this arduous task a lot quicker and more efficient.
For emergency and routine helicopter pipeline services
Call FairLifts at 1-800-318-8940 now!
Aerial Pipeline Surveillance Services in Tennessee with FairLifts
Thanks to infinite maneuverability and their low flying abilities at slow speeds, helicopters are ideal for the tasks associated with pipeline inspections. Routine patrols, as well as the initial surveillance steps, are well within the ambit of helicopter patrols. Qualified onboard staff can detect minute signs of leaks instantly and relay this information back to the client for immediate action.
GPS-encoded digital images, assist with verifying suspected leaks swiftly. Helicopters can deliver maintenance personnel and equipment to the site without delay and prevent serious safety and environmental issues.
FairLifts offers a full range of off- and onshore pipeline inspection services in Tenessee including the following: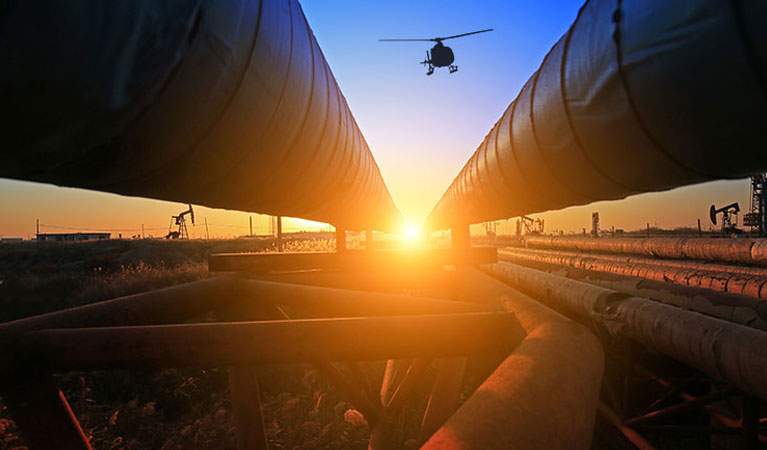 Pipeline inspections and surveys
Dying vegetation, bubbly and filming water are the early warning signs of potential oil and gas pipeline leaks. Helicopter aerial pipeline surveys can help to detect these early and advise the client to act timeously to rectify them. This greatly reduces the risks associated with leaking pipelines.
---
Mountainous terrain can cause problems when it comes to pipeline repairs and construction schedules. Heavy machinery can be delivered almost everywhere by means of cargo hooks, including out to offshore rigs. In the same way, key personnel can be airlifted to where they are most needed at high speed.
Emergency Response and Leak Location
Contamination from pipeline leaks can be catastrophic, and helicopters play a leading role in preventing these mishaps. Minute traces of leakage can be detected before they pose a problem, by trained staff using the latest laser technology. Thanks to these innovations, the exact coordinates of potential leaks can be transmitted to repair staff in good time.
---
Helicopters can assist with every stage of the pipeline lifecycle from initial surveys, during construction and during routine inspections. Traditional means of transport can take weeks to get the necessary crew on site, helicopters get them there quickly, safely and with the equipment they need.
Experts are standing by to get you a fast quote for your pipeline survey in Tennessee!
Call FairLifts at 1-800-318-8940 now!
FairLifts Complete Helicopter Aerial Pipeline Inspection Services
FairLifts gives you access to a pool of experienced, highly skilled personnel equipped with the latest technology to assist you with all your pipeline inspection needs. We can arrange for full-color digital photography and video of your sites as well as the latest, most advanced optical remote sensing technology and accurate laser leak-detection devices.
Helicopters offer considerable time and budget savings compared to other methods of inspection and will deliver more accurate and timeous results. Get in touch with FairLifts to find out more about the services and savings on offer.

We work hard to provide helicopter solutions for petroleum, natural gas, and other companies with pipelines near all of these Tennessee municipalities:
Bartlett - Chattanooga - Clarksville - Cleveland - Columbia - Cookeville - Crossville - Franklin - Hendersonville - Jackson - Johnson City - Kingsport - Knoxville - Lebanon - Maryville - Memphis - Morristown - Murfreesboro - Nashville - Smyrna, and more.