Government Helicopter Assistance
Given their vast versatility, helicopters can be the perfect asset for any government agency
Government Helicopter Assistance
Given their vast versatility, helicopters can be the perfect asset for any government agency
Our team of helicopter specialists fulfills requirements and exceeds expectations.
Call FairLifts at 1-800-318-8940 now!
Helicopters are the Ultimate Utility Tool
Given their vast versatility, helicopters can be the perfect asset for any government agency. Able to lift heavy loads, transport people, equipment and supplies almost anywhere, fly low and slow for search and rescue operations or surveying work, and more, helicopter support for government services can get government jobs done quickly and efficiently.
Able to takeoff and land almost anywhere, helicopters are ideal for rapid response, such as disaster relief or search and rescue operations. Other government services that benefit from aerial support include infrastructure inspections, land or animal survey work, and the ability to rapidly transport people or equipment where they are needed.
---
With the ability to haul heavy loads and deliver them almost anywhere regardless of having access to an airport, helicopters offer unique benefits. External load hauls are ideal for government contract work in construction, hauling supplies or materials, as well as in fire suppression and other uses. Other helicopters can internally haul heavy equipment and materials and deliver them directly where needed.
If you need a utility construction helicopter quote fast...
Call FairLifts at 1-800-318-8940 now!
Helicopter Fleet Options:
Helicopters that can support government services are numerous, all with different strengths and characteristics that make them ideal for a variety of duties.
The Airbus H125, for instance, is an extremely popular utility aircraft due to its reliability and versatility. With space for five to six passengers, its internal capacity is adequate for government transports, surveying work, search and rescue, law enforcement operations and medical evacuations. Its long-range capabilities also make it ideal for surveying work or aerial inspections.
Middleweight Lifting Helicopters
For greater power and capacity, the Bell 212 is a popular option. Its twin engines have enough power for the copter to carry up to 15 passengers or to haul loads of up to 5,000 pounds via sling or long line. This makes it a useful tool in construction, cargo transportation or fire suppression services.
Heavyweight Lifting Helicopters
For major lifting jobs, the Sikorsky S-64 Skycrane is one of many options. Its twin engines and six-blade main rotor is able to haul loads of up to 20,000 pounds. It is the ideal machine for large government construction contracts and hauling jobs.
If you need a utility construction helicopter quote fast...
Call FairLifts at 1-800-318-8940 now!
Government Helicopter Support

Helicopter support can be used in a wide range of government services because the vehicles are so powerful, nimble and versatile.
Skycranes can provide helicopter support to any government construction contract because of their ability to haul massive loads and deliver them with precision. Whether it's hauling and delivering land erosion materials or placing large rooftop units, utility poles or anything in between, a helicopter lift can be a useful tool.
---
Disaster Response Services:
Helicopters are an ideal tool in disaster response because they can fly low and slow, hover in place, carry personnel and supplies and access remote locations or places otherwise inaccessible by roads. Utility helicopters can carry medical personnel into disaster areas and carry patients out to medical facilities, while larger helicopters can aid in hauling heavy equipment or supplies, and aid in fire-fighting duties.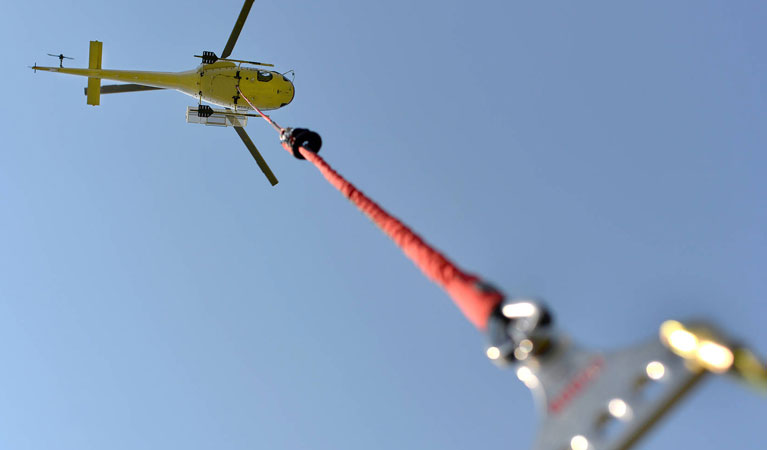 Whatever the government contracts are, helicopters support them through a unique blend of speed, power and mobility that can increase efficiency in any job.
---
While helicopters have great uses for fire officials, the same is true for law enforcement as they can provide "eyes in the sky" reconnaissance services as well as moving officials or supplies quickly from place to place.
Wildlife and Forestry Services:
Wildlife or conservation officials can use government helicopter support for animal surveys and setting hunting quotas. Helicopters can easily access remote areas and do so without any harm to the land. Forestry officials can also utilize aerial support for surveying large swaths of land or even selectively harvesting trees without needing large hauling trucks and the access roads they require.
Experts are standing by to get you a fast quote for your transmission line job!
Call FairLifts at 1-800-318-8940 now!
Helicopter Support Government Services
Government contract work requires experienced professionals who know the machines and the industry. FairLifts can easily arrange helicopter support for any government service, be it construction, inspections, search and rescue, or survey work. FairLifts experts can match any project with the right helicopter so the job gets done quickly and efficiently. Let us quickly get any government project off the ground.
Aerial support for government services. Call 1-800-318-8940!