Arkansas Helicopter Aerial Application for Agriculture
Wet or Dry Fertilizer Spraying, Pest Control, frost Prevention & More

Arkansas Helicopter Aerial Application for Agriculture

Wet or Dry Fertilizer Spraying, Pest Control, frost Prevention & More
Learn more about how helicopters can benefit your agricultural operation in Arkansas.
Call FairLifts at 1-800-318-8940 now!
Helicopter application for AG-Operations in Arkansas
Aerial application in Arkansas is a way of life for many farmers and with it's growing popularity these various helicopter spray services are requested more often. Roughly 97% of the tens of thousands of farms in the Natural State are family owned, which means that individual farmers are less likely to have the time to do their own ground applications and spraying. If you are one of these individuals, then FairLifts can provide you with an easy to schedule service that can be done within a short period of time, cover all of your crops fully and reach areas that are difficult to access guaranteeing a higher crop yield at the end of the season.
By utilizing aerial AG-services on your crops, you have the ability to save time and money. Helicopters do not have to return to airstrips for refueling or for chemical mixing. All of this can be done on the nurse-truck that brings them to your location. More land can be covered in a shorter period of time with less returns which in turn, gets the job done quicker and with more precision. These specialty aircraft are practically made to assist you.

Arkansas Aerial Application in The Natural State
Agriculture is Arkansas' number one industry and plays a crucial role in the state's economy. Over 44,000 farms contribute $20 billion annually to the state's total revenue. Arkansas stands as fifth in timber production nationally and 10th for soybean, both primary crops that can be benefited with the use of helicopters.
For the forestry service in Arkansas, helicopters can provide standing stem harvesting as well as heavy lifting of timber products and as you would expect, for soybeans, helicopters can and have provided aerial application. In addition to these specifically, Arkansas produces a wide assortment of other agricultural commodities, all of which can be treated with helicopter spraying including Corn & Grain Sorghum, Cotton, Forestry, Soybeans, and Wheat.
Get a fast, free quote on the right helicopter solution for your crops.
Call FairLifts at 1-800-318-8940 now!
Helicopter Application in Arkansas is more than just crop dusting
Helicopter spraying and aerial applications are superior when it comes to other methods of crop treatments. The ability of the helicopter to hover, maneuver in small spaces and spray an even amount within a large radius make it the best mechanism for addressing your crop needs. The helicopters and operators FairLifts assigns to your various projects are highly trained in determining the right amount of application for your specific ROW or large area crops so each operation is unique and can be customized to fit your needs. We offer arrangement of the following services, however, do not limit ourselves or the capabilities of our partners to this list.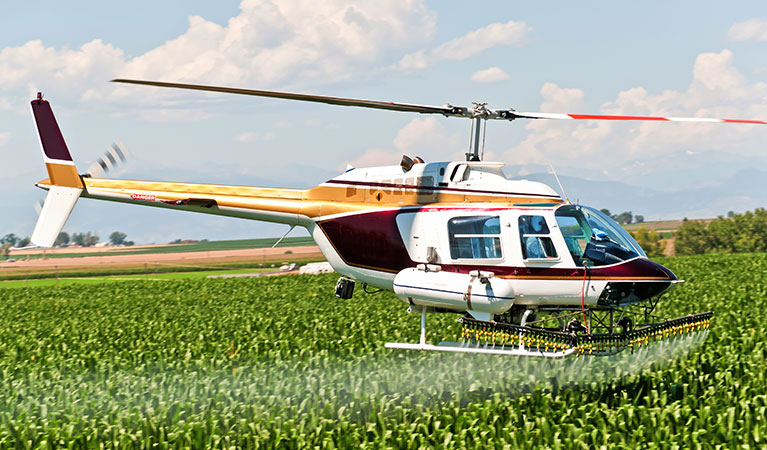 Crop Dusting: Fungicides, Fertilizer, Etc
The greatest benefit of aerial application in Arkansas is that using the spray by air method covers more ground, in less time and is effective even in hard to reach locations. Helicopter spraying, unlike traditional fixed wing crop dusting, is versatile and cost effective when you realize all of the work and mixing can be done onsite. This process is available whether you are in need of aerial application or the spraying of fungicides, watering, hydroseeding, aerial topdressing with fertilizers, both wet and dry spraying as well as the dispersing of various other slurry mixtures.
---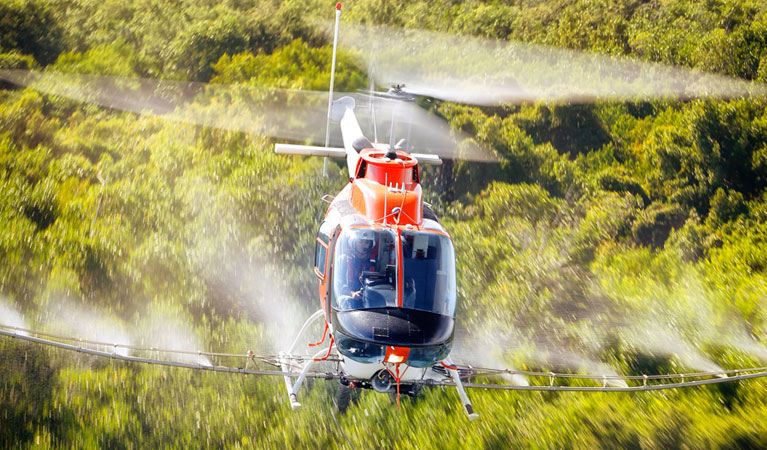 Mosquito and Pest Control
Helicopters provide even distribution with the greatest precision of pesticides all the while, controlling the amount of off-target drift. This proves to be best for the prevention of hazardous chemicals being released into the air and ground water. Both larvicide and adulticide are applied to fields to rid crops of pests such as mosquitos, and rodenticides can control the rat or mouse population. A large infestation can wipe out crops in a short period of time and the best treatment is prevention when it comes to pest control. Large swaths can be treated at once and pesticides dispersed via helicopter spraying can reach those all the way to the ground level guaranteeing longer coverage.
Brush and weed control is vital in the agriculture industry and the spraying of herbicides by aerial application is the most effective means of treating a large area down to the topsoil. Smaller weeds and brush plants bordering crop lines can be a nuisance especially if they are hard to reach, however, with the precision of helicopter applications, all of these field sections can be covered. From right of way vegetation control to the elimination of gorse, ragwort, thistles, broom, blackberry, scrub and buttercup as well as many other weed varieties, helicopter spraying provides the most effective treatment.
---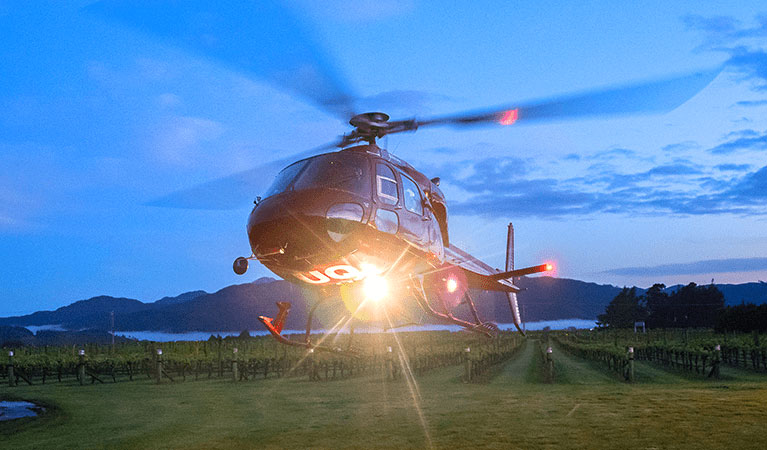 Frost Prevention and Treatment
Frost prevention is a must for those living in regions that often see overnight frosts that can cause devastating effects on crops. With the ability of helicopters to hover, the downdrafts coming from the rotors of the aircraft can push warm air down onto crops and displace the cooler air. Often, these operations are scheduled and performed the night before or during a project freeze, but not after. Typically 50 acres of land is treated at a time during frost prevention and a 60 acre field can be raised to a preferable temperature in around 30 minutes.
Experts are standing by to get you a fast quote for your agricultural job in Arkansas!
Call FairLifts at 1-800-318-8940 now!
Modern Solutions for Aerial Application in Arkansas
FairLifts works with the most professional and experienced pilots and operators working in the agricultural aviation industry. Each of our agents is well-versed in assisting farmers in producing higher and better quality yields in Arkansas and can assist you in your own growth. Simply contact us seven days a week to discuss environmentally and neighborly crop dusting and spraying this next growing season.
Call FairLifts at 1-800-318-8940 now!
We work hard to provide helicopter solutions for farms and agricultural businesses in all of these areas and more in Arkansas....
Arkadelphia - Arkansas City - Ash Flat - Ashdown - Augusta - Batesville - Benton - Bentonville - Berryville - Blytheville - Booneville - Camden - Charleston - Clarendon - Clarksville - Clinton - Conway - Corning - Danville - Dardanelle - De Queen - De Witt - Des Arc - DeValls Bluff - El Dorado - Eureka Springs - Fayetteville - Fordyce - Forrest City - Fort Smith - Greenwood - Hamburg - Hampton - Harrisburg - Harrison - Heber Springs - Helena - Hope - Hot Springs - Huntsville - Jasper - Jonesboro - Lake City - Lake Village - Lewisville - Little Rock - Lonoke - Magnolia - Malvern - Marianna - Marion - Marshall - Melbourne - Mena - Monticello - Morrilton - Mount Ida - Mountain Home - Mountain View - Murfreesboro - Nashville - Newport - Osceola - Ozark - Paragould - Paris - Perryville - Piggott - Pine Bluff - Pocahontas - Prescott - Rison - Russellville - Salem - Searcy - Sheridan - Star City - Stuttgart - Texarkana - Van Buren - Waldron - Walnut Ridge - Warren - Wynne - Yellville