Georgia Helicopter Aerial Application for Agriculture
Wet or Dry Fertilizer Spraying, Pest Control, frost Prevention & More

Georgia Helicopter Aerial Application for Agriculture

Wet or Dry Fertilizer Spraying, Pest Control, frost Prevention & More
Learn more about how helicopters can benefit your agricultural operation in Georgia.
Call FairLifts at 1-800-318-8940 now!
Helicopter application for AG-Operations in Georgia
The healthy survival of your crops is effectively the difference between increased profits and the loss of income. Ensure that your crops are cared for as they deserve, with the increased efficiency provided exclusively by helicopter aerial applications! Rates more affordable than ever before, together with the protection of your livelihood, make this an investment too lucrative to pass by. Aerial application achieves a greater application radius in a fraction of the traditional time. Depend on the solution trusted by farmers across the nation and choose a helicopter provider today!

Helicopter solutions, no matter the terrain in Georgia
From beaches to mountains, Georgia's landscapes proves as diverse as any state's. Fortunately, the dexterity that a helicopter alone provides is the effective solution to your aerial application needs, no matter the topography of your respective venture.
Georgia has earned its moniker, The Peach State, for a well-deserved reason: the quality of its produce, from peaches to soybeans, tobacco to corn. With wide open, farmed spaces typifying much of the state itself, Georgia is the optimal location for aerial application by helicopter. Lengthy summer and fall seasons exhibit ideal conditions for flying.
Get a fast, free quote on the right helicopter solution for your crops.
Call FairLifts at 1-800-318-8940 now!
Helicopter Aerial Application Options in Georgia
From crop surveys to dry and wet spraying, FairLifts can offer you more options for aerial application in Georgia. By using helicopters for your crop needs, you are choosing a more accurate, even coverage for your fields. Helicopters are much faster, have less of an impact on surrounding crops or roads, and provide more penetration of the crop canopy. With so many benefits as well as saving you time, gaining you profit and assisting in production of higher quality products, there is very little else to decide other than when you'd like for the pilot to come to your farm. Take a look at the options below, while these are the most popular we offer customized scheduling for specialized needs as well.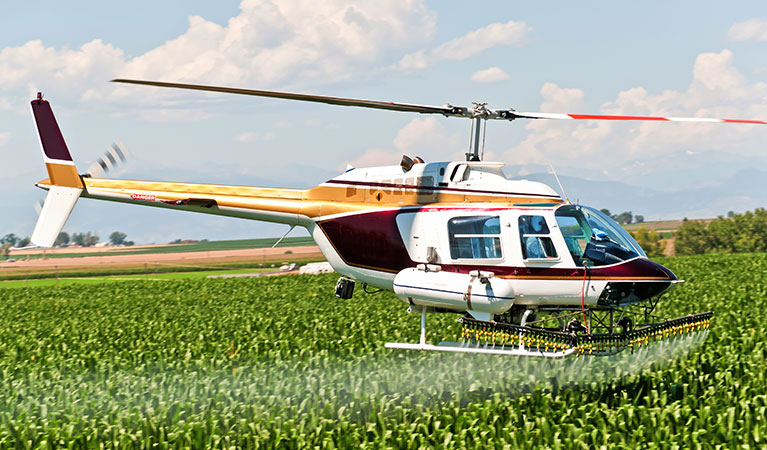 Crop Dusting: Fungicides, Fertilizer, Etc
Many applications can be made based on your specific needs. For aerial application (crop dusting), we can arrange a professional ag-pilot to come to your location, mix the chemicals needed and spray crop protection products such as fungicide. For aerial topdressing, you can choose from options that are crop specific in terms of fertilizer or hydroseeding. No matter the need you have for your farm, we can assist you in scheduling a professional service agent to plan, facilitate and return as many times as needed.
---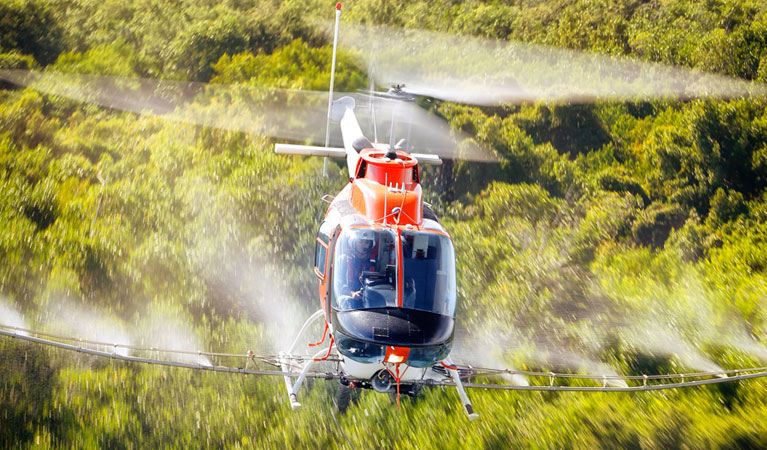 Mosquito and Pest Control
Anyone who has been to the South knows that mosquitos are a menace and small insects can wreak havoc on the quality of your crops. Helicopters provide easy access to areas of your fields or land without affecting the surrounding environment and neighborhoods. We work with professional specifically trained in mitigating pesticide drift and spray drift and are knowledgeable of the specific rules and regulations for pesticide treatments in Georgia. Choose from options such as adulticide and larvicide to ensure every pest life-cycle is taken care of.
Herbicide application via helicopter is much less time consuming than by ground application and you take less of a risk that your crops will not have the correct or even spreading you may have to apply it alone. With the ability to access difficult to reach, and large areas, aerial application is the best way to ensure your crops are guarded against noxious weeds and brush encroachments. Don't lose precious growth by missed weeds, get them all with a helicopter spraying.
---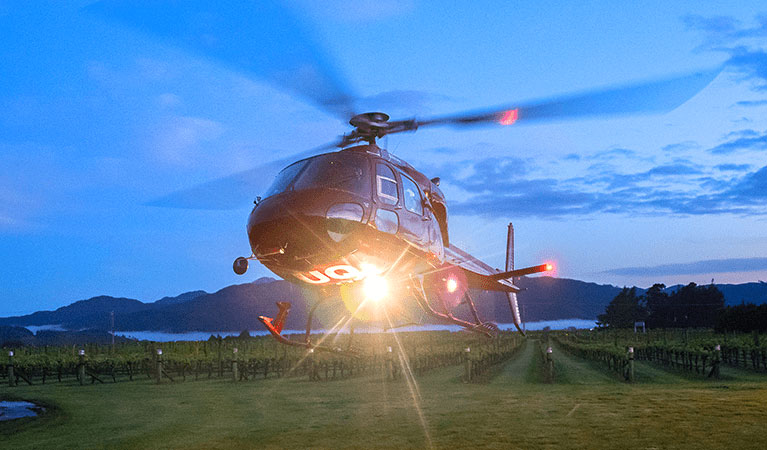 Frost Prevention and Treatment
While Georgia is located in a fairly warm region, there is always a chance for frost even during the warmer months. Frost prevention and treatment through aerial application can mean simply drying, or spraying crops with a preventative. Continuous spraying for further into the colder months can be arranged to assist you in keeping your crops from being affected by the cold to guarantee you larger yields and more product by the tail end of the late season.
Experts are standing by to get you a fast quote for your agricultural job in Georgia!
Call FairLifts at 1-800-318-8940 now!
Modern Solutions for Aerial Application in Georgia
FairLifts works with the most professional and experienced pilots and operators working in the agricultural aviation industry. Each of our agents is well-versed in assisting farmers in producing higher and better quality yields in Georgia and can assist you in your own growth. Simply contact us seven days a week to discuss environmentally and neighborly crop dusting and spraying this next growing season.
Call FairLifts at 1-800-318-8940 now!
We work hard to provide helicopter solutions for farms and agricultural businesses in all of these areas and more in Georgia....
Abbeville - Adel - Alamo - Albany - Alma - Alpharetta - Americus - Appling - Arlington - Ashburn - Athens - Atlanta - Augusta - Auraria - Bainbridge - Barnesville - Baxley - Berrien - Blackshear - Blairsville - Blakely - Blue Ridge - Brownsborough - Brunswick - Bryan Courthouse - Buchanan - Buena Vista - Butler - Byron - Cairo - Calhoun - Camilla - Campbellton - Canton - Carnesville - Carrollton - Cartersville - Cassville - Cedartown - Chatsworth - Clarkesboro - Clarkesville - Claxton - Clayton - Cleveland - Clinton - Clyde - Cobbham - Cochran - Colquitt - Columbus - Conyers - Cordele - Covington - Crawfordville - Cumming - Cusseta - Cuthbert - Dahlonega - Dallas - Dalton - Danielsville - Darien - Dawson - Dawsonville - Decatur - Donalsonville - Douglas - Douglasville - Drake's Ferry - Drayton - Dublin - Eastman - Eatonton - Ebenezer - Elberton - Elberton - Ellaville - Ellijay - Evans - Fairburn - Fayetteville - Fitzgerald - Folkston - Forsyth - Fort Frederica - Fort Gaines - Fort Valley - Franklin - Franklinville - Gainesville - Georgetown - Gibson - Glascock - Gray - Greensboro - Greenville - Griffin - Hamilton - Hardwick - Hartford - Hartwell - Hawkinsville - Hazlehurst - Hiawassee - Hillsborough - Hinesville - Hoboken - Holmesville - Homer - Homerville - Horry - Irwinton - Irwinville - Isabella - Jackson - Jacksonborough - Jacksonville - Jasper - Jefferson - Jefferson - Jeffersonville - Jesup - Johnstonville - Jonesboro - Kiokee - Knoxville - LaFayette - LaGrange - Lakeland - Lanier - Lawrenceville - Leesburg - Lexington - Lincolnton - Livingston - Louisville - Lowndesville - Ludowici - Lumpkin - Lumpkin - Lyons - Macon - Madison - Magnolia - Marietta - Marion - McDonough - McIntosh - McRae - Metter - Milledgeville - Millen - Monroe - Monticello - Morgan - Morgan - Morganton - Moultrie - Mount Vernon - Nahunta - Nashville - New Lebanon - Newnan - Newnan - Newton - Ocilla - Oglethorpe - Ohoopee Mills - Old Carrolton - Pearson - Pembroke - Perry - Pond Town - Preston - Quitman - Reidsville - Riceborough - Ringgold - Rome - Sandersville - Savannah - Soperton - Sparta - Spring Place - Springfield - St. Marys - St. Patrick - Stark(s)ville - Stark(s)ville - Statenville - Statesboro - Summerville - Sumterville - Sumterville - Sunbury - Swainsboro - Sylvania - Sylvester - Talbotton - Tazewell - the plantation of Arthur Lott - Thomaston - Thomasville - Thomson - Tifton - Toccoa - Trader's Hill - Trenton - Troupville - Tuckasee King - Tuckersville - Tuckersville - Valdosta - Van Wert - Vienna - Waresborough - Warrenton - Warthen - Washington - Watkinvsille - Watkinvsille - Waycross - Waynesboro - Waynesville - Waynesville - Webster - Winder - Woodbine - Woodstock - Wrightsville - Zebulon