Kentucky Helicopter Aerial Application for Agriculture
Wet or Dry Fertilizer Spraying, Pest Control, frost Prevention & More

Kentucky Helicopter Aerial Application for Agriculture

Wet or Dry Fertilizer Spraying, Pest Control, frost Prevention & More
Learn more about how helicopters can benefit your agricultural operation in Kentucky.
Call FairLifts at 1-800-318-8940 now!
Helicopter application for AG-Operations in Kentucky
FairLifts can set you up with the aerial application in Kentucky. Helicopters are capable of reaching any location, do little to affect the surrounding area, and work quickly. Two commonly used helicopters include the Bell 47 and the Robinson R44. Both are small but provide a perfect spray and are cost efficient.
FairLifts can arrange a variety of aerial application services throughout Kentucky. Helicopters offer advantages over traditional application. Helicopters relieve you of manpower, can spray your fields far quicker, and do little to impact the surrounding area.

The Bluegrass State and Rich Agricultural History
Kentucky—a region steeped in tradition with popular items, including bourbon—has a rich agricultural history. The state has over 76,500 farms, this equates to over 13 million acres. Agriculture raked in $866.6 million alone in 2012. The state itself ranks number two in the country in the production of tobacco. Aerial application in Kentucky plays a vital role in the success of crops. Simply put: aerial application helps farmers produce a higher yield and higher quality crops. Aerial spraying on crops grown in the Kentucky include Barley, Tobacco, Soybeans, and Corn.
Get a fast, free quote on the right helicopter solution for your crops.
Call FairLifts at 1-800-318-8940 now!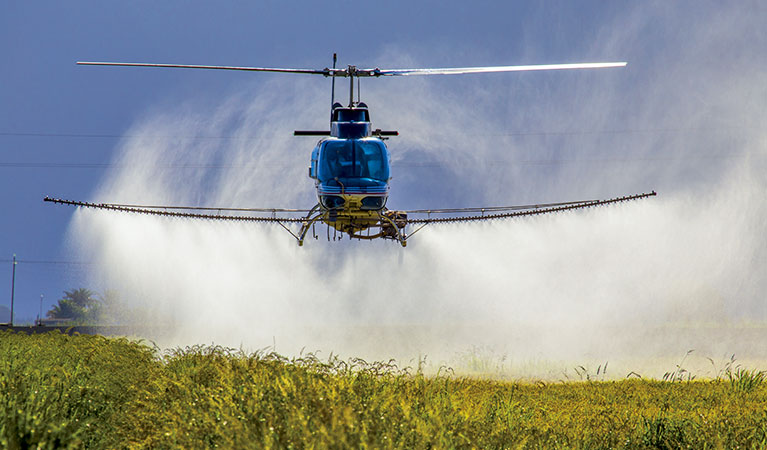 Helicopter Aerial Application Options in Kentucky
From crop surveys to dry and wet spraying, FairLifts can offer you more options for aerial application in Kentucky. By using helicopters for your crop needs, you are choosing a more accurate, even coverage for your fields. Helicopters are much faster, have less of an impact on surrounding crops or roads, and provide more penetration of the crop canopy. With so many benefits as well as saving you time, gaining you profit and assisting in production of higher quality products, there is very little else to decide other than when you'd like for the pilot to come to your farm. Take a look at the options below, while these are the most popular we offer customized scheduling for specialized needs as well.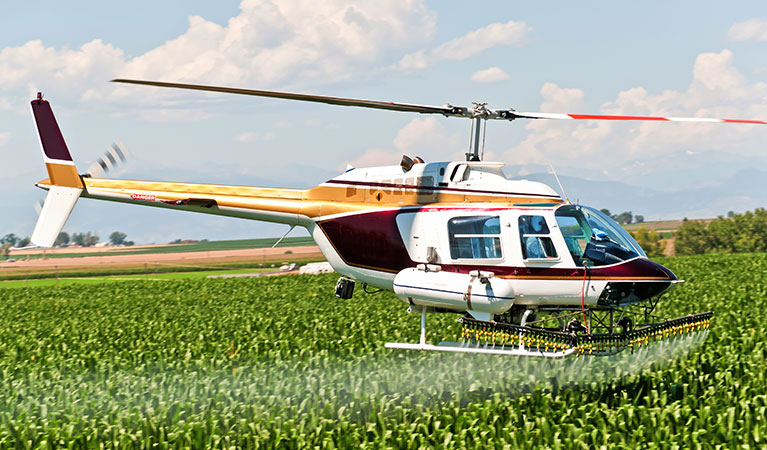 Crop Dusting: Fungicides, Fertilizer, Etc
Aerial application, also known as crop dusting, can be arranged. Our focus is to get you the services you want. We can arrange a pilot to come to you and spray your crops for a variety of issues. Available aerial applications include fungicides, fertilizers, watering, and seed spray. These services can take a lot of worry from you, ensuring you produce quality crops and increase your overall yield. Each service is customizable to your exact needs.
---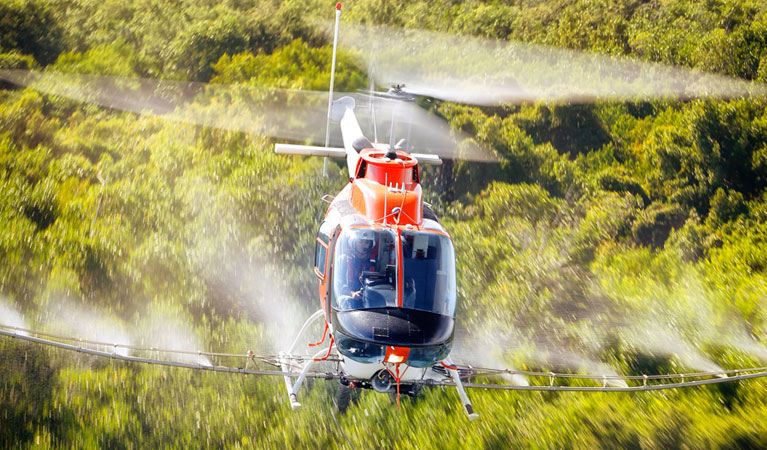 Mosquito and Pest Control
Kentucky natives understand the nuisance of mosquitos. What farmers in Kentucky know is the damage insects can inflict on their crop quality. Helicopters can spray for mosquitos and other pests to eliminate them. A highly trained pilot partnering with FairLifts can work with you by meeting all of the regulations put in place by Kentucky law. A wide array of options are available to eliminate any kind of pest you are having a problem with.
Any farmer knows weeds and brush can interfere with your crops. Removing them can take manpower and time-consuming labor. Applying a herbicide application reduces this time and labor. Let a helicopter do all the work for you. A helicopter can cover a large area in a relatively short period of time with an aerial application, eliminating pesky weeds and brush to prevent them from interfering with your crop yield. Eliminate weeds and bushes once and for all.
---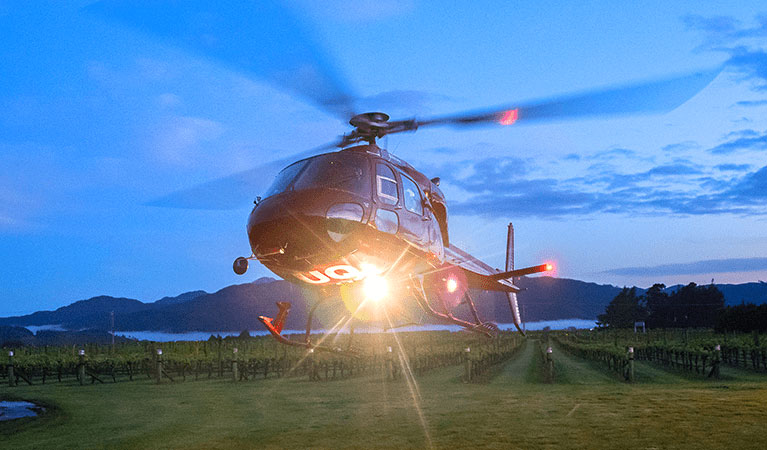 Frost Prevention and Treatment
Kentucky generally has a warmer climate with a decent amount of rainfall. However, there is always the possibility of frost—even during warmer months. The lowest recorded temperature in the state was -37 degrees Fahrenheit in 1994. While this is far from the norm, frost can occur even in the warmer months. An aerial application of frost prevention and treatment can serve as a preventative measure for your crops, making sure your yield is unaffected by colder weather.
Experts are standing by to get you a fast quote for your agricultural job in Kentucky!
Call FairLifts at 1-800-318-8940 now!
Modern Solutions for Aerial Application in Kentucky
FairLifts is connected to the best most experienced pilots for aerial application in Kentucky. FairLifts offers agricultural services throughout Kentucky. We have been assisting with farmer with producing better yields for years. Our lines are open seven days a week to discuss who we can help with your crop-dusting needs.

Call FairLifts at 1-800-318-8940 now!
We work hard to provide helicopter solutions for farms and agricultural businesses in all of these areas and more in Kentucky:
Albany - Alexandria - Barbourville - Bardstown - Bardwell - Beattyville - Bedford - Benton - Booneville - Bowling Green - Brandenburg - Brooksville - Brownsville - Burkesville - Burlington - Cadiz - Calhoun - Campbellsville - Campton - Carlisle - Carrollton - Catlettsburg - Clinton - Columbia - Covington - Cynthiana - Danville - Dixon - Eddyville - Edmonton - Elizabethtown - Elkton - Falmouth - Flemingsburg - Frankfort - Franklin - Frenchburg - Georgetown - Glasgow - Grayson - Greensburg - Greenup - Greenville - Hardinsburg - Harlan - Harrodsburg - Hartford - Hawesville - Hazard - Henderson - Hickman - Hindman - Hodgenville - Hopkinsville - Hyden - Independence - Inez - Irvine - Jackson - Jamestown - La Grange - Lancaster - Lawrenceburg - Lebanon - Leitchfield - Lexington - Liberty - London - Louisa - Louisville - Madisonville - Manchester - Marion - Mayfield - Maysville - McKee - Monticello - Morehead - Morganfield - Morgantown - Mount Olivet - Mount Sterling - Mount Vernon - Munfordville - Murray - New Castle - Newport - Nicholasville - Owensboro - Owenton - Owingsville - Paducah - Paintsville - Paris - Pikeville - Pineville - Prestonsburg - Princeton - Richmond - Russellville - Salyersville - Sandy Hook - Scottsville - Shelbyville - Shepherdsville - Smithland - Somerset - Springfield - Stanford - Stanton - Taylorsville - Tompkinsville - Vanceburg - Versailles - Warsaw - West Liberty - Whitesburg - Whitley City - Wickliffe - Williamsburg - Williamstown - Winchester