Helicopter Support for Mining Operations and Exploration in Arkansas
Drill Rig Support - Mineral Surveys - Rehabilitation - Personnel Transport

Helicopter Support for Mining Operations and Exploration in Arkansas

Drill Rig Support - Mineral Surveys - Rehabilitation - Personnel Transport
Professional helicopter support for the mining and exploration industries in Arkansas.
Call FairLifts at 1-800-318-8940 now!
Real World Solutions to the Mining Industry's Need for More Efficient Resources in Arkansas
FairLifts reserves real-world helicopter support alternatives for mining and exploration operations in Arkansas as well as across the world. The options available to mining companies are cost- competitive and effective. Helicopters have been proven a valuable resource in surveying, crew transfers, rig resupply runs and more to remote regions or areas vastly underserved by infrastructure.
When clients refer service request to FairLifts, agents work tirelessly to source an appropriate solution to satisfy their specific request. The operators we reserve services for have an extensive fleet of helicopter aircraft at their disposal and have access to seasoned pilots who possess a distinctive knowledge of how to perform tasks for mining and exploration across the board. For the purpose of surveying, for example, pilots put their unique skill set to use in presenting accurate data collection via a cost-effective method. In the logistical transport of work crews to rigs or remote destinations, pilots and helicopters deliver personnel safely and swiftly. Helicopter support reserved through FairLifts are also used to effect in the secure transport of sensitive equipment and supplies to work sites without risk of damage or theft.
Arkansas is Home to Dozens of Mines
Throughout the state of Arkansas, various indigenous resources are mined on a daily basis. Some in efforts to satisfy a niche market as is the case of quartz crystals mined in the Hot Springs area, others used in industrial applications, like base metals, coal and silica pebbles that contribute largely to the state's economy. Nearly 3000 plus Arkansans located throughout the state are employed by the mining industry with mining operations from Hartford to El Paso, Arkansas generating hundreds of millions of dollars in state revenue annually. As some mines are situated in remote areas, helicopter applications are used widely to deliver supplies, equipment, in the conduction of geophysical or flora and fauna surveys and in crew transfers all across the state.
Acquire the helicopter support you need for mining exploration and operations.
Call FairLifts at 1-800-318-8940 now!
Arkansas Mining and Exploration Operations
FairLifts is aware that for those invested in the mining industry, resources need to be put to better use in developing cutting-edge technologies to improve mining condition safety, in leaving a smaller environmental footprint and to deliver more timely results. Through access to expert operators and pilots situated locally throughout Arkansas, the following helicopter applications can be secured to further your mining and exploration pursuits.
Mining and Drill Rig Support
Helicopters have proven effective in expert sling load and precision aerial lifting operations for the expressed purpose of drill rig construction and various types of transport. From movement of crews, in rig resupplying, in the transfer of portable rigs, drill site surveying and medevac and emergency response operations, to name a few.
---
Mineral Exploration and Mapping
Helicopters are utilized in conducting flyovers and in the collection of aerial imagery for geophysical surveys of specific areas in efforts to identify regions that have a higher propensity to contain minerals and to map exploration corridors. Geophysical survey technologies use high frequency electromagnetic recognition devices to identify or isolate areas possessing the potential for minerals.
Mine Rehabilitation and Reseeding
Mining operations can result in the removal of all vegetation resulting in an altered environment. Often, helicopters are used in efforts to restore mine environments to their original state via the movement of top spoil to inspire new growth environments and in the placement of rocks, stumps, and logs to create new habitats for wildlife. The surface area will be ripped and then the helicopter will be implemented to effectively reseed the area.
---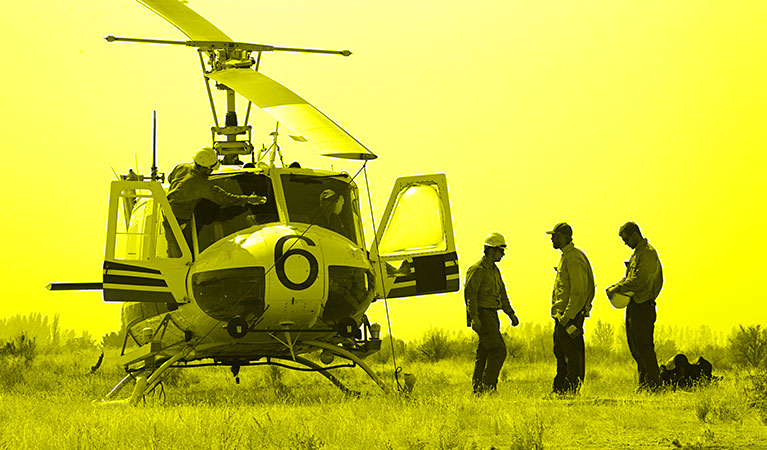 Helicopters may be reserved to provide transportation to key personnel like company officials and senior executives to their desired destinations. They are also used to safely transport work crews to rigs offshore, in remote destinations or work sites. They can also be arranged to deliver on demand helicopter accommodation to medevac teams and emergency officials and to deliver injured persons to area emergency facilities, treatment centers and hospitals.
Let us handle the logistics of helicopter support for your mining operation.
Call FairLifts at 1-800-318-8940 now!
Arkansas' leader in helicopter support for mining operations, mineral exploration, cargo, personnel transfers and more...
To hear detail specific information about any of the aforementioned services or to receive a free consultation, feel free to contact FairLifts' representatives. Agents are available 24/7 to speak with you about how FairLifts can reserve efficient, cost effective solutions to satisfy your particular service request. Simply complete our convenient contact form, or call anytime. Agents will respond in less than 24 hours. Reserve expertly facilitated helicopter support for mining operations in Arkansas when you connect with FairLifts.

We work hard to provide helicopter solutions for mining operations near all of these Arkansas municipalities:
Arkadelphia - Arkansas City - Ash Flat - Ashdown - Augusta - Batesville - Benton - Bentonville - Berryville - Blytheville - Booneville - Camden - Charleston - Clarendon - Clarksville - Clinton - Conway - Corning - Danville - Dardanelle - De Queen - De Witt - Des Arc - DeValls Bluff - El Dorado - Eureka Springs - Fayetteville - Fordyce - Forrest City - Fort Smith - Greenwood - Hamburg - Hampton - Harrisburg - Harrison - Heber Springs - Helena - Hope - Hot Springs - Huntsville - Jasper - Jonesboro - Lake City - Lake Village - Lewisville - Little Rock - Lonoke - Magnolia - Malvern - Marianna - Marion - Marshall - Melbourne - Mena - Monticello - Morrilton - Mount Ida - Mountain Home - Mountain View - Murfreesboro - Nashville - Newport - Osceola - Ozark - Paragould - Paris - Perryville - Piggott - Pine Bluff - Pocahontas - Prescott - Rison - Russellville - Salem - Searcy - Sheridan - Star City - Stuttgart - Texarkana - Van Buren - Waldron - Walnut Ridge - Warren - Wynne - Yellville