Helicopter Support for Mining Operations and Exploration in Connecticut
Drill Rig Support - Mineral Surveys - Rehabilitation - Personnel Transport
Helicopter Support for Mining Operations and Exploration in Connecticut
Drill Rig Support - Mineral Surveys - Rehabilitation - Personnel Transport
Professional helicopter support for the mining and exploration industry in Connecticut.
Call FairLifts at 1-800-318-8940 now!
FairLifts Helps Connecticut Mining Operations
At FairLifts, we only work with the best, most experienced operators in Connecticut (and around the country) to ensure our clients get the professional, skilled pilots and properly-equipped aircraft for any specific mining operation. Mining operations are not strictly underground. Having aerial assistance can be vital. Able to quickly deliver supplies, personnel, key parts for repairs, place drill rigs or assist in emergency or medical situations, having a helicopter standing by can make all the difference. Our mission is to deliver just that.
Maximizing Connecticut's mining operations
Aerial support can increase mining efficiency throughout Connecticut's rich, complex and varied geological landscape. From the granite, marble and basalt quarries to the west, to the state's mining operations for feldspar, iron, mica, copper and more, mining has been a key industry in the Nutmeg State since the 1700s. Helicopter support can greatly increase efficiency, providing quick ways to deliver supplies, equipment, or personnel, or haul away products safely and securely. FairLifts works with only the best operators in the state and can get professional, experienced aerial assistance for any mining operation quickly and affordably.
Acquire the helicopter support you need for mining exploration and operations.
Call FairLifts at 1-800-318-8940 now!
Complete, expert aerial mining services
Having aerial support can be a massive, cost-effective benefit for any mining operation, providing unrivaled flexibility and versatility without the need for transportation infrastructure. Helicopter mining assistance can quickly deliver drill rigs, heavy machinery, key emergency parts or personnel to keep operations going and production schedules on target. Aerial assistance can also expedite mining exploration, surveying, and rehabilitation projects, as well as provide fast, effective response for any injury or emergency situation. FairLifts' professional partners can provide expert aerial support to any Connecticut mining operation.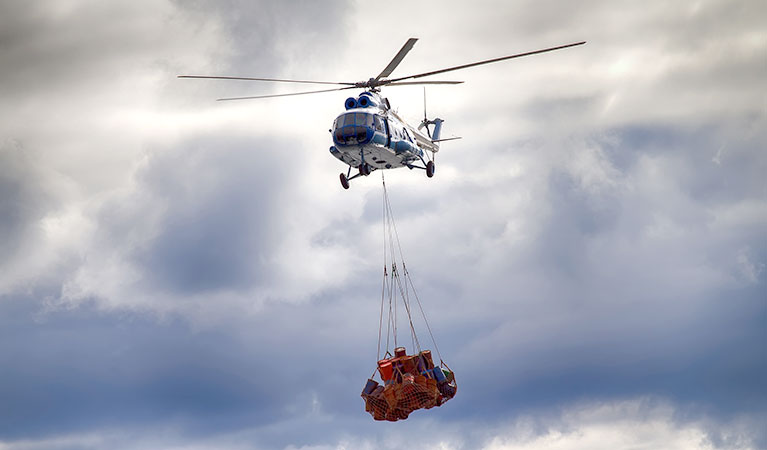 Mining and Drill Rig Support
Mining operations are often located "off the beaten path", which is why aerial mining support is vital. Deliver and place large drill rigs or heavy machinery for ground crews, or quickly bring in emergency repair parts and or personnel. Helicopter support can quickly do it all.
---
Mineral Exploration and Mapping
Exploration and mapping, especially in the rugged, hilly terrain of western Connecticut, can often only be done by air. Helicopters are the most effective and cost-efficient tool for the job, able to quickly survey land, perform scans of all sorts from electromagnetic to seismic, and more.
Mine Rehabilitation and Reseeding
Helicopters provide the best way to develop and implement mine rehabilitation plans, which are mandated for any mining operation. Able to do quick land surveys, haul and deploy topsoil for regrading or quickly reseed large areas, helicopters can be a key asset in mine rehabilitation projects.
---
Keeping production schedules on target can be a challenge, but utilizing aerial assistance can help. Get personnel on site and where they need to be quickly and efficiently. With point-to-point precision and without the need for ground infrastructure, helicopter services can keep mining operations optimized.
Let us handle the logistics of helicopter support for your mining operation.
Call FairLifts at 1-800-318-8940 now!
FairLifts Can Help Your Connecticut Mining Operation Today
Aerial mining service require highly skilled and experience pilots with state-of-the-art machines. FairLifts works with a network of professional partners throughout Connecticut and the world. Our experts can help match up the perfect helicopter support service for any mining application. Contact us to see how to best put the cost-effective power of helicopter support to use in any mining operation. Answers, prices, and logistical arrangements are one call, or click, away.
We work hard to provide helicopter solutions for mining operations near all of these Connecticut municipalities:
Bridgeport - Hartford - Litchfield - Middletown - New Haven - New London - Putnam - Rockville - Willimantic