Helicopter Support for Mining Operations and Exploration in Idaho
Drill Rig Support - Mineral Surveys - Rehabilitation - Personnel Transport

Helicopter Support for Mining Operations and Exploration in Idaho

Drill Rig Support - Mineral Surveys - Rehabilitation - Personnel Transport
For increased mining operations efficiency in Idaho
Call FairLifts at 1-800-318-8940 now!
Welcome to superior mining operations, facilitated by helicopter
The solution for streamlining any and all mining operations in Idaho is an aerial one. For the first time, cutting-edge mining operations solutions are available to you at unrivaled rates, allowing you to take easy advantage of instantly increased productivity and control. Keep your attention on essential mine procedures, while a helicopter effectively enhances your productivity site-wide.
Dedicated helicopter pilots provide mine landscape proficiency, leveraging years of service against your location, putting award-winning service to work for your unique enterprises in Idaho. Discover an instantly improved mining outlook today.
Idaho hosts optimal mining solutions by helicopter
Discover personalized mining solutions by helicopter in Idaho, a state that plays host to an extensive network of mining operations. It's time you put industry-leading helicopter solutions to work, in a state characterized by extensive mining procedures ready for optimization. Professional helicopter providers regularly optimize the efficiency of some of the industry's top names, and it's past time that they put the same world-class service to work for your own enterprises. With affordable helicopter packages at the waiting, you can streamline your mining solutions in Idaho, everything from personnel transportation to site surveying.
Silver mining comprises a majority of all mining operations in Idaho, given the fact that it accounts for so much of the country's silver quantities. Whether you mine silver or other minerals or metals, allow a helicopter to demonstrate increased proficiency, and never go back.
Take advantage of Idaho mining operations
Call FairLifts at 1-800-318-8940 now!
A wide variety of world-class mining operations in Idaho
No matter your individual preferences and corporate budget restrictions, there promises to exist a helicopter-assisted mining operations package that effectively transforms your current procedures. It's even possible to craft a personalized package through a professional helicopter provider, a selection of services that are specific to your individual location. With a diversified array of available solutions, everything from personnel transportation to mining and drill rig support, there's never been a better time to count yourself in. Once you experience optimized service for the first time in Idaho, it's a privilege we don't want you to go without.
Mining and Drill Rig Support
No matter the location of your mining procedures, a helicopter can facilitate extensive drill rig support, as well as mining operations. Move earth with unrivaled ease, and accomplish virtually any other mining procedure, thanks to a world-class helicopter output. You can easily provide drill rigs with the required support.
---
Mineral Exploration and Mapping
It's easier than ever to identify items of particular interest from above, courtesy of helicopter-assisted mineral exploration and mapping techniques in Idaho. A helicopter's vantage point above the ground allows it the luxury of an additional perspective, good for the location of new exploration sites, and for mapping techniques.
Mine Rehabilitation and Reseeding
Mine rehabilitation and reseeding ventures meet a worthy resolution, when it comes to the speed and the quality of solution that only a helicopter brings to the table. Return your mine to optimal output and perform site-wide reseeding alike, both with the prowess that a chopper sends your way.
---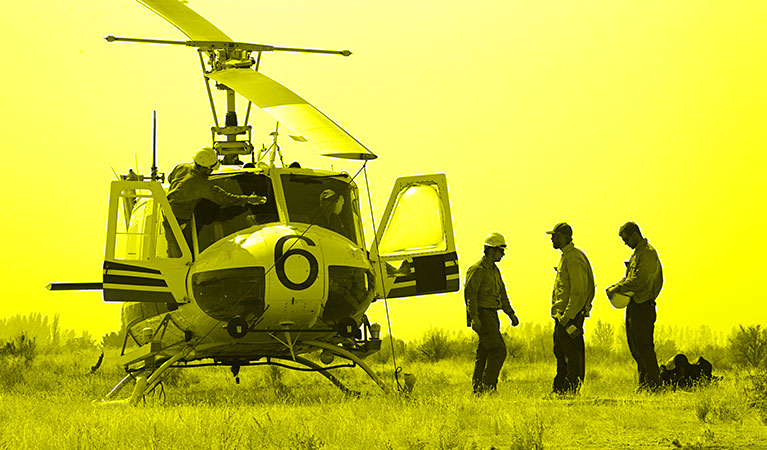 Keep many hands as necessary working on items of pressing importance, all with the unprecedented transportation accommodations allowed exclusively by helicopter. A chopper can take your personnel to the skies and back at a moment's notice, moving them from one location to the next, even one mine to another.
Discover the aerial answer to better Idaho mining procedures
Call FairLifts at 1-800-318-8940 now!
FairLifts Can Help Your Idaho Mining Operation Today
Don't let another second go by without contacting us regarding increased productivity, for the complete extent of your mining operations in Idaho. Discover all of the many ways that a helicopter can increase the productivity of your respective mining ventures, when you call one of our dedicated customer service agents today. We will field calls at every hour of every day, so it's never a bad time to book a package, or find out more information! You can also fill out a easy customer contact form online today, for an expedient response within 24 hours.

We work hard to provide helicopter solutions for mining operations near all of these Idaho municipalities:
American Falls - Arco - Blackfoot - Boise - Bonners Ferry - Burley - Caldwell - Cascade - Challis - Coeur d'Alene - Council - Driggs - Dubois - Emmett - Fairfield - Gooding - Grangeville - Hailey - Idaho City - Idaho Falls - Jerome - Lewiston - Malad City - Moscow - Mountain Home - Murphy - Nezperce - Orofino - Paris - Payette - Pocatello - Preston - Rexburg - Rigby - Rupert - Saint Anthony - Salmon - Sandpoint - Shoshone - Soda Springs - St. Maries - Twin Falls - Wallace - Weiser