Helicopter Support for Mining Operations and Exploration in Illinois
Drill Rig Support - Mineral Surveys - Rehabilitation - Personnel Transport

Helicopter Support for Mining Operations and Exploration in Illinois

Drill Rig Support - Mineral Surveys - Rehabilitation - Personnel Transport
Professional helicopter support for the mining and exploration industry in Illinois.
Call FairLifts at 1-800-318-8940 now!
Mining Operations Aerial Assistance in Illinois
FairLifts arranges helicopter assistance for mining operations throughout the entire state of Illinois. Some of these services include mapping out locations, helping with mining and drilling, transporting crew members, and assisting with reseeding and mine rehabilitation.
A helicopter is a vital part of many mining operations throughout the nation; with the machine's heavy lifting capabilities and ability to travel to precise locations and hover, it can assist any mining operation in Illinois. FairLifts' network includes an array of qualified pilots and crew to deliver quality helicopter services.
The mining of coal was the start of mining operations in the 1800s in Illinois. Much of these mines were underground—stretching to 72 Illinois counties and an estimated 201,000 acres of homes have been built close to mines.
Today coal is not mined as frequently. Two of the most common include the mining of limestone and dolomite. The state mines millions of tons of each every year—much of the mining takes place in the northern portion of the state, the western side of the state, and the southern tip.
Acquire the helicopter support you need for mining exploration and operations.
Call FairLifts at 1-800-318-8940 now!
Illinois Mining Operation Helicopter Services
If you are looking for aerial mining assistance, look no further. FairLifts arranges quality mining operations via helicopters that offer many advantages over traditional ground methods. These advantages often include performing tasks quicker, saving time and money on manpower. Another advantage is often times helicopters are safer than other methods.
Fairlifts arranges a broad spectrum of services, which include mineral exploration and mapping, mine rehabilitation and reseeding, mining drilling and rig support, and personnel transportation. Learn more about our services by reading below.
Mining and Drill Rig Support
Mining operations often require heavy equipment, including the rig and drill. A helicopter can assist with these efforts because of the machine's ability to lift and steady extremely heavy objects. This can prove vital in any mining operation and can take some of the burden off of the ground crew.
---
Mineral Exploration and Mapping
Exploring and mapping out a mine can take quite a bit of time, especially when only using a ground crew. When you look at any land from above and map it out, a helicopter has the clear advantage, painting an accurate picture and saving you time.
Mine Rehabilitation and Reseeding
Helicopters are a very environmentally friendly way to approach the land. Since they travel from above, they do little to damage the land and can actually help with reseeding and mine rehabilitation efforts.
---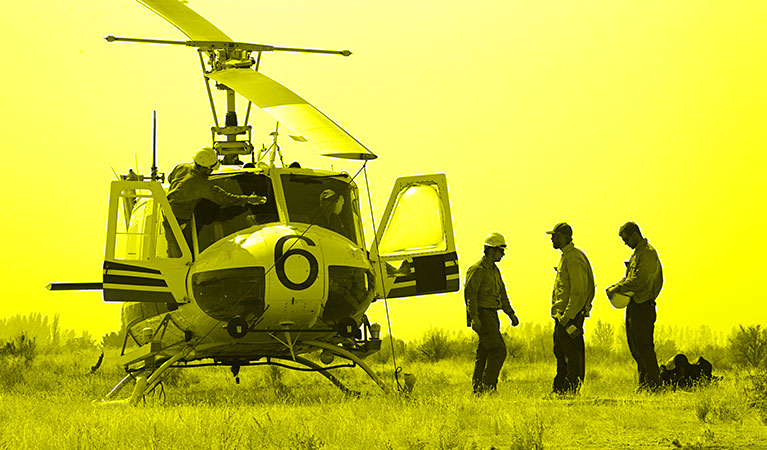 Helicopters provide an efficient means of transportation. A helicopter has the precision to bring necessary mining personnel to any location in a relatively quick time frame—quicker than traveling on the ground and to more precise locations than a plane can offer.
Let us handle the logistics of helicopter support for your mining operation.
Call FairLifts at 1-800-318-8940 now!
Let FairLifts Help Your Illinois Mining Operation
If you think you could benefit from aerial mining assistance—or even if you just have a question about these services and need information—do not hesitate to give FairLifts a call. We only work with the best pilots and crew to deliver quality helicopter mining services. Our lines are open to calls 24/7. Our helicopter mining services are customizable to your needs and flexible to your schedule. Get a quote on mining operations today.

We work hard to provide helicopter solutions for mining operations near all of these Illinois municipalities:
Albion - Aledo - Belleville - Belvidere - Benton - Bloomington - Cairo - Cambridge - Carlinville - Carlyle - Carmi - Carrollton - Carthage - Charleston - Chester - Chicago - Clinton - Danville - Decatur - Dixon - Edwardsville - Effingham - Elizabethtown - Eureka - Fairfield - Freeport - Galena - Galesburg - Geneva - Golconda - Greenville - Hardin - Harrisburg - Havana - Hennepin - Hillsboro - Jacksonville - Jerseyville - Joliet - Jonesboro - Kankakee - Lacon - Lawrenceville - Lewistown - Lincoln - Louisville - Macomb - Marion - Marshall - McLeansboro - Metropolis - Monmouth - Monticello - Morris - Morrison - Mound City - Mount Carmel - Mount Carroll - Mount Sterling - Mount Vernon - Murphysboro - Nashville - Newton - Olney - Oquawka - Oregon - Ottawa - Paris - Paxton - Pekin - Peoria - Petersburg - Pinckneyville - Pittsfield - Pontiac - Princeton - Quincy - Robinson - Rock Island - Rockford - Rushville - Salem - Shawneetown - Shelbyville - Springfield - Sullivan - Sycamore - Taylorville - Toledo - Toulon - Tuscola - Urbana - Vandalia - Vienna - Virginia - Waterloo - Watseka - Waukegan - Wheaton - Winchester - Woodstock - Yorkville