Helicopter Support for Mining Operations and Exploration in Kansas
Drill Rig Support - Mineral Surveys - Rehabilitation - Personnel Transport

Helicopter Support for Mining Operations and Exploration in Kansas

Drill Rig Support - Mineral Surveys - Rehabilitation - Personnel Transport
Reserve professional helicopter operations for the mining and exploration industries in Kansas
Call FairLifts at 1-800-318-8940 now!
Workable Helicopter Mining Operations Available in Kansas
FairLifts is a pioneer in reserving workable solutions for helicopter mining and exploration operations in Kansas as well as throughout the global mining community. Alternatives we use our expertise to source, are cost-effective, accurate and efficient.
Helicopters, as a result of their multi-purpose design, have proven a valuable resource across industries in surveying, crew transfers, drill rig construction, and rig resupply runs to support mining operations in remote or vastly underserved regions.
FairLifts agents source effective solutions that satisfy the objectives of the client's projects or tasks, making the transition between project start and fruition seamless and easily achievable despite the operation's complexities or size and scale of the undertaking. Local vendors we work with have an extensive fleet of helicopters on standby and access to seasoned pilots and crews with experience working within the mining and exploration industry.
The Very Active Kansas Mining Industry
For nearly 150 years, the state of Kansas has been a hotbed for the mining of indigenous rocks and minerals that have proved vital to the economic growth of the state. Whether it was the eastern Kansas coal mines or the salt mines situated in central Kansas, or the lead-zinc mines belonging to the Tri-State mining district (Kansas, Missouri, and Oklahoma)integral to the nation's war effort, even volcanic activity has contributed to the unique history of and overall sustainability of the state for over a century, some continuing their relevance to the economy even now.
Although it may sound somewhat unheard of for a state that rests in the heart of the US, many years ago, brief episodes of volcanic activity resulted in the Kansas skies being filled with a fine-grained particulate ash-like matter that coated every surface. Inclement weather brought wind and rain which led the particulates to accumulate in large quantities in specific locations resulting in deposits of the material at the bottoms of lakes and other water sources. Currently, this material is mined to create industrial cleansers because of its abrasive nature.
Since the late 1990's, industrial mining operations for cement, clay, shale, crushed rock, dimension stone, gypsum, helium, salt, sulfur, sand, and gravel have produced millions of dollars worth of product, with sand and gravel operations being the most widespread and prevalent. Each of these products is used across a range of industrial applications, as building materials, as feedstock, as an energy resource, to supply the demand of niche markets, or as an ingredient in everyday products sold globally.
As some mines in Kansas are situated in remote areas, helicopter applications are used widely to deliver supplies, equipment, in the conduction of geophysical or flora and fauna surveys and in crew transfers all across the state.
Secure, reliable logistical support for helicopter mining explorations and drilling
Call FairLifts at 1-800-318-8940 now!
Kansas Helicopter Mining and Explorations Ops Extend Beyond Simple Transport
FairLifts reserves suitable alternatives to satisfy the Kansas mining industry's need for helicopter support to get their projects completed on time, cost-effectively and accurately. Through access to expert operators and pilots situated locally, the following helicopter applications can be secured to further your mining and exploration pursuits:
Mining and Drill Rig Support
For the Kansas mining industry, helicopters have proven effective in expert sling load and precision aerial lifting operations for drill rig construction and various types of transport. Helicopter application has been proven effective in the movement of crews, rig resupplying, in the transfer of portable rigs between sites, to conduct drill site surveys, and for the transport of supplies to be used in the construction of drill rigs, plus more.
---
Mineral Exploration and Mapping
Helicopters are utilized frequently in the collection of aerial imagery for geophysical surveys of specific areas in efforts to identify regions that have a higher probability of containing valuable resources or minerals and to map exploration corridors. Geophysical survey technologies use high-frequency electromagnetic recognition devices to identify areas possessing an increase in prospectivity for minerals.
Mine Rehabilitation and Reseeding
Mining operations can often be hard on surrounding ecosystems resulting in the loss of vegetation and vital resources. Helicopters have been used in the restoration of local environments to their original state through the movement of top spoil to inspire new growth and in the placement of rocks, stumps, and logs to create new habitats for wildlife and in the implementation of tools to effectively "rip" and then reseed the surface area.
---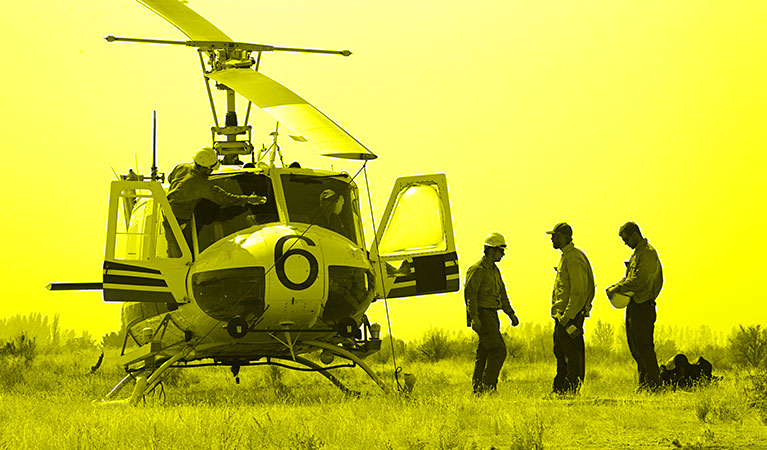 Helicopters are used widely in the logistical transport of crews and personnel for shift changes, to supplement mining operations in the times of urgent need or disaster, or simply to convey work crews to mining operation sites in isolated areas. For executive transport, helicopters are used to convey key personnel and senior executives between operation sites, company headquarters or offices, and for flyovers to conduct site inspections. They are also used to safely transport medevac teams and emergency officials and to deliver injured persons to area emergency facilities, treatment centers, and hospitals.
Reserve precision lift operations for drill rig construction and installation in Kansas
Call FairLifts at 1-800-318-8940 now!
FairLifts Can Help Your Kansas Mining Operation Today
Agents are available 24/7 to speak with you about how FairLifts can reserve efficient, cost-effective solutions to satisfy your mining operations service request. Simply complete the convenient contact form found on the contact page of our website, or call anytime. Agents will respond in less than 24 hours. Reserve expertly facilitated helicopter support for mining operations in Kansas by contacting FairLifts.

We work hard to provide helicopter solutions for mining operations near all of these Kansas municipalities:
Abilene - Alma - Anthony - Ashland - Atchison - Atwood - Belleville - Beloit - Burlington - Cimarron - Clay Center - Colby - Coldwater - Columbus - Concordia - Cottonwood Falls - Council Grove - Dighton - Dodge City - El Dorado - Elkhart - Ellsworth - Emporia - Erie - Eureka - Fort Scott - Fredonia - Garden City - Garnett - Girard - Goodland - Gove City - Great Bend - Greensburg - Hays - Hiawatha - Hill City - Holton - Howard - Hoxie - Hugoton - Hutchinson - Independence - Iola - Jetmore - Johnson City - Junction City - Kansas City - Kingman - Kinsley - La Crosse - Lakin - Larned - Lawrence - Leavenworth - Leoti - Liberal - Lincoln - Lyndon - Lyons - Manhattan - Mankato - Marion - Marysville - McPherson - Meade - Medicine Lodge - Minneapolis - Mound City - Ness City - Newton - Norton - Oakley - Oberlin - Olathe - Osborne - Oskaloosa - Oswego - Ottawa - Paola - Phillipsburg - Pratt - Russell - Saint Francis - Saint John - Salina - Scott City - Sedan - Seneca - Sharon Springs - Smith Center - Stockton - Sublette - Syracuse - Topeka - Tribune - Troy - Ulysses - WaKeeney - Washington - Wellington - Westmoreland - Wichita - Winfield - Yates Center