Helicopter Support for Mining Operations and Exploration in Kentucky
Drill Rig Support - Mineral Surveys - Rehabilitation - Personnel Transport

Helicopter Support for Mining Operations and Exploration in Kentucky

Drill Rig Support - Mineral Surveys - Rehabilitation - Personnel Transport
Satisfy Kentucky mining operations today
Call FairLifts at 1-800-318-8940 now!
FairLifts Helps Kentucky Mining Operations
Your immediate and lasting goal is the provision of efficient operations to your mining site. With the help of a helicopter onsite, you achieve and sustain this goal for the long run, while staying consistently ahead of your fellow competition. Discover the sustainable, aerial advantage, one afforded to you exclusively when you employ a helicopter for all of your mining operations in Kentucky. In this coal-producing state, you can outfit your endeavors with a helicopter, for help with personnel transportation, site surveying, mineral exploration efforts and more today.
Benefit your Kentucky mine with a helicopter today
Kentucky mine sites stand to immediately gain from the introduction of a helicopter into the mix. It's time that you discovered what mining operations in Kentucky already know to be true: helicopters can easily succeed in immediately enhancing your output, for your immediate and lasting gain. As one of the leading states in America with regard to its coal production, Kentucky deserves a more effective aerial solution. Additional mining experts from Kentucky include natural gas and limestone, all products indicative of a need for a streamlined solution.
Kentucky mining operations know a better aerial solution
Call FairLifts at 1-800-318-8940 now!
Widespread availability for helicopter-optimized mining solutions
Take advantage of a diversified portfolio of mining operations available in Kentucky, for a swift solution to anything that your mine can throw your way. From personnel transportation to holistic site surveying, a chopper immediately optimized your ventures, for your own gain. No matter your respective budget or your individual preferences, there promises to exist a package uniquely suited to your own situation. Whenever you decide that mining operation by helicopter in Kentucky are right for you, any of these packages is a great place to begin. Provide your procedures with the efficient and the security they need to thrive.
Mining and Drill Rig Support
Whether it's onsite at a drill rig, or at your individual mining site, a helicopter is the perfect complement to your existing ventures. Discover how easy it is to optimize the full extent of your procedures, whenever you leverage the vertical element against drill rigging procedures and mining.
---
Mineral Exploration and Mapping
Helicopters can also help you to identify those locations at your mine site that are especially conducive for further exploration. Using aerial technologies, helicopters provide you with the whole perspective above the ground, identifying those regions conducive to further mineral exploration; perform site mapping from the same vantage point.
Mine Rehabilitation and Reseeding
Return your mine site to full strength in a small fraction of the normal time, when your mine rehabilitation and reseeding ventures are completed from above, by helicopter. Kentucky mining operations can stand to gain from the expedient reseeding technologies that a helicopter alone can provide down south.
---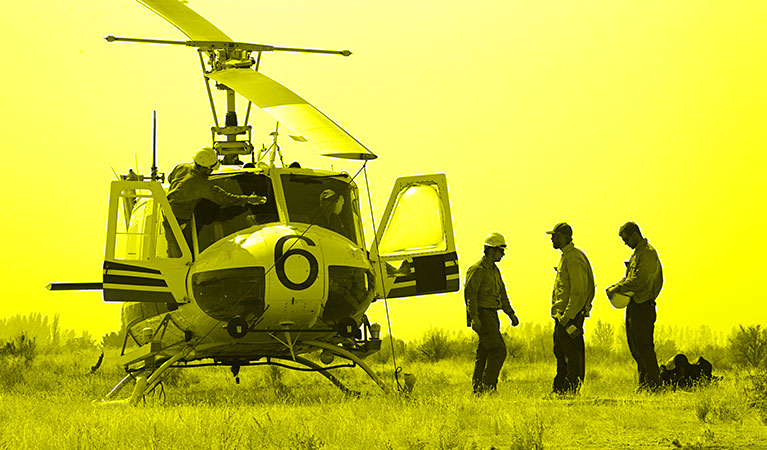 Now it's easier than ever to move your personnel from one location to the next, with the help of a chopper. Aerial transportation means that you can move any and all of your workers from destination to destination in no time, keeping hands at work when it matters most to your outlook and output alike.
Let us handle the logistics of helicopter support for your mining operation.
Call FairLifts at 1-800-318-8940 now!
FairLifts Can Help Your Alabama Mining Operation Today
Now that you know the superior solution to all of your Kentucky mining endeavors, there's no reason why you shouldn't call to book one, or to discover more information. Keep your attention on the immediately important aspects of your mining operations, while a trained helicopter pilot makes quick work of even the most challenging mining procedures onsite. Call today, to talk to one of our customer service agents, and reserve your helicopter package before they are no longer available! You can also fill out an online customer contact form, for a response within 24 hours.

We work hard to provide helicopter solutions for mining operations near all of these Kentucky municipalities:
Albany - Alexandria - Barbourville - Bardstown - Bardwell - Beattyville - Bedford - Benton - Booneville - Bowling Green - Brandenburg - Brooksville - Brownsville - Burkesville - Burlington - Cadiz - Calhoun - Campbellsville - Campton - Carlisle - Carrollton - Catlettsburg - Clinton - Columbia - Covington - Cynthiana - Danville - Dixon - Eddyville - Edmonton - Elizabethtown - Elkton - Falmouth - Flemingsburg - Frankfort - Franklin - Frenchburg - Georgetown - Glasgow - Grayson - Greensburg - Greenup - Greenville - Hardinsburg - Harlan - Harrodsburg - Hartford - Hawesville - Hazard - Henderson - Hickman - Hindman - Hodgenville - Hopkinsville - Hyden - Independence - Inez - Irvine - Jackson - Jamestown - La Grange - Lancaster - Lawrenceburg - Lebanon - Leitchfield - Lexington - Liberty - London - Louisa - Louisville - Madisonville - Manchester - Marion - Mayfield - Maysville - McKee - Monticello - Morehead - Morganfield - Morgantown - Mount Olivet - Mount Sterling - Mount Vernon - Munfordville - Murray - New Castle - Newport - Nicholasville - Owensboro - Owenton - Owingsville - Paducah - Paintsville - Paris - Pikeville - Pineville - Prestonsburg - Princeton - Richmond - Russellville - Salyersville - Sandy Hook - Scottsville - Shelbyville - Shepherdsville - Smithland - Somerset - Springfield - Stanford - Stanton - Taylorsville - Tompkinsville - Vanceburg - Versailles - Warsaw - West Liberty - Whitesburg - Whitley City - Wickliffe - Williamsburg - Williamstown - Winchester