Helicopter Support for Mining Operations and Exploration in Maine
Drill Rig Support - Mineral Surveys - Rehabilitation - Personnel Transport
Helicopter Support for Mining Operations and Exploration in Maine
Drill Rig Support - Mineral Surveys - Rehabilitation - Personnel Transport
FairLifts coordinates helicopter operations for the mining and exploration industries in Maine
Call FairLifts at 1-800-318-8940 now!
Reserve Helicopter Support for Mining Operations In Maine
FairLifts, a leader in securing helicopter support for the global mining community, can additionally reserve expert operators to serve the interest of mining operations in Maine and all across New England. Local operators and pilots are employed to facilitate helicopter applications for mining operations that are cost-effective, accurate and efficient.
Helicopters, as a result of their many design characteristics, can easily achieve access to isolated areas and can convey work crews and equipment to drilling installations across rugged terrain. Simply because they are so maneuverable, can carry thousands of pounds in materials and hardware and can safely transport personnel between mining installations. This makes them the perfect means of conveyance for a number of services like site surveying, crew transfers, drill rig construction, and cargo delivery and rig resupply runs.
Local vendors we work with have an extensive fleet of helicopters on standby and access to experienced pilots and crews working within the mining and exploration industry in Maine and beyond.
Helicopter Support is Key to Mining Maine's Natural Resources
At various times throughout its history, Maine's mining sector has been a significant contributor to the overall economic growth of the state. In various locations situated throughout Maine's territory, the extraction of resources like granite, slate, and gems have served to benefit an array of industries. One of the main contributors throughout the last century was the metal boom during the late 1880's, although it is unclear what spurred the interest in metal producing operations on, for a time it served to benefit the state immensely. In modern times, there are a few mining operations still in existence serving to benefit global commercial markets, like crushed stone, dimension stone, granite, limestone, slate, etc used in building and construction. There has also been a rise in niche markets for gemstones.
The pegmatite deposits of Maine are often mined to look for tourmaline, aquamarine, morganite, topaz, and quartz. Whereas garnet, kyanite, andalusite, sodalite, and staurolite have been assembled from Maine's metamorphic rocks. Some of the important natural resources in Maine are often found in hard to reach or impassable regions or throughout its vast forests. Copious amounts of granite and limestone deposits have accumulated but are not fully mined because a few are difficult to access and one of the most extensive copper and zinc deposits ever uncovered lies in Maine but once again has proved challenging to access. For the Maine mining industry as well as those situated throughout New England, helicopters are key to achieving access to resource deposits that are in impassable or isolated locations.
Secure, reliable logistical support for helicopter mining explorations and drilling in Maine
Call FairLifts at 1-800-318-8940 now!
Comprehensive Helicopter Services for the Maine Mining Industry
FairLifts' agents source helicopter support from local operator's reserves that not only meet the requirements of mining companies projects but also exceeds them. Agents will locate the most proficient aircraft, pilot, crew, and hardware necessary to tackle the Maine mining industry's need for their drilling operations to be completed on time, cost-effectively and accurately. Reach out to FairLifts to hear service specific details regarding the helicopter applications listed below.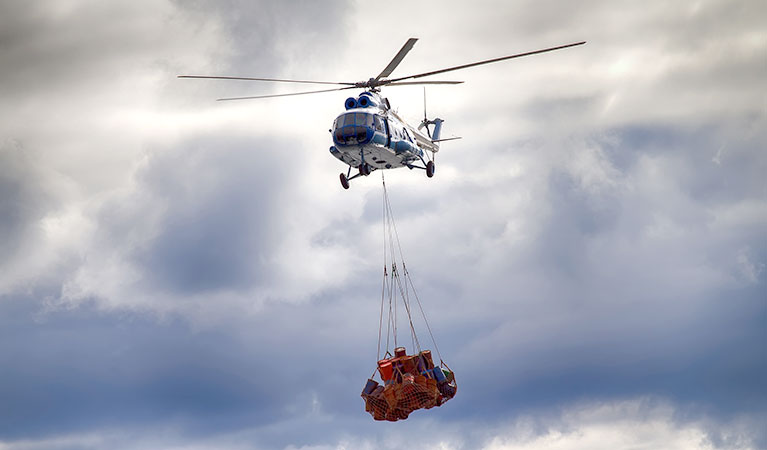 Mining and Drill Rig Support
Helicopter applications have proven beneficial in expert sling load and precision aerial lifting operations for drill rig construction and various types of transport. Helicopter support has been utilized to effect for the movement of crews, rig resupplying, in the transfer of portable rigs between sites, to conduct drill site surveys, and for the transport of supplies to be used in the construction of drill rigs, plus more.
---
Mineral Exploration and Mapping
Helicopters are utilized widely in the collection of aerial imagery for geophysical surveys of specific areas in efforts to identify regions that have a higher probability of containing valuable resources or minerals and to map exploration corridors. Geophysical survey technologies use high-frequency electromagnetic recognition devices to identify areas with an increase in the probability for minerals, while continuous GPS feeds fitted to helicopters help to accurately pinpoint these locations.
Mine Rehabilitation and Reseeding
Drill rig installations and various mining operations can often be destructive for surrounding ecosystems resulting in the loss of vegetation and vital resources. Helicopters have been used in the restoration of local environments to their original state through the movement of top spoil to inspire new growth and in the placement of rocks, stumps, and logs to create new habitats for wildlife and in the implementation of specialized hardware to effectively "rip" and then reseed the surface area.
---
Helicopters are used in the logistical transportation of personnel for shift changes, to supplement crew operations in the times of urgent need or disaster, or to convey work crews to mining sites in remote areas. For executive transport, they can convey key personnel between operation sites, to offices, and for site inspections. They are also used to safely transport medevac teams and to deliver injured persons to area hospitals for treatment.
Secure precision lift operations for drill rig construction and installation
Call FairLifts at 1-800-318-8940 now!
FairLifts Can Help Your Maine Mining Operation Today
FairLifts' account managers are available from daylight until dark to speak with you about reserving helicopter support to fulfill your mining operations service request. Simply complete the convenient contact form found on the contact page of our website, or call anytime. Account managers will respond in less than 24 hours. Reserve expertly facilitated helicopter support for mining operations in Maine and across New England by contacting FairLifts.
We work hard to provide helicopter solutions for mining operations near all of these Maine municipalities:
Alfred - Auburn - Augusta - Bangor - Bath - Belfast - Dover-Foxcroft - Ellsworth - Farmington - Houlton - Machias - Paris - Portland - Rockland - Skowhegan - Wiscasset