Helicopter Support for Mining Operations and Exploration in Michigan
Drill Rig Support - Mineral Surveys - Rehabilitation - Personnel Transport
Helicopter Support for Mining Operations and Exploration in Michigan
Drill Rig Support - Mineral Surveys - Rehabilitation - Personnel Transport
Coordinate advanced helicopter mining operations support in Michigan
Call FairLifts at 1-800-318-8940 now!
Qualified Helicopter Mining Operations Support in Michigan
FairLifts coordinates qualified helicopter assistance for mining operations. A global network of helicopter operators provides superior mining operations support in Michigan to ensure access to remote mining areas, delivery of critical cargo, equipment, and crews, as well as life-saving medical transport in the event of an accident.
FairLifts also schedules standby service for helicopters to deliver crucial machinery and parts in the event of a malfunction to guarantee mining operations, and to ensure the secure transport of highly-valuable mining products to safeguard these from theft.
Michigan Mining in the Great Lakes State
Mining in Michigan has been one of the state's most valuable industries for the past 150 years. Michigan's nonfuel raw mineral production is valued at more than $1.75 billion, based upon annual US Geological Survey (USGS) data. The state is ranked eleventh among the states in total nonfuel mineral production value, of which Michigan accounts for more than three percent of the US total. Michigan is the nation's second-leading iron ore-producing state, and iron ore is Michigan's leading nonfuel mineral commodity, followed by Portland cement. Other materials produced in the state are construction sand and gravel, salt, crushed stone, magnesium compounds, masonry cement, and lime. The combined values of these nonfuel mineral commodities account for 96% of the state's nonfuel raw mineral production value. Last year, the Eagle Mine produced nearly 23,000 tons of nickel in concentrate. Approximately 48% of the primary nickel went into stainless and alloy steel products, 40% into nonferrous alloys and superalloys, 8% into electroplating, and 4% into other uses.
Schedule immediate helicopter mining operations support
Call FairLifts at 1-800-318-8940 now!
Michigan Helicopter Mining Operations Support Services
In Michigan, helicopter mining operations support guarantees many services, including mine rehabilitation/reseeding, mining and drill rig support, mineral exploration and mapping, and personnel transportation. Helicopter mining operations support substantially decreases delivery times by allowing items to be moved on board or with the use of a sling.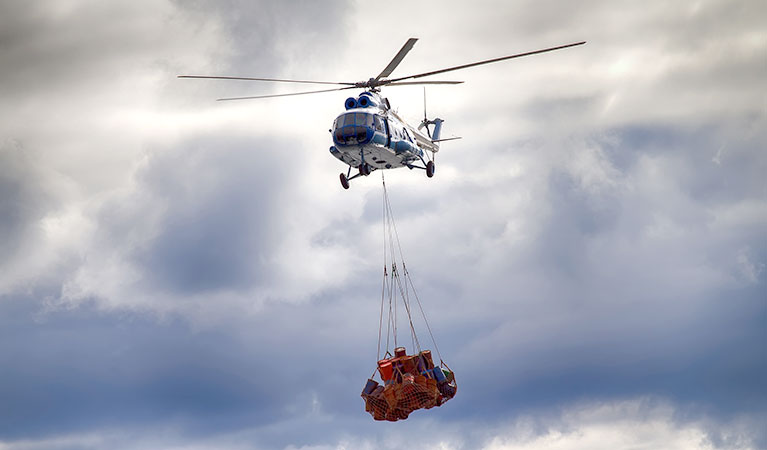 Mining and Drill Rig Support
FairLifts reserves mining and drill rig support, delivering drills by light to intermediate lift helicopters to mining sites. Our global network of helicopter operators provides experienced precision long line pilots with certified equipment for rig resupply, moves, and drill site surveys, ensuring cost-effective drill rig support solutions for secure load delivery.
---
Mineral Exploration and Mapping
FairLifts organizes mineral exploration and mapping using high-frequency electromagnetic sensing techniques designed to identify geological areas with mineral mining potential. Our global network of helicopter operators provides aircraft and pilots capable of flying or hovering at low altitudes to guarantee an accurate survey map of the geographical area.
Mine Rehabilitation and Reseeding
FairLifts coordinates mine rehabilitation/reseeding via aerial application that quickly and effectively disperses seeds to reduce erosion and inhibit the growth of invasive plants. Our global network of helicopter operators provides trained pilots for meticulous and cost-effective aerial seeding to fully rehabilitate mine sites in extremely rocky, remote or high-altitude areas.
---
FairLifts agents book mining crew transportation, including regular and unscheduled transportation to and from remote mine sites for shift changes, company tours, deployment of crews for drilling, high demand or emergency situations. Our global network of helicopter operators ensures state-of-the-art aircraft, as well as cost-effective and immediate personnel transportation.
For more information, quotes or project planning for mining operations helicopter support
Call FairLifts at 1-800-318-8940 now!
FairLifts Can Help Your Michigan Mining Operation Today
Our experienced account managers are on hand 24/7 to provide mining companies with planning, quotes, and information regarding mining support projects to ensure timely and affordable solutions for crucial mining operations.
We work hard to provide helicopter solutions for mining operations near all of these Michigan municipalities:
Adrian - Allegan - Alpena - Ann Arbor - Atlanta - Bad Axe - Baldwin - Bay City - Bellaire - Bessemer - Beulah - Big Rapids - Cadillac - Caro - Cassopolis - Centreville - Charlevoix - Charlotte - Cheboygan - Coldwater - Corunna - Crystal Falls - Detroit - Eagle River - Escanaba - Flint - Gaylord - Gladwin - Grand Haven - Grand Rapids - Grayling - Harrison - Harrisville - Hart - Hastings - Hillsdale - Houghton - Howell - Ionia - Iron Mountain - Ithaca - Jackson - Kalamazoo - Kalkaska - L'Anse - Lake City - Lapeer - Ludington - Manistee - Manistique - Marquette - Marshall - Mason - Menominee - Midland - Mio - Monroe - Mt. Clemens - Mt. Pleasant - Munising - Muskegon - Newberry - Ontonagon - Paw Paw - Petoskey - Pontiac - Port Huron - Reed City - Rogers City - Roscommon - Saginaw - Sandusky - Sault Ste. Marie - St. Ignace - St. Johns - St. Joseph - Standish - Stanton - Suttons Bay Township - Tawas City - Traverse City - West Branch - White Cloud