Helicopter Support for Mining Operations and Exploration in North Carolina
Drill Rig Support - Mineral Surveys - Rehabilitation - Personnel Transport
Helicopter Support for Mining Operations and Exploration in North Carolina
Drill Rig Support - Mineral Surveys - Rehabilitation - Personnel Transport
Aerial support keeps mining operations running
Call FairLifts at 1-800-318-8940 now!
Complete aerial mining services in North Carolina
Keeping mining operations running smoothly is challenging, but aerial assistance can help keep production schedules on target. Able to easily access all the hot mining spots throughout the mountain ranges western North Carolina, helicopters can deliver personnel, repair parts or supplies, as well as haul-out a high-quality product, or be a life-saving asset in emergency medical situations.
FairLifts can arrange aerial mining services with experienced operators in North Carolina, plus our experts will line up the perfectly matched helicopter to the specific job needs, every time.
Assisting North Carolina's rich mining roots
Mining throughout North Carolina goes back hundreds of years - the country's first gold rush was in North Carolina - and mining has been an important economic cog ever since. Today, mining operations center on quartz, feldspar, mica and more.
There are more than 800 permitted mines throughout the state, the vast majority of which are located in the Great Smoky and Blue Ridge mountain ranges.
Remote mining operations often require helicopter support, and FairLifts can arrange just that. Site surveys, exploration, equipment and personnel deliveries and more, helicopters can keep mine operations optimized.
Emergencies, deliveries, crew transport and more
Call FairLifts at 1-800-318-8940 now!
North Carolina Mining Operation Helicopter Services
Aerial mining assistance isn't a one-size-fits-all arrangement, which is why the experts at FarLifts are trained to find the professional operators that are not only experienced but also have the proper helicopters for any specific job.
Mine rehabilitation and reseeding work requires different helicopter specifications than emergency response, or crew transport jobs. But the versatility of helicopters shine in any mining operation from exploration to rig support to transport and everything in between. Contact our experts and learn how aerial support helps keep mining operations running smoothly.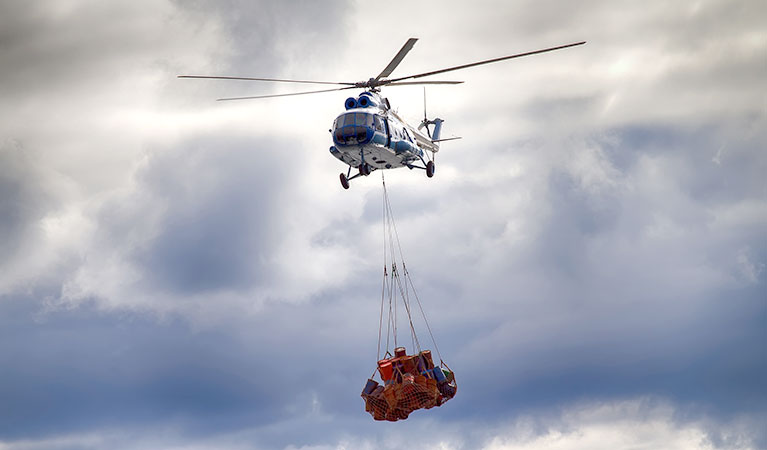 Mining and Drill Rig Support
Heavy lift helicopters can be employed in mining operations to move or place drill rigs, ground equipment and more. The largest helicopters can haul up to 25,000 pounds and be major assets in drill rig construction projects or getting big equipment on site fast.
---
Mineral Exploration and Mapping
Accurate surveying and mapping is vital in any mining operation, whether it's for new sources or expansion of existing mines. Helicopters allow for the best views of properties and they can carry all sorts of exploration imaging equipment, such as geophysical imagers, LiDAR, video, and more.
Mine Rehabilitation and Reseeding
Laws require mine operators to restore abandoned mining lands to their natural state, and aerial assistance can help. Whether it's hauling in grading materials, or assisting in reseeding duties, helicopters don't require road infrastructure and won't damage ground soil, making them great assets in rehabilitation projects.
---
Aerial support offers the fastest way to get extra crews to mining sites, along with any equipment or supplies required, which can be vital, especially in repair operations. Helicopters can also be standing by for medical evacuations, or even VIP transport of investors or other key personnel.
Mining help from above - Aerial services
Call FairLifts at 1-800-318-8940 now!
FairLifts Can Help Your North Carolina Mining Operation Today
If you require aerial mining support services or have questions about how it can help bolster mining operations, talk to our experts today. Get free quotes, talk logistics about what kind of helicopter service will work best for your specific job, or reserve your aerial support today. Our experts are standing by 24/7 to take care of all the details. Aerial support can be vitally important for any mining operation in North Carolina, so ensure you get yours lined up today. Call or use the contact form to get started.
We work hard to provide helicopter solutions for mining operations near all of these North Carolina municipalities:
Abolished - Albemarle - Asheboro - Asheville - Bakersville - Bayboro - Beaufort - Bolivia - Boone - Brevard - Bryson City - Burgaw - Burnsville - Camden - Carthage - Charlotte - Clinton - Columbia - Columbus - Concord - Currituck - Danbury - Dobson - Durham - Edenton - Elizabeth City - Elizabethtown - Fayetteville - Franklin - Gastonia - Gatesville - Goldsboro - Graham - Greensboro - Greenville - Halifax - Hayesville - Henderson - Hendersonville - Hertford - Hillsborough - Jackson - Jacksonville - Jefferson - Kenansville - Kinston - Laurinburg - Lenoir - Lexington - Lillington - Lincolnton - Louisburg - Lumberton - Manteo - Marion - Marshall - Mocksville - Monroe - Morganton - Murphy - Nashville - New Bern - Newland - Newton - Oxford - Pittsboro - Plymouth - Raeford - Raleigh - Robbinsville - Rockingham - Roxboro - Rutherfordton - Salisbury - Sanford - Shelby - Smithfield - Snow Hill - Sparta - Statesville - Swan Quarter - Sylva - Tarboro - Taylorsville - Trenton - Troy - Wadesboro - Warrenton - Washington - Waynesville - Wentworth - Whiteville - Wilkesboro - Williamston - Wilmington - Wilson - Windsor - Winston-Salem - Winton - Yadkinville - Yanceyville