Helicopter Support for Mining Operations and Exploration in North Dakota
Drill Rig Support - Mineral Surveys - Rehabilitation - Personnel Transport
Helicopter Support for Mining Operations and Exploration in North Dakota
Drill Rig Support - Mineral Surveys - Rehabilitation - Personnel Transport
Nothing beats a helicopter for mining support
Call FairLifts at 1-800-318-8940 now!
Mining Operations Aerial Assistance in North Dakota
A helicopter is a vital asset to many mining operations throughout the United States. This includes mining operations in North Dakota. FairLifts arranges quality helicopter services—with our connections to a wide network of certified pilots and crew members—throughout the state of North Dakota. A few of the services FairLifts can assist with are mapping out mining operations, supporting drilling and the rig, assisting in mining rehabilitation and reseeding efforts, and taking your team anywhere they need to travel to. A helicopter provides great aerial mining assistance with its heavy-lifting ability, its precise flying manner, and the aerial view from above.
"Brown Coal" in North Dakota
North Dakota has a rich history of mining coal. Lignite, often times referred to as "brown coal," is abundantly found in the state; close to 351 billion tons of lignite is estimated to be in the state. This is the largest deposit of lignite in the entire world. Lignite mining started in North Dakota in 1873. By 1900, around 73 mines were in the state. These mines ranged from simple farmers mining to huge mines that used hundreds of men.
The number of mines in North Dakota grew. By the 1920s there were over 250 mines.
FairLifts can benefit North Dakotas mining industry by delivering cost-effective on-demand helicopter support. Helicopter applications can be used throughout North Dakota for logistical transport to mine sites in remote areas, in the transport of rig supplies and replacement drill parts and components and along exploration corridors to map the precise locations of natural resources.
Get a quote on aerial mining support today
Call FairLifts at 1-800-318-8940 now!
North Dakota Mining Operation Helicopter Services
The services FairLifts arranges are customizable. The focus is on providing aerial mining services to make your life easier, save on manual labor, and help you perform jobs quicker than you would have without the addition of a helicopter. A few helicopter services FairLifts helps with include transporting personnel, mining mapping and exploration, mining rehabilitation and reseeding, and drilling and rig support.
FairLifts arranges these helicopter services throughout the state of North Dakota. Learn more below about each of these services: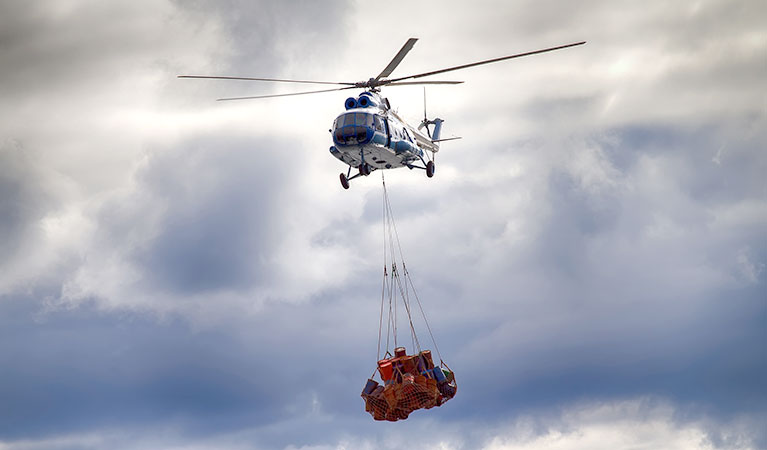 Mining and Drill Rig Support
It is no secret that mining equipment is heavy and often times difficult to move around. Because of a helicopter's strength, heavy lifting is no problem. A helicopter can provide precise lifting for drill rig construction as well as help transport portable rigs.
---
Mineral Exploration and Mapping
An aerial view—like the view a helicopter provides from above—can help with any mining operation. You can cut important time down by using a helicopter to map out your mining operation. A helicopter can assist in finding mineral rich locations with an accurate geographic survey.
Mine Rehabilitation and Reseeding
Sometimes a mining operation can damage the land around it. A helicopter can help you restore a mining operation. One of the ways a helicopter can assist in this manner is by helping you reseed land so new growth occurs.
---
A helicopter is unique in that it provides aerial transportation to a precise location. If you are having difficulty transporting necessary personnel to a certain location, a helicopter can easily assist in this manner, whether it is an off-shore rig of for emergency medevac services.
Let us help you with your mining operation in North Dakota
Call FairLifts at 1-800-318-8940 now!
Call FairLifts for Aerial Mining Assistance
FairLifts can arrange all of the above services for your mining operation. Our services are completely customizable, and we care about delivering high-quality helicopter services to you. If you want more information or want to get started on a quote for aerial mining services, give us a call. We pride ourselves in our customer service abilities and always have a team member standing by 24/7 to answer questions you may have. Get started today. Let a helicopter help out your North Dakota mining operation.
We work hard to provide helicopter solutions for mining operations near all of these North Dakota municipalities:
Amidon - Ashley - Beach - Bismarck - Bottineau - Bowbells - Bowman - Cando - Carrington - Carson - Cavalier - Center - Cooperstown - Crosby - Devils Lake - Dickinson - Ellendale - Fargo - Fessenden - Finley - Forman - Fort Yates - Grafton - Grand Forks - Hettinger - Hillsboro - Jamestown - Lakota - LaMoure - Langdon - Linton - Lisbon - Mandan - Manning - McClusky - Medora - Minnewaukan - Minot - Mohall - Mott - Napoleon - New Rockford - Rolla - Rugby - Stanley - Stanton - Steele - Towner - Valley City - Wahpeton - Washburn - Watford City - Williston