Helicopter Support for Mining Operations and Exploration in Ohio
Drill Rig Support - Mineral Surveys - Rehabilitation - Personnel Transport

Helicopter Support for Mining Operations and Exploration in Ohio

Drill Rig Support - Mineral Surveys - Rehabilitation - Personnel Transport
Professional helicopter support for mining operations in Ohio.
Call FairLifts at 1-800-318-8940 now!
Helicopter support for Ohio's Mining Industries
FairLifts is made up of a network of the industry's most experienced and professional operators who can help you tackle mining projects efficiently and faster than traditional ground operations. Our partners are capable of matching the demand for logistics, transport, and urgent requirements for your projects. A helicopter can be scheduled to standby as an assurance to provide immediate supply, transport, and even emergency situations that could mean life or death. FairLifts is here to ensure successful mining production, safely, and efficiently in critical times.
Ohio has a history of Mining Excellence
Mining has been in operation in Ohio since the early 1800's. By the mid-1800's, billions of tons of coal had been extracted along with clay, limestone, salt, and other minerals we use every day. Not only does the state rank high in production and local use of minerals, but it is renowned for turning old mining sites into modern-day recreational, residential, and commercial developments. Scheduling helicopter assistance through FairLifts for mining efforts in Ohio will guarantee a boost in production via efficient methods of surveying, lifting, transport, and overall project support through professional experience and modern technology.
Acquire the helicopter support you need for mining exploration and operations.
Call FairLifts at 1-800-318-8940 now!
Ohio Mining Operation Helicopter Services
Aerial mining assistance will help you get the job done faster, more efficiently, and most importantly: safer. Services that can be arranged include mine rehabilitation and reseeding, mining and drilling rig support, mineral exploration and mapping, and personnel transportation. Traditional ground methods are a thing of the past. Use a helicopter to help you out with your mining operation.
Mining and Drill Rig Support
Helicopters are invaluable to mining and drill rig support. They provide many important support services which include but are not limited to crew transport, resupply, and transport of materials, rig movement help, a plethora of surveys including seismic and electromagnetic, road and water surveys as well as emergency standby and support.
---
Mineral Exploration and Mapping
Helicopters use sensitive electromagnetic equipment to perform an aero-magnetic survey to achieve ground penetration and positional accuracy for deep mineral exploration.This is a common method used to carry out accurate 2D and 3D mapping as well as identifying minerals quickly over a large surface area.
Mine Rehabilitation and Reseeding
This is one of the most environmentally friendly approaches to restoring and re-vegetating the land after mining expeditions, or natural disasters. Trees and plants are reseeded via aerial spraying while landfills are covered with fresh topsoil and new plants, and livestock are fenced off from hindering the growing process.
---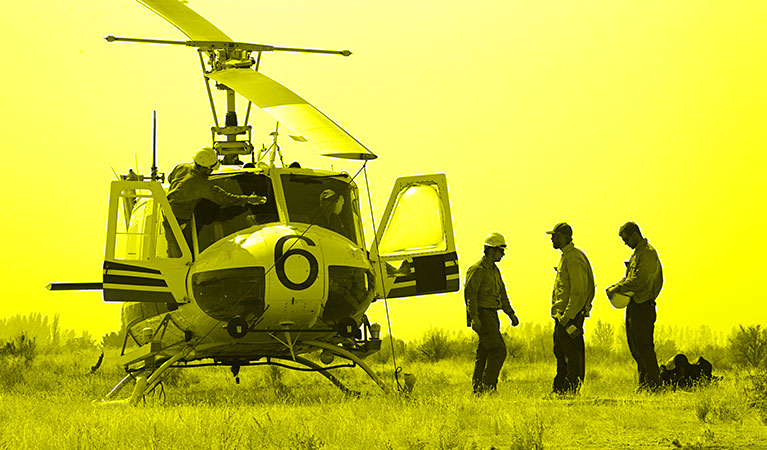 Helicopters always play a large role in mining assistance. Transportation is particularly important since many locations are remote and personnel requires transport from point to point. Long distances, nor lack of infrastructure prevent aviation from providing quick and safe transport of crews between locations for both emergency and non-emergency situations.
Helicopter support is standing by,
Call FairLifts at 1-800-318-8940 now!
Connect with FairLifts Today
Agents are available twenty-four hours a day all week to speak with you about your mining support options. We can also deliver free quotes and consult with you about your project specifics. Book experienced helicopter services in support of the Ohio mining industry when you call FairLifts.

We work hard to provide helicopter solutions for mining operations near all of these Ohio municipalities:
Akron - Ashland - Athens - Batavia - Bellefontaine - Bowling Green - Bryan - Bucyrus - Cadiz - Caldwell - Cambridge - Canton - Carrollton - Celina - Chardon - Chillicothe - Cincinnati - Circleville - Cleveland - Columbus - Coshocton - Dayton - Defiance - Delaware - Eaton - Elyria - Findlay - Fremont - Gallipolis - Georgetown - Greenville - Hamilton - Hillsboro - Ironton - Jackson - Jefferson - Kenton - Lancaster - Lebanon - Lima - Lisbon - Logan - London - Mansfield - Marietta - Marion - Marysville - McArthur - McConnelsville - Medina - Millersburg - Mount Gilead - Mount Vernon - Napoleon - New Lexington - New Philadelphia - Newark - Norwalk - Ottawa - Painesville - Paulding - Pomeroy - Port Clinton - Portsmouth - Ravenna - Sandusky - Sidney - Springfield - St. Clairsville - Steubenville - Tiffin - Toledo - Troy - Upper Sandusky - Urbana - Van Wert - Wapakoneta - Warren - Washington Court House - Wauseon - Waverly - West Union - Wilmington - Woodsfield - Wooster - Xenia - Youngstown - Zanesville