Helicopter Support for Mining Operations and Exploration in Oklahoma
Drill Rig Support - Mineral Surveys - Rehabilitation - Personnel Transport
Helicopter Support for Mining Operations and Exploration in Oklahoma
Drill Rig Support - Mineral Surveys - Rehabilitation - Personnel Transport
Professional helicopter support for the mining and exploration industry in Oklahoma.
Call FairLifts at 1-800-318-8940 now!
Aerial Assistance for Mining Operations in Oklahoma
When a helicopter comes into the picture it proves to be beneficial for any mining operation in Oklahoma. FairLifts has connections to many helicopter pilots and crew members to make these services possible, bringing you the best in helicopter support for mining services. A few ways a helicopter can help include mapping out an area, helping with rig and drilling support, and transporting crew members to difficult to reach locations. A helicopter can lift any heavy object you need and with precise flying assist your mining operation.
Decades old Oklahoma Mining Operations
Mining in Oklahoma is nothing new. Coal mining in Oklahoma dates back to 1873. From here until the 1980s, 24 different beds of coal were mined in 19 different counties. This history excluded a mass production of coal. In 1891, one million tons was produced. Just ten years later this number doubled to two million. A total of four million tons of coal was produced during World War I.
Aside from coal, the state is rich in minerals with different mines state-wide. Minerals such as limestone, salt, clay, gypsum, iodine, gravel, and sand are mined in all of the 77 counties in the state. Over $209 billion was mined in the state by 2002. Helicopters can assist in finding new areas to mine, and help mining operations produce to maximum capacity throughout Oklahoma.
Acquire the helicopter support you need for mining exploration and operations.
Call FairLifts at 1-800-318-8940 now!
Oklahoma Mining Operation Helicopter Services
FairLifts helps set up helicopter mining services throughout the entire state of Oklahoma. Helicopters help perform mining tasks in a safe and efficient manner. Possible helicopter mining services FairLifts arranges includes mineral exploration and mapping, transporting crew members, and drilling and rig support. Get the mining help you need by calling FairLifts.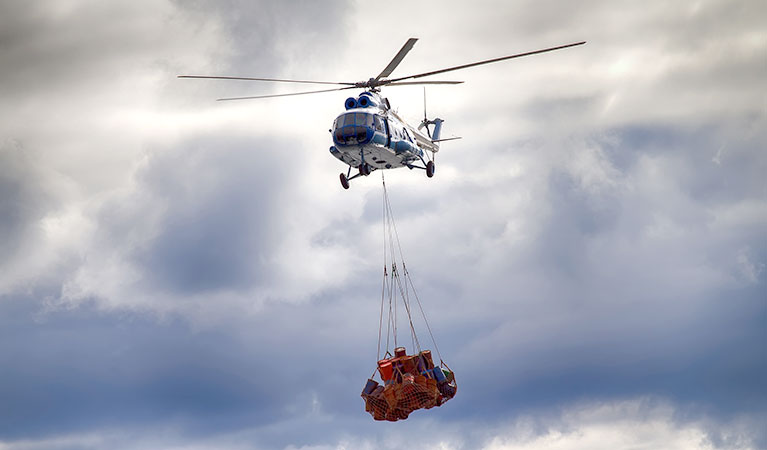 Mining and Drill Rig Support
Because of a helicopter's precise flying ability, you can transport exactly what you need to any mining operation. This may include difficult to reach or offshore locations. A helicopter can help transport portable rigs, crew members, and assist with resupplying and emergency medical transportation.
---
Mineral Exploration and Mapping
There are always new areas to explore in the realm of mining. A helicopter's aerial view can help you find potential new area to mine and even identify areas that are mineral rich. A helicopter can provide a map highlighting the geological information of an area.
Mine Rehabilitation and Reseeding
It is no secret that mining can destroy the vegetation in an area. A helicopter can help in repairing some of this damage. A helicopter can also help reseeding efforts to restore an area's plant life in a quick and efficient manner, restoring the environment to a better state.
---
Helicopters can fly just about anywhere. This means they can fly people just about anywhere you need them to go for your mining operation. A helicopter delivers people to a precise location quicker than if you would have them travel on the ground. In some instances a helicopter is the only available transportation.
Let us handle the logistics of helicopter support for your mining operation.
Call FairLifts at 1-800-318-8940 now!
Call FairLifts For Aerial Mining Support in Oklahoma
FairLifts proudly arranges mining services throughout the entire state of Oklahoma. We arrange these helicopter services to meet your needs; partnering with the best pilots and crew members and implementing the latest helicopter technology, we bring you the aerial support you need to get the job done.
We work hard to provide helicopter solutions for mining operations near all of these Oklahoma municipalities:
Ada - Altus - Alva - Anadarko - Antlers - Arapaho - Ardmore - Arnett - Atoka - Bartlesville - Beaver - Boise City - Buffalo - Chandler - Cherokee - Cheyenne - Chickasha - Claremore - Coalgate - Cordell - Duncan - Durant - El Reno - Enid - Eufaula - Fairview - Frederick - Guthrie - Guymon - Hobart - Holdenville - Hollis - Hugo - Idabel - Jay - Kingfisher - Lawton - Madill - Mangum - Marietta - McAlester - Medford - Miami - Muskogee - Newkirk - Norman - Nowata - Okemah - Oklahoma City - Okmulgee - Pauls Valley - Pawhuska - Pawnee - Perry - Poteau - Pryor - Purcell - Sallisaw - Sapulpa - Sayre - Shawnee - Stigler - Stillwater - Stilwell - Sulphur - Tahlequah - Taloga - Tishomingo - Tulsa - Vinita - Wagoner - Walters - Watonga - Waurika - Wewoka - Wilburton - Woodward