Helicopter Support for Mining Operations and Exploration in South Dakota
Drill Rig Support - Mineral Surveys - Rehabilitation - Personnel Transport

Helicopter Support for Mining Operations and Exploration in South Dakota

Drill Rig Support - Mineral Surveys - Rehabilitation - Personnel Transport
Capitalize on South Dakota's mining opportunities
Call FairLifts at 1-800-318-8940 now!
FairLifts Helps South Dakota Mining Operations
In South Dakota, there was once a time when working underground was a thriving industry for mining lead and precious metals such as gold. Mining, which dates as far back as the 1800s, offered incredible opportunities for businesses and supported local and state economies.
At FairLifts, we see the value of the mining industry today and want to help your mining pursuits. That's why we reserve only the best aerial mining assistance through an array of experienced, professional helicopter operators. From personnel transportation to mineral exploration services, these professionals support the success of your underground projects in South Dakota.
South Dakota's Mining Opportunities
South Dakota was once a thriving state for mining gold in North America. Though that era has passed, there are still areas where mining is useful in local communities. The most notable counties that benefit from this industry are Lawrence, Custer and Pennington. Forests and the wilderness are popular regions too.
If you're looking to invest in the mining industry in South Dakota, contact FairLifts! Our purpose is to connect you with the best helicopter professionals for aerial mining. Let us know when and where you'd like to mine and our mining operators will be there.
Mining made easier, safer and more accurate
Call FairLifts at 1-800-318-8940 now!
South Dakota Mining Operation Helicopter Services
Exploring South Dakota for mining opportunities has never been better than with a helicopter. With the ability to transfer personnel, map landscapes and reach remote areas, helicopters are a great asset to your mining endeavors. You can receive accurate data about some of South Dakota's forests and counties well-known for drilling, as well as areas yet to be discovered.
We work with professional helicopter pilots who can deliver several key services for a successful project. They include personnel transportation, mineral mapping, drill rig support and mine rehabilitation. Below you'll find more details on each service.
Mining and Drill Rig Support
Aerial mining assistance also supports your rig equipment. Helicopters have the ability to transport parts for rigs, as well as help assemble them. Wherever you're mining, you have backup in case there are any problems with drilling. That's because we work with experienced pilots to help your rigs run smoothly.
---
Mineral Exploration and Mapping
Get an in-depth look into the place you're mining with aerial mapping. We work with skilled pilots to give you detailed data about the land in South Dakota. This includes seismic and electromagnetic information. Understanding the geography of your mining project is key to its success. Helicopters services can help.
Mine Rehabilitation and Reseeding
If you're looking for an opportunity to restore a mining area that's now inactive, then this service is for you. Helicopter operators have the know-how and tools to replenish lost resources and minerals in the land. Plus, successful seeding could prove to be a lucrative reward for your business.
---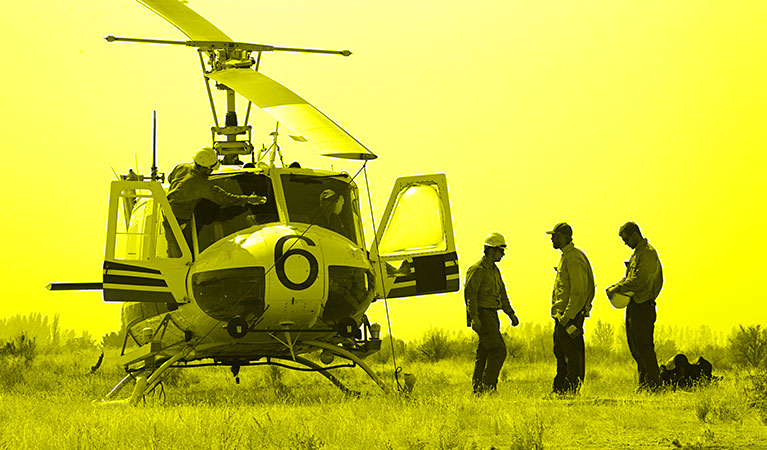 Mining in new areas is exciting, but also has its challenges. This is especially the case if it's a remote location, and you're not sure how you're going to get the right people there. Fortunately, we know helicopter operators who can transfer your personnel to and from the mining site.
Call FairLifts to book professional aerial mining assistance
Call FairLifts at 1-800-318-8940 now!
FairLifts Can Help Your South Dakota Mining Operation Today
Our customer service agents at FairLifts are readily available to assist you in your mining endeavors. They are knowledgeable about the areas where mining is most active, as well as the type of aerial mining service you need.
You don't have to waste time or resources just drilling on the ground. A helicopter service can deliver proficient, accurate results while also keeping your personnel safe. With FairLifts, we only work with the best helicopter professionals to ensure your job is done beyond expectations. Contact us today to learn more and get started!

We work hard to provide helicopter solutions for mining operations near all of these South Dakota municipalities:
Aberdeen - Alexandria - Armour - Belle Fourche - Bison - Britton - Brookings - Buffalo - Burke - Canton - Chamberlain - Clark - Clear Lake - Custer - De Smet - Deadwood - Dupree - Elk Point - Faulkton - Flandreau - Fort Pierre - Gann Valley - Gettysburg - Hayti - Highmore - Hot Springs - Howard - Huron - Ipswich - Kadoka - Kennebec - Lake Andes - Leola - Madison - Martin - McIntosh - Milbank - Miller - Mitchell - Mound City - Murdo - Olivet - Onida - Parker - Philip - Pierre - Plankinton - Rapid City - Redfield - Salem - Selby - Sioux Falls - Sisseton - Sturgis - Timber Lake - Tyndall - Vermillion - Watertown - Webster - Wessington Springs - White River - Winner - Woonsocket - Yankton