Helicopter Support for Mining Operations and Exploration in Texas
Drill Rig Support - Mineral Surveys - Rehabilitation - Personnel Transport

Helicopter Support for Mining Operations and Exploration in Texas

Drill Rig Support - Mineral Surveys - Rehabilitation - Personnel Transport
For industry-leading Texas mining operations by helicopter
Call FairLifts at 1-800-318-8940 now!
Discover Efficient Mining Operations in Texas
For those looking to gain an edge with respect to mining operations in the Lone Star State, rest assured that helicopters can expedite your work in a fraction of the normal time. From holistic site surveys to mineral exploration above the ground in Texas, a helicopter can effectively do it all. Prices have never been more affordable, while you're delivered a lasting industry advantage among competitors.
Pilots operate in full accordance with all FAA regulations, so you'll be able to operate at unrivaled capacity in the American south.
Unrivaled Mining Proficiency in Texas Skies
Given its high operational capacity in the mining industry, Texas proves ideal for all aerial ventures. Products to be found in Texas mines include both lignite and coal products, together with iron ore, lead, zinc and mercury, alike. A largely flat topography in the south means that helicopters can operate without the inhibition of difficult landscapes.
As the nation's leading producer of lignite coal, Texas requires a better aerial mining solution. Outfit your Texas mine with helicopter-facilitated metrics and operations, and watch opportunity rise to accommodate the upgrade. Schedule your helicopter with ease today.
Texas mining operations simplified by helicopter
Call FairLifts at 1-800-318-8940 now!
A Diversified Portfolio of Valuable Helicopter Services in Texas
When it comes to mining operations in the Lone Star State, you can't afford to function anywhere beneath your capacity. Instead, achieve a new ceiling for daily and quarterly mining output, whenever you put a helicopter to work on the premises of your mine site. Choose from among a diversified portfolio of valuable helicopter services, delivered via helicopters enhanced specifically for your location. No matter your preferences or your financial parameters, there's always an option that can take your enterprise to the next level.
Mining and Drill Rig Support
Support your mine ventures with a helicopter, no matter the nature of the procedure. You can also outfit your drill rig mechanisms with additional, in-air support, to keep output ahead of schedule. Lift heavy payloads with regular efficiency, with state-of-the-art mineral support to locate and store exported materials.
---
Mineral Exploration and Mapping
It's easier than ever to map the complete extent of your mine site, thanks to a helicopter that can hover at virtually any altitude, and can circulate the property to your lasting satisfaction. You can also identify prospective regions of your mine location that promise additional exports, with cutting-edge new technologies.
Mine Rehabilitation and Reseeding
Keep your mine site functioning at maximum capacity, with the mine rehabilitation and reseeding packages available through dedicated helicopter providers. Mine rehabilitation can refresh mine resources, all expedited through the ease of aerial transportation and logistics. Reseed mine premises with ease, thanks to widespread materials distribution through the air.
---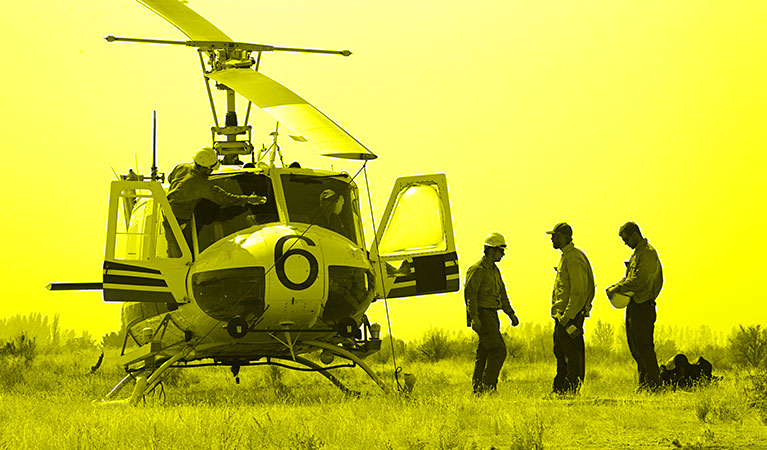 Keep workers at those locations onsite that most require your attention, thanks to the increased transportation efficiency that a helicopter alone can provide. You can transport entire crews in a fraction of the normal time, with the same security and safety that you can expect from helicopters of high caliber.
Mineral exploration above Texas mining sites
Call FairLifts at 1-800-318-8940 now!
FairLifts Can Help Your Texas Mining Operation Today
Reach out to our customer service agents today to effectively upgrade your mining operations for the sustainable future. Our agents are available at every hour of every day, to take your call, answer any of your outstanding inquiries, and begin helping you book services and take your enterprises to the next level. Whether it's mineral exploration or personnel transportation, aerial surveying or mapping, a helicopter provides. Solution that keeps your attention on pressing subjects while expert pilots satisfy your needs. For an alternative contact solution, feel free to fill out a form online, for a response within 24 hours.

We work hard to provide helicopter solutions for mining operations near all of these Texas municipalities:
Abilene - Albany - Alice - Alpine - Amarillo - Anahuac - Anderson - Andrews - Angleton - Anson - Archer City - Aspermont - Athens - Austin - Baird - Ballinger - Bandera - Bastrop - Bay City - Beaumont - Beeville - Bellville - Belton - Benjamin - Big Lake - Big Spring - Boerne - Bonham - Boston - Brackettville - Brady - Breckenridge - Brenham - Brownfield - Brownsville - Brownwood - Bryan - Burnet - Caldwell - Cameron - Canadian - Canton - Canyon - Carrizo Springs - Carthage - Center - Centerville - Channing - Childress - Clarendon - Clarksville - Claude - Cleburne - Coldspring - Coleman - Colorado City - Columbus - Comanche - Conroe - Cooper - Corpus Christi - Corsicana - Cotulla - Crane - Crockett - Crosbyton - Crowell - Crystal City - Cuero - Daingerfield - Dalhart - Dallas - Decatur - Del Rio - Denton - Dickens - Dimmitt - Dumas - Eagle Pass - Eastland - Edinburg - Edna - El Paso - Eldorado - Emory - Fairfield - Falfurrias - Farwell - Floresville - Floydada - Fort Davis - Fort Stockton - Fort Worth - Franklin - Fredericksburg - Gail - Gainesville - Galveston - Garden City - Gatesville - George West - Georgetown - Giddings - Gilmer - Glen Rose - Goldthwaite - Goliad - Gonzales - Graham - Granbury - Greenville - Groesbeck - Groveton - Guthrie - Hallettsville - Hamilton - Haskell - Hebbronville - Hemphill - Hempstead - Henderson - Henrietta - Hereford - Hillsboro - Hondo - Houston - Huntsville - Jacksboro - Jasper - Jayton - Jefferson - Johnson City - Jourdanton - Junction - Karnes City - Kaufman - Kermit - Kerrville - Kingsville - Kountze - La Grange - Lamesa - Lampasas - Laredo - Leakey - Levelland - Liberty - Linden - Lipscomb - Littlefield - Livingston - Llano - Lockhart - Longview - Lubbock - Lufkin - Madisonville - Marfa - Marlin - Marshall - Mason - Matador - McKinney - Memphis - Menard - Mentone - Meridian - Mertzon - Miami - Midland - Monahans - Montague - Morton - Mount Pleasant - Mount Vernon - Muleshoe - Nacogdoches - New Braunfels - Newton - Odessa - Orange - Ozona - Paducah - Paint Rock - Palestine - Palo Pinto - Pampa - Panhandle - Paris - Pearsall - Pecos - Perryton - Pittsburg - Plains - Plainview - Port Lavaca - Post - Quanah - Quitman - Rankin - Raymondville - Refugio - Richmond - Rio Grande City - Robert Lee - Roby - Rockport - Rocksprings - Rockwall - Rusk - San Angelo - San Antonio - San Augustine - San Diego - San Marcos - San Saba - Sanderson - Sarita - Seguin - Seminole - Seymour - Sherman - Sierra Blanca - Silverton - Sinton - Snyder - Sonora - Spearman - Stanton - Stephenville - Sterling City - Stinnett - Stratford - Sulphur Springs - Sweetwater - Tahoka - Throckmorton - Tilden - Tulia - Tyler - Uvalde - Van Horn - Vega - Vernon - Victoria - Waco - Waxahachie - Weatherford - Wellington - Wharton - Wheeler - Wichita Falls - Woodville - Zapata