Helicopter Support for Mining Operations and Exploration in Utah
Drill Rig Support - Mineral Surveys - Rehabilitation - Personnel Transport
Helicopter Support for Mining Operations and Exploration in Utah
Drill Rig Support - Mineral Surveys - Rehabilitation - Personnel Transport
Arrange advanced helicopter mining operations support in Utah
Call FairLifts at 1-800-318-8940 now!
FairLifts Helps Utah Mining Operations
FairLifts, in partnership with a global network of helicopter providers, provides leading mining operations support in Utah to enable access to isolated mine sites, transporting of crucial cargo, equipment, and crews, as well as urgent medical assistance in the event of an accident.
FairLifts also arranges replacement service for helicopters to transport essential machinery and parts in the event of a breakdown to ensure ongoing mining operations, and secure the transport of premium mining products to protect these from theft.
Experienced Helicopter Mining Operations Support in Utah
Mining has played a major role in Utah's economy since the days of the Utah Territory. Mining towns include Mercur in Tooele County, Silver Reef in Washington County, Eureka in Juab County, Park City in Summit County and a range of coal mining camps throughout Carbon County such as Castle Gate, Spring Canyon, and Hiawatha. Minerals mined in Utah include copper, gold, silver, molybdenum, zinc, lead, and beryllium. Fossil fuels including coal, petroleum, and natural gas play an important role in Utah's economy, especially in the eastern part of the state in counties such as Carbon, Emery, Grand, and Uintah. Utah is ranked fifth in the value of non-fuel mineral production, which accounts for approximately 5.4 percent of the United States total. Copper is the largest contributor to the value of non-fuel minerals in the state with an estimated value of $1.5 billion, which is mostly produced from Kennecott Utah Copper Corporation's Bingham Canyon Mine.
Arrange urgent helicopter mining operations support.
Call FairLifts at 1-800-318-8940 now!
Utah Mining Operation Helicopter Services
In Utah, advanced helicopter mining operations support keeps many services, including mine rehabilitation/reseeding, mining and drill rig support, mineral exploration and mapping, and personnel transportation on track. Helicopter mining operations support allows items to be moved on board or with the use of a sling, thereby ensuring speedy delivery times.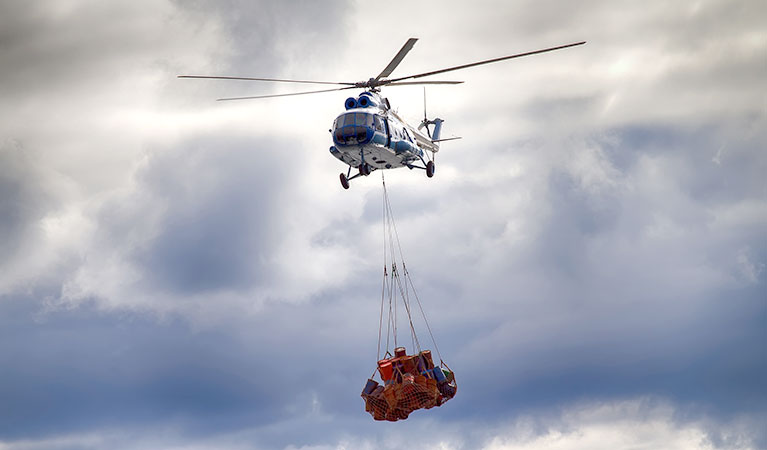 Mining and Drill Rig Support
FairLifts arranges mining and drill rig support, transporting drills by light to intermediate lift helicopters to mining sites. Experienced precision long line pilots with certified equipment enable rig resupply, moves, and drill site surveys, guaranteeing affordable drill rig support solutions for protected load delivery.
---
Mineral Exploration and Mapping
FairLifts coordinates mineral exploration and mapping using high-frequency electromagnetic sensing techniques designed to detect geological areas with mineral mining potential. Advanced aircraft and trained pilots are able to fly or hover at low altitudes to capture precise survey maps of geographical areas.
Mine Rehabilitation and Reseeding
FairLifts schedules mine rehabilitation/reseeding via aerial application that efficiently distributes seeds to decrease erosion and prevent the growth of hostile plants. Expert pilots ensure accurate and affordable aerial seeding to completely rehabilitate mine sites in particularly remote, rocky or elevated areas.
---
FairLifts, working with a global network of helicopter providers, manages mining crew transportation, including regular and spontaneous transportation to and from isolated mine sites for shift changes, company tours, and crew deployment for drilling, high demand or emergency situations. Certified pilots guarantee cost-effective and timely personnel transportation.
For more information, quotes or project planning for mining operations helicopter support in Utah
Call FairLifts at 1-800-318-8940 now!
FairLifts Can Help Your Utah Mining Operation Today
Our knowledgeable account managers are readily available to provide planning, pricing, and information regarding mining support projects for mining companies to guarantee quick and affordable solutions for essential mining operations.
We work hard to provide helicopter solutions for mining operations near all of these Utah municipalities:
Beaver - Brigham City - Castle Dale - Coalville - Duchesne - Farmington - Fillmore - Heber City - Junction - Kanab - Loa - Logan - Manila - Manti - Moab - Monticello - Morgan - Nephi - Ogden - Panguitch - Parowan - Price - Provo - Randolph - Richfield - Salt Lake City - St. George - Tooele - Vernal