Helicopter Support for Mining Operations and Exploration in Washington
Drill Rig Support - Mineral Surveys - Rehabilitation - Personnel Transport
Helicopter Support for Mining Operations and Exploration in Washington
Drill Rig Support - Mineral Surveys - Rehabilitation - Personnel Transport
Professional helicopter support for the mining and exploration industry in Washington
Call FairLifts at 1-800-318-8940 now!
The Role of Helicopters in Washington Mining Operations
Thanks to a group of professional and expert industry partners in Washington, FairLifts can arrange a variety of vital helicopter services for mining operations all over the state.
Logistically, mining is a taxing industry, with remote and isolated locations placing a high toll on your resources. Helicopters help to ease the load with their ability to lift heavy weights over any terrain, quickly and efficiently.
Helicopters are indispensable for medevac backup in emergencies and are an important part of your team when it comes to transporting large, heavy loads. Emergency supplies, cargo, equipment, and vital mechanical parts can all be transported by helicopter.
Washington State's Rich Mining Legacy
Washington is a mineral rich state with a rich mining history and large deposits of copper, uranium, silver, gold, lead, mercury, coal and zinc. Although many of these old mines have since been sealed up, new deposits are discovered regularly, and reclamation efforts are ongoing.
The state still contributes over 900 million dollars' worth of sand, gravel, stone, gold, zinc, and cement to the US economy annually.
Whether you have been granted rights to start a new mine or are busy reinstating an old mine to its former natural glory, you'll find that a helicopter service can help you every step of the way.
Acquire the helicopter support you need for mining exploration and operations.
Call FairLifts at 1-800-318-8940 now!
Helicopter Mining Operations Assistance in Washington
Helicopters can help to conserve resources and save money at every stage of mining operations.
Making use of the latest in surveying and photographic equipment, helicopter crews can reveal suitable mining sites and expose any risks involved at the outset.
A partnership with professional, experienced pilots and professionals means that FairLifts can arrange state-of-the-art helicopter services to cater to any stage of your mining operations from mineral exploration and mapping to rehabilitation and reseeding of exhausted mining sites.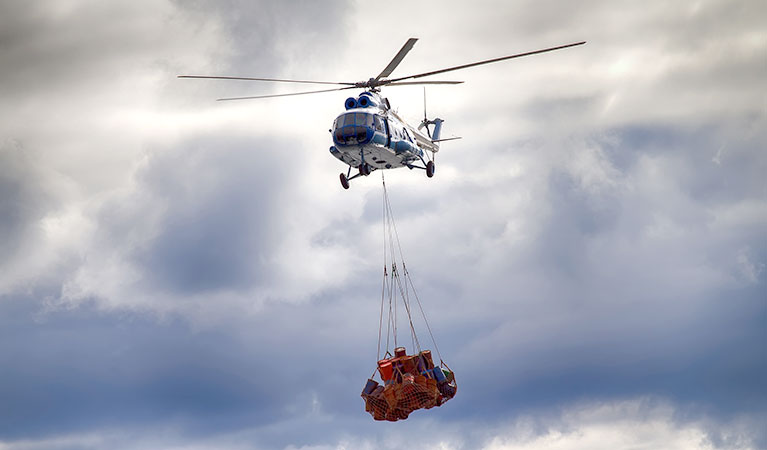 Mining and Drill Rig Support
Remote areas demand specialized machinery and skills. Helicopter-portable and skid mount drill rigs make a significant contribution to mining in these areas as they are difficult and costly to maneuver on land. By means of a helicopter and skilled pilot, these machines are easily and precisely placed where and when you need them most.
---
Mineral Exploration and Mapping
The initial geophysical surveys involved in mining can a prove time-consuming, tedious and often fruitless task. These operations are far more effective when carried out by means of helicopter-borne electromagnetic systems, which act as a means of direct-detection and mapping that make surveying safer and quicker than ever before.
Mine Rehabilitation and Reseeding
Helicopters play a key role in rehabilitating areas previously used for mining. An initial aerial survey will reveal how best to proceed, while the aircraft is also instrumental in the reseeding process. Seeds, personnel, and machinery can be transported easily via helicopter and fertilization can be carried effectively from the air.
---
Transporting key personnel to remote and distant locations can quickly become a serious logistical stumbling block. Helicopter transfers are faster and safer than road transport, limiting time in transit and allowing them to get to work sooner. There is no substitute for helicopter medevac when it comes to the health and safety of your mining personnel.
Let us handle the logistics of helicopter support for your mining operation.
Call FairLifts at 1-800-318-8940 now!
FairLifts Can Help Your Washington Mining Operation Today
There's no doubt that helicopters can assist throughout the process of mining in Washington. Helicopter services offer a customer-centric solution to all the obstacles commonly encountered during mining operations.
You'll save time and money and have the peace of mind that stems from the excellent safety record associated with helicopter services in Washington. Professional, dedicated, and experienced crew members ensure that all your mining tasks, big or small, are carried out with diligence, commitment, and expertise.
FairLifts partners with only the best operators to add value to your mining operations at every stage.
We work hard to provide helicopter solutions for mining operations near all of these Washington municipalities:
Auburn - Bellevue - Bellingham - Bothell - Everett - Federal Way - Kennewick - Kent - Kirkland - Lynnwood - Marysville - Pasco - Redmond - Renton - Seattle - Spokane - Spokane Valley - Tacoma - Vancouver - Yakima