Alabama Helicopter Field Drying Solutions
Safe - Effective - Accurate
Alabama Helicopter Field Drying Solutions
Heavy Lift - Construction - Surveys - Charters
Let's talk about how aerial field drying could improve the quality of your existing crop
Call FairLifts at 1-800-318-8940 now!
Helicopters Redefine Sport & Crop Field Drying Applications for Alabama
What is typically known as field drying involves the use of various ground-based agricultural applications via manpower and hardware to effectively dry an area or parcel of land following torrential rains or sudden downpours. In recent years, more growers and producers in Alabama have implemented the use of helicopters in aerial field drying attempts to a wide degree of success. The result of an ingenuity in rotorcraft design, aerial field drying makes use of a phenomenon that occurs when a helicopter hovers at low elevations in close proximity to the ground. While hovering, a vertical downwash of air or rotor wash results in a surface wind that can be utilized to rapidly dry sports fields or cropland and fruit trees in orchards.
Get a Free Same Day Quote Today!
For Alabama's Fruit Growers, Helicopter Support is Integral
In Alabama, as in agricultural communities across the world, aerial field drying has proven the advantageous option over traditional crop drying methods because the result is a much more expedient and quality response to cropland management. Although traditional methods have proved reasonable alternatives, if not applied with efficiency, certain varieties of plants and fruits can spoil before they are dried effectively. During times of year in regions where the relative humidity keeps crops "wet", generally, drying will occur naturally with no detriment to impending crop outputs.
However, in regions where seasonal rains occur often, it's imperative that the crops or leaves of soft skinned fruit-bearing trees, like Alabama's cherry trees, dry effectively before spring frosts prove destructive or newly emerging fruit is subject to water absorption. The moment a cherry ripens it starts to diminish in quality, the effects can be catastrophic if immediate attention is not given to keeping the fruit dry prior to it taking in any water.
Helicopters are an excellent resource in field drying because they can concentrate their efforts on a large parcel of land and over targeted areas with multiple trees in orchards and deliver a rapid result.
Ensure the quality of your field is in peak condition on game day, book helicopter sports field drying services
New and Inventive Methods Have Emerged for Helicopter Sports Field Drying
The As the benefits of helicopter field drying became more widespread, various other industries have discovered new and inventive ways to use the principle of rotor wash to effect. This especially true for the sports industry. A number of teams and franchises have reserved the use of helicopters to dry football, baseball and soccer fields before high profile sports events.
When applying the use of helicopters in sports field drying, it's integral that the pilot possesses the expertise to know at what precise elevation the helicopter's rotor wash becomes most effective. It's very easy for an unskilled hand to miscalculate resulting in the rotor wash turbulence blowing of topdressing or infield soil into the surrounding edges of the field. In states like Alabama, which are prone to standing water as a result of seasonal downpours should Nick Saban and his number one in the SEC Crimson Tide want to avoid wading in ankle-deep flood waters, having access to reliable helicopter support for field drying at Bryant-Denny stadium is key.
Aerial Field Drying Services
Helicopter field drying as an application is being utilized widely across a range of industrial pursuits and for corporations, and agencies alike. From high profile sporting events like the SEC Championship to cleaning up storm debris prior to church fundraisers and community events for candy or egg drops, helicopter field drying is proving beneficial to AlabamaAlabama's businesses and corporations. Read on to see a complete listing of field drying services available now.
For Alabama construction and engineering pursuits, time is of the essence. Unexpected rainfall can cause delays for construction crews and can ruin materials and make it nearly impossible for machinery to maintain a level of functionality that keeps projects on task. Helicopters can effectively be used to dry job sites and construction zones so development in Alabama can resume as usual.
Raceway/Speedway Field Drying
The most famous speedway in Alabama, Talladega Superspeedway, hosts a number of high profile NASCAR races annually. Generally, most of the larger raceways have track drying protocols in place and makes use of blowers afixed to trucks to move water on raceways. Used in conjunction with helicopters to effectively dry the water, rain delays can be reduced by hours and minutes at times. Helicopters have also proven effective in the drying of standing water in flooded parking lots prior to raceway specific of NASCAR sponsored events.
Although some sports can be played in the rain and even snow, standing water on a field makes it impossible to practice let alone, compete effectively. In Alabama, the most well-known teams are the U of A's Crimson Tide and the Auburn Tigers, both of which draw spectators, including students, football fans and former alumni by the thousands to their outdoor stadiums throughout college football season. A small shower can leave fields muddy or slightly wet but excessive saturation or pockets of standing water need to be remedied immediately for games to continue. Helicopters are the fastest most productive means of drying water off football fields.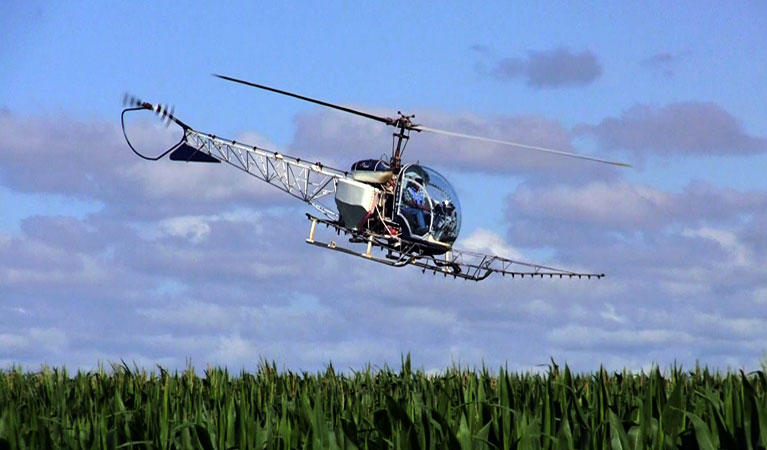 Alabama's cherry tree growers rely on helicopter support to deliver a timely and efficient response to dry the water off of the tops of trees. A rapid response to seasonal rains and torrential downpours is integral in maintaining the quality of fruit outputs. Helicopters can effectively dry an acre in less than 5 minutes as opposed to tractor and trailer blowing which can conversely take up to 45 minutes per acre to complete
Candy Drops / Easter Egg Drops
Helicopters can clear fields of standing water where community events and fundraisers are expected to take place. As seen throughout the 2018 hurricane season, flooding and wind resulted in downed trees, standing water and debris strewn across parts of Alabama, helicopters can blow dry fields, parks, and community spaces so civic activities can take place on schedule.
talk about field drying and helicopter support for your fruit or plant growing enterprise
Call FairLifts at 1-800-318-8940 now!
Connect with FairLifts to Book Quality Field Drying Applications
FairLifts provides helicopter field drying services across Alabama. For industrial pursuits and cropland management alike, field drying applications are facilitated by seasoned pilots who have expertise in the conduction of highly specialized operations to service any mission regardless of the size, scale or complexities involved.
Pilots and vendors are FAA certified for Parts 135 and 133 operations compliance, ensuring a quality, effective and safe result for each and every project. Reach out to us by completing the convenient contact form on the corresponding page of our website or call to speak with agents now.
FairLifts Alabama's Sport-Crop Field Drying Applications Services proudly serves the following cities amd more:
Abbeville - Andalusia - Anniston - Ashland - Ashville - Athens - Bay Minette - Birmingham - Brewton - Butler - Camden - Carrollton - Centre - Centreville - Chatom - Clanton - Clayton - Columbiana - Cullman - Dadeville - Decatur - Dothan - Double Springs - Elba - Enterprise - Eutaw - Evergreen - Fayette - Florence - Fort Payne - Gadsden - Geneva - Greensboro - Greenville - Grove Hill - Guntersville - Hamilton - Hayneville - Heflin - Huntsville - Jasper - LaFayette - Linden - Livingston - Luverne - Marion - Mobile - Monroeville - Montgomery - Moulton - Oneonta - Opelika - Ozark - Pell City - Phenix City - Prattville - Rockford - Russellville - Scottsboro - Selma - Talladega - Troy - Tuscaloosa - Tuscumbia - Tuskegee - Union Springs - Vernon - Wedowee - Wetumpka