Helicopter Transmission Line Construction
Tower Construction, Pole Installation, Wire Stringing & More

Transmission Line Construction

Tower Construction, Pole Installation, Wire Stringing & More
Our team of helicopter specialists fulfills requirements and exceeds expectations.
Call FairLifts at 1-800-318-8940 now!
Professional and Accurate Transmission Line Construction with Helicopter Support
Heavy lift helicopters and air cranes have been integral in the construction of utility transmission lines all across the world. Aerial installation of utilities is preferred because helicopters can achieve access to locations that may be remote or underserved, are difficult to traverse or may be environmentally challenging. A point, in fact, helicopter usage in the establishment of transmission lines minimizes damage to existing or fragile environments up to 95 percent and helicopters additionally have been shown to have diminished right of way intrusion. They are significantly faster at completing the process of establishing utilities in newly developed areas as well.
The installation of poles, stringing of wires, hanging of insulators and accouterments, when facilitated via the use of helicopters, can be completed in a fraction of the time. Utility and electrical companies, as well as contractors seeking helicopter support for utility installation, can connect with FairLifts. We specialize in reserving helicopter-assist services for the utility construction and maintenance industry. Agents are available 24/7 to accommodate on-demand requests for service and through a series of questions asked during the reservation process will source appropriate resources to satisfy your companies needs.
Although used widely in new installations, helicopters can assist in a number of ways. For example, in upgrades to existing installations, helicopters can be used to supplant modernized steel poles for worn or outdated wooden ones, restringing of wires, even in installing optical ground wire (OPGW) where applicable. Helicopters can even provide more support by delivering work crews, tools and hardware to elevated destinations. The positive implications for utility companies and contractors brought about through the use of aerial utility construction is limitless.
If you need a utility construction helicopter quote fast...
Call FairLifts at 1-800-318-8940 now!
Reserving Through Fairlifts Delivers So Many Advantages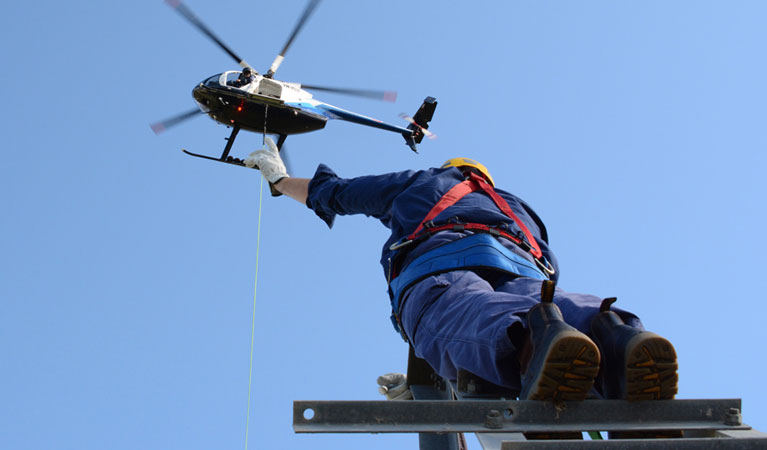 Reserving with FairLifts is easy and convenient. Simply place a call, relay detailed information regarding your transmission line construction or project specifics and agents will get to work securing an ideal resolution for you. By hand selecting from an extensive network of operators located globally, agent's will source the most effective operator, aircraft and hardware to get the project done according to your specification. Need additional services beyond transmission line construction or want to learn more about a particular service? Read on to see a brief explanation of the services available to you.
Heavy Lifts & Tower Construction
Heavy lift helicopters make use of rigging, cables and cargo hooks affixed externally to the helicopter to transport materials needed in the construction of transmission towers. These towers are configured in a variety of ways dependent upon their location, voltage and number of circuits, therefore the materials needed in construction vary. Materials may often consist of the following: tubular steel, aluminum or steel lattice sections, even concrete. Additionally, longlines may be used to suspend linemen below the helicopter in efforts to repair, maintain and construct transmission towers.
---
In the past, the installation of transmission lines required an extensive number of linemen and ground crew to construct the transmission towers and string them. As did ground patrols to conduct inspections of existing utilities. Dependent upon where these towers were established, electrical workers were expected to take ATVs or simply walk, which proved ineffective, and did little to save the project time and money. With the efficient support of helicopters, crews can be delivered anytime, anywhere with little to no hassle at all.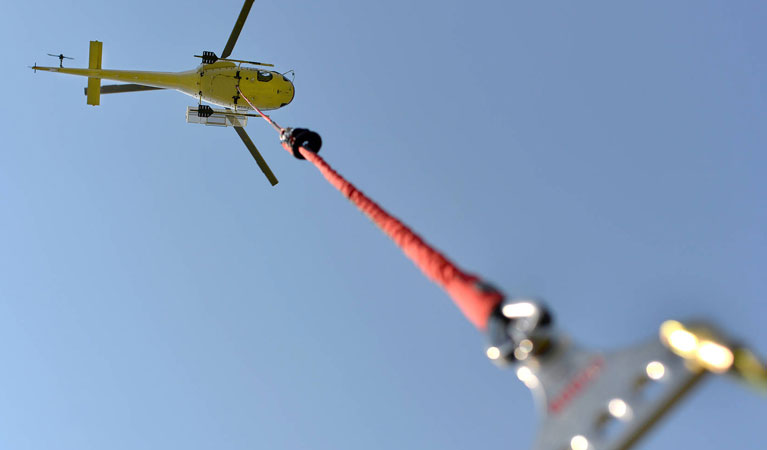 Utility Pole Installation
In regions where terrain may be impassable, like in higher elevations, offshore, or remote destinations, helicopters are vital in the installation of utilities. As the power grid grows, so will the need for access to these types of inaccessible or hard to reach destinations. Especially with respect to new installations of, or in the removal of and upgrade to existing structures. Regions may be impassable simply because of the need to not intrude upon sensitive or environmentally protected ecosystems. Via the skill and agility of a seasoned electrical pilot, transmission towers and pylons can be transported to a location and driven into the ground with minimal intrusion upon the environment.
---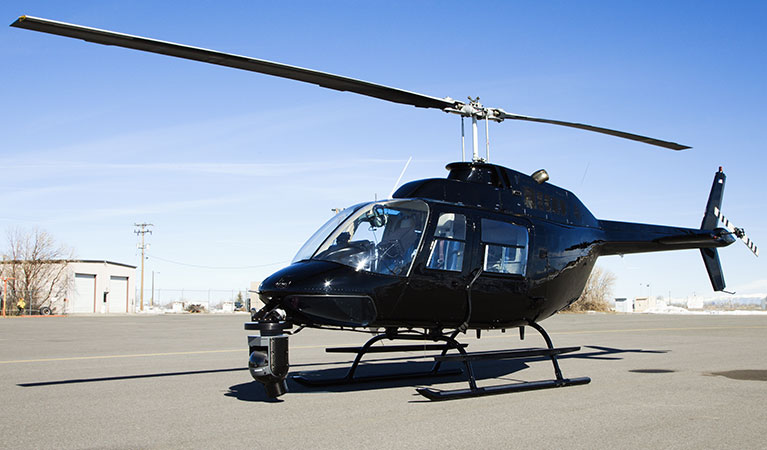 Helicopters deliver a 360 degree view of an area which is essential in the performing of site inspections. Helicopter inspections, can often be carried in hours whereas in the past ground inspections of ROW and installations took weeks. Site inspections conducted in or around electrical infrastructures or power grids, which require the helicopter to fly at a low elevation are precarious yet necessary. Helicopters deliver closer inspection of the Right of Way (ROW) to remove debris, uncover property damage, and check for materials left behind. Additionally routine inspections are carried out to check for inconsistencies in poles and towers, cross-arms and braces, insulators, conductors, and various other hardware.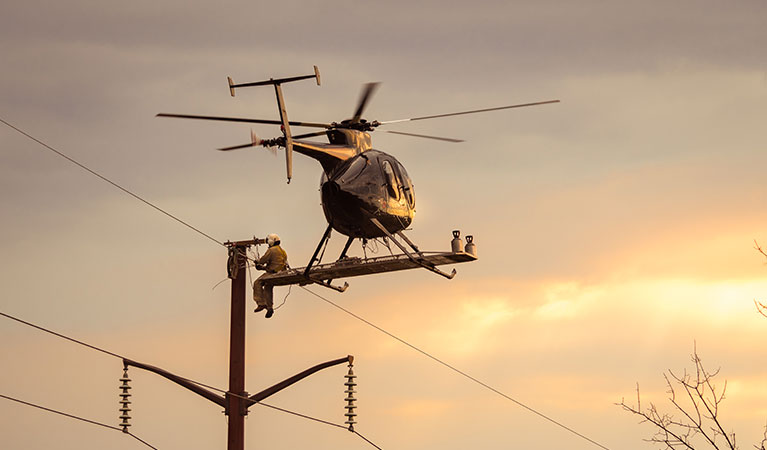 The art of stringing wires requires the dexterity of a skilled pilot with the expertise of seasoned lineman suspended on platforms beneath the low flying helicopter. Through a number of horizontal maneuvers and flying in and out, the linemen use a device called a needle, a stick like object roughly 10 feet in length with two hoops to guide a nylon rope into a pulley mounted onto transmission towers. The purpose of the nylon rope is to thread and pull new electric lines into place to establish connectivity or repair an established connection. The stringing of wire by helicopter can reduce the time it takes to support new transmission line construction by weeks, with work sometimes able to be complete within hours and can be used more effectively in high elevations or environmentally challenging locations.
Experts are standing by to get you a fast quote for your transmission line job!
Call FairLifts at 1-800-318-8940 now!
Transmission Line Construction Requires Expertise
FairLifts is the leading full-service reservations expert in the securing of helicopter utility construction services for your business or corporation within the United States and beyond. Through an extensive network of providers, we reserve helicopter support for specialty contractors, utility companies, government entities and private organizations in the aerial installation of transmission lines, pipeline, oilfield electrical services and industrial markets globally and nationally. These services plus loads more are at your disposal when you book through FairLifts. Take a moment to complete our simple form, found on our contact page, or give us a call today. Experienced agents are available 24/7 to speak to you about service specifics, deliver complimentary price quotes or start the reservations process.
Call FairLifts at 1-800-318-8940 now!