Helicopter Support for Mining Operations and Exploration
Drill Rig Support - Mineral Surveys - Rehabilitation - Personnel Transport

Helicopter Support for Mining Operations and Exploration

Drill Rig Support - Mineral Surveys - Rehabilitation - Personnel Transport
Learn More about our Mining Services!
Call FairLifts at 1-800-318-8940 now!
Expert Helicopter Support for Mining Operations and Industries
The modern mining industry demands access to fast, reliable and effective logistical alternatives. Especially for mining operations located in remote or under-served areas. FairLifts, a leader in coordinating industrial helicopter support, strives to provide suitable transport options for cargo conveyance, the transport of urgently required parts and equipment and in time-critical emergency and accident response.
Drilling and Mineral Uses
It is easy when thinking of mining operations to picture diamonds, gemstones or oil since these are all common market items, but in truth, there are many more substances being mined from the Earth than just valuable commodities like gold and precious gemstones. Some of the most important resources being mined wouldn't even be considered valuable, including:
---
Before a mining operation can start, prospectors have to determine that there is enough material to warrant the work and set up a mining camp. Aside from the permits and paperwork required to scout for spots, those who invest in the project need to physically survey the area in question for signs that there are mineral or ore deposits below ground. Light-lift helicopters are ideal for surveying and conducting on-ground services such as soil/core sampling.
---
---
For external loading operations to be safe and successful, ground crews and helicopter pilots and crew must collaborate effectively. Our helicopter pilots are trained to follow safety protocol and emergency procedures to prevent or handle static electrical discharge, fire and other dangers. Helicopter pilots who take an active role in mining operations have more than basic knowledge of the mining industry. We make complicated logistics look easy.
---
Once they have established the presence of minerals or ores, mining companies must then create a drilling rig system to remove the material from the ground. Helicopters play a large role in transporting equipment and parts to a mining site, often located in remote or densely wooded areas. They also bring supervisors and inspectors into the site when necessary to keep production running smoothly. When machines break down, helicopters pick up the slack .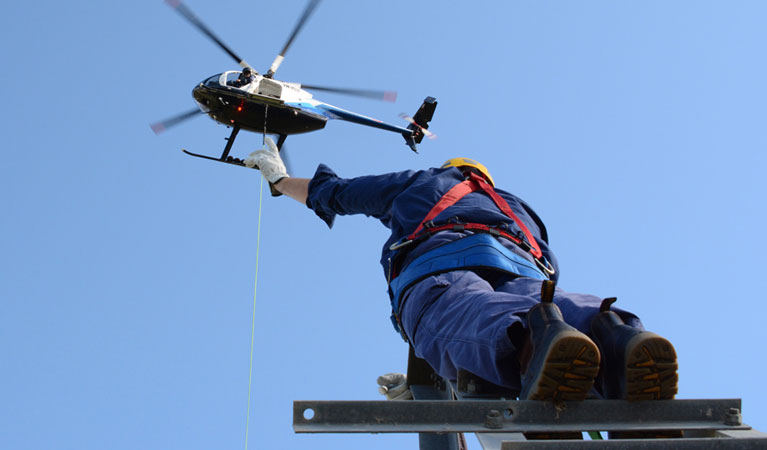 On-Demand and Emergency Helicopter Access
Having access to helicopters on standby is a luxury those in the mining sector cannot afford to be without. In the event of an emergency, an immediate transportation response is crucial. The fastest means of transport for injured persons is via helicopter to local medical facilities. The same is true for the rapid deployment of emergency personnel to the locations of mines or staging sites. When you contact FairLifts to facilitate an emergency or medevac response, helicopters will be scheduled to deploy as soon as possible. When a mining operation runs smoothly it is often because of the assistance of a well-trained helicopter pilot and crew. The contribution of helicopters in the mining industry cannot be emphasized enough, from helping to find a suitable mining site to establishing a camp and drill rig to transporting equipment, parts, and people in and out of the camp. But helicopters also contribute to mining operations in other ways, some of which include
In the event of an accident on-site, victims need to be moved quickly to a hospital or treatment facility. In the case of remote drilling sites, time becomes the enemy, making quick retrieval and transport vital. Small to mid-sized helicopters make ideal patient transport vehicles, as they can travel quickly but also have the room for stretchers and medical personnel.
---
Aerial Exploration and Mapping
Geophysical survey technologies use high-frequency electromagnetic recognition devices to identify or isolate areas possessing a higher probability for minerals to be present. Keeping utility lines clear and in working order is important to keep machinery working smoothly and effectively from day-to-day
After a mining site has been depleted of valuable products there is a responsibility to restore the area to its prior condition. Helicopters are utilized at old mining sites to recycle and replenish topsoil, reseed the area with the appropriate vegetation and place rocks, logs or stumps to create new habitats for local wildlife.
---
Transport of Critical Parts
To ensure a continuous rate of mine production, it's imperative that you have a trusted resource available that can deliver critical parts to the site of mining operations should equipment malfunction or a component needs to be replaced. Lifting bulky and heavy equipment is only one of our specialties.
Trust the Experts!
Call FairLifts at 1-800-318-8940 now!
Book Helicopter Support for your Mining Operation Today
FairLifts is one of the largest helicopter networks in the country. No matter the location of your mining site or prospect, we have a helicopter that will fit your needs and can be deployed often within two hours.  Mining operations often set up in remote locations and remain in that location for years or decades, until all of the usable ore or minerals have been harvested from the area. In cases where jobs will take a lot of man-hours and investment, it is vital to choose a company that can provide on-the-spot service dependably for long periods of time.
FairLifts has been involved in the aviation industry for many years. Our pilots are qualified and trained in emergency procedures, and they have a working knowledge of the mining industry and the requirements that they need to follow. Give us a call today and find out how our pilots, crew, and helicopters can help you keep your mining business running smoothly and efficiently. We look forward to talking with you!
To hear detailed information about helicopter support for specific mining services or to receive a free consultation, contact FairLifts' representatives. Agents are available 24/7 to speak with you about reserving efficient, cost-effective solutions to satisfy your particular service request. Simply complete our convenient contact form, or call anytime. Agents will respond in less than 24 hours. Reserve helicopter transport for parts replacement, crew conveyance or drill rig resupply.
Call FairLifts at 1-800-318-8940 now!