Precise Aerial Agriculture Operations
Helicopter Aerial Application Services

Helicopters can benefit your agricultural operation
Call FairLifts at 1-800-318-8940 now!
FairLifts Represent a Unique History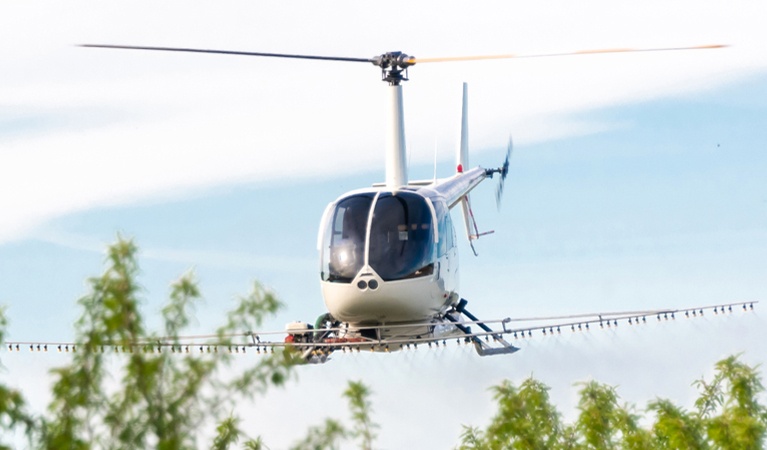 Using aircraft to help farmers began in the early-1900s with the use of low-flying airplanes. After more effective insecticides were used, aerial topdressing became more popular. FairLifts is the modernization of that unique relationship between aircraft and farmers. Our helicopters don't need a runway-- giving FairLifts helicopters the advantage of servicing areas that might not be easily accessible via other means. For populated areas, an airplane may not be advisable due to demanding more airspace when performing turns. Helicopters are more agile, nimble, and can cover ground more efficiently. FairLifts agricultural helicopters excel at working in small areas that may be too small for an AG airplane.
We are also more sensitive to market demands. For example, an increase in demand for a particular fungicide or fertilizer might require more frequent dusting. We add helicopters to our fleet that can be operated on or offsite. Regardless of the helicopter's location, no airstrip needs to be constructed. With the booming demand for green energy, more wind generators and turbines, more operators are considering our helicopter agricultural surveys to spray products around wind turbines.
Aerial Agriculture - Increase Profits and Sustainability

FairLifts' network of agricultural helicopters are used for aerial application of pesticides and fertilizers. Colloquially called crop dusters or top dressers, our AG helicopters are perfect partners for larger farms, as well as local growers, who wanted to employ the convenience of helicopters for horticultural purposes.
What makes the use of helicopters for your farming needs beneficial isn't just their efficiency in reaching difficult areas and spray control, helicopters can also save you money and penetrate the crop canopy deeper than any other method. Helicopters dispatched for agricultural operations can mitigate cost by eliminating the need to return to base for refilling, refueling and off-site mixing.
When FairLifts arranges your helicopter spraying, the helicopter can arrive along with what is known as a nursing truck to refill spray tanks, refuel and even provide an easy to access mixing stations. This saves you money on fuel cost you may be spending using a fixed wing aircraft. More and more, farmers and land owners are realizing that helicopters are the most efficient method for aerial application.
Need an Aerial Agriculture Operation quote fast?
Call FairLifts at 1-800-318-8940 now!
Benefits of Aerial Applications
During operations, FairLifts helicopters fly relatively close to the ground to reduce drift of sprayed materials and products. This ultimately saves more of the product and saves you money. Our pilots will attempt to fly right above the crops. Due to the nimbleness of helicopters, we can easily maneuver around farming equipment, trees, telephone poles, and farm structures. Here are some of the other benefits of aerial agriculture: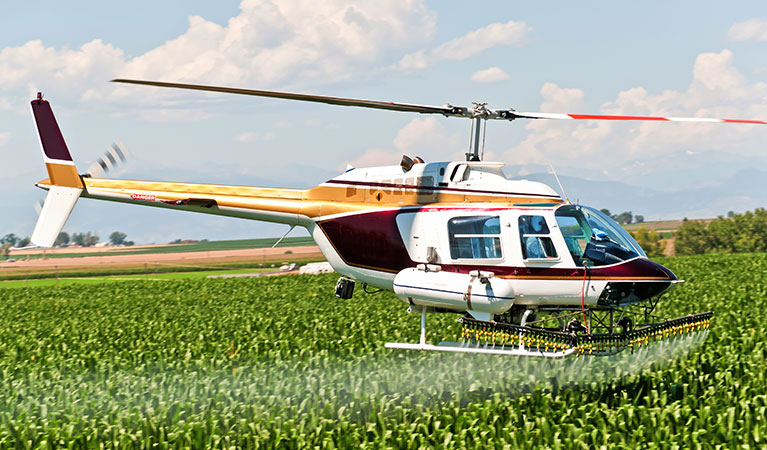 Aerial agriculture can place fertilizer and insecticides in not only orchards and farms, but also for large plots of land on any terrain. Helicopters can lift and move quickly, thus making them the most efficient option for aerial application. We have large and small aircraft so that we can tailor any operation specifically to your needs.  
---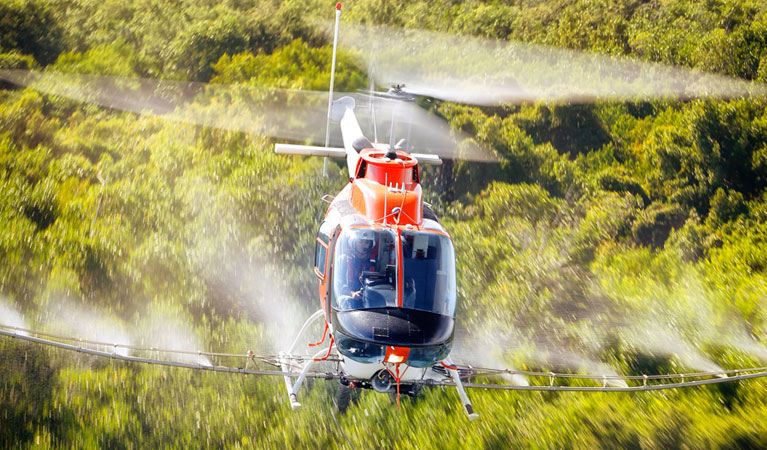 Sensitivity to Market Demands
Farmers are constantly competing with nature, competitors, and other farmers. While airplanes can be used for agricultural use, they require a long runway. These runways will have to be built. This can take time, nullifying any investments that the farmer made on farming equipment or products.
At FairLifts, we don't cut corners when it comes to our clients. Once you arrange your aerial application with us, you can call us back for additional services as needed and repeat services as well knowing you will be speaking to your personal agent rather than deal with many different people. Our support team can provide quotes, answers to your important questions and guidance based on your needs.
---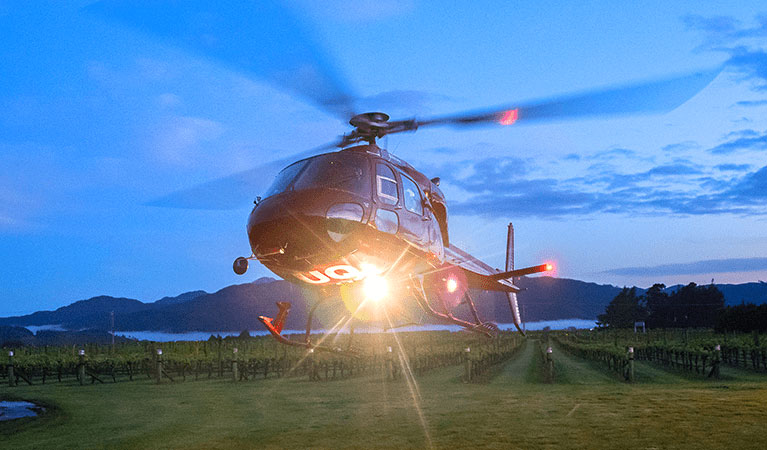 Payments are easy with large and small projects. If you are requiring recurrent service and would like to pay per month we can arrange that or if you wish to pay for the entire time the service is needed up front, we can accept that as well. Payments can be made immediately and processed just as quickly so no worries about the processing time getting in the way of your agricultural helicopter services.
Other FairLifts Aerial Application Services
80% of crop dusting is done with the help of airplanes. However, you will experience a lack of reliable service and exuberant costs. Airplanes can't make sharp turns to cover specific areas, unlike a helicopter. This type of precision augments aerial application, crop dusting, and spraying - it can reach more areas quicker. Due to the downward drift of the helicopter's rotors, it can help to inadvertently push the product deeper into the topsoil or pierce a thick canopy. The downward gust also hep fungicide coat larger areas. Aerial topdressing and watering are also be done quickly. Unlike other aircraft, the type of fertilizer used does not matter. Helicopters can help deliver dry, wet, or mixed fertilizers. FairLifts recognizes that farmers and land developers are looking for versatility. FairLifts has been the one-stop solution, with many of our services available on-demand to fit your specific needs. Our ultimate goal is to assist you in increasing throughput, seasonal and annual yield, and growing quality crops while improving revenues.
Brush & Weed Control Services
Brush & Weed Control Services
One overlooked service helicopters can provide is that of weed control and brush control. When you have stubborn and noxious weeds encroaching on your crops herbicide application is mandatory. Outbreaks of weeds and other vegetation such as gorse, ragwort, thistles, broom, blackberry, scrub and buttercup can cause extreme damage to fully grown plants as well as effect pre-growth severely limiting plant potential. Helicopters provide even distribution of herbicides and also present a unique ability to reach down to topsoil that traditional dusting methods simply do not. By pushing air towards the ground in an effect known as downdraft, the plant leaves will be gently jostled allowing for the spray to reach weeds that have grown underneath the crop canopy and might escape the eye of ground applicators. In areas that are remote or hard to reach, helicopters act as a precision tool to hit brush lines to quickly cover large areas all while mitigating environmental and public impact. Large areas can be treated at once and agriculture helicopters can provide much better coverage than even walking your rows yourself.
---
Damage to crops due to freezing accounts for more economic losses than any other weather-related hazard in the United States and it pays to be aware and prepare for a situation such as that no matter where you're located. Frost can take some of those individuals in the agricultural industry by surprise such as when the big frost of 87' in Arizona affected acres of crops overnight. The most important means of protection for your crops is prevention such as preset heaters along your row lines before the tail end of the growing season, but when this is not enough helicopters may be employed to come to your fields and provide assistance. Assistance by helicopter takes place prior to a known frost and includes a helicopter that will hover along crop rows pushing warm air down to crops with their rotors and displacing cooler air. Utilizing these downdrafts, a 60-acre field can be raised to a preferable temperature in a matter of 30 minutes or less. Additionally, drying may be needed after a frost to guarantee your topsoil is not frozen the following evening. Drying can also be provided after long term, weather-related, overwatering, and flooding.
free Aerial Agriculture Operations quotes!
Call FairLifts at 1-800-318-8940 now!