Environmental Helicopter Services
Aerial Surveys, Thermal Imagery, Wildlife Management and more.

Environmental Helicopter Services

Aerial Surveys, Thermal Imagery, Wildlife Management and more.
Our team of helicopter specialists fulfills requirements and exceeds expectations.
Call FairLifts at 1-800-318-8940 now!
Using Helicopters for Scientific and Business Decision Making
Helicopters offer a special kind of maneuverability and efficiency that cannot be achieved via fixed-wing or ground equipment. From surveys and wildlife management to aerial application and imaging, there is no operation too big or too small for FairLifts.
Helicopters offer a special kind of maneuverability and efficiency that cannot be achieved via fixed-wing or ground equipment. From surveys and wildlife management to aerial application and imaging, there is no operation too big or too small for FairLifts.
Helicopters allow scientists and wildlife management teams to survey animal populations from the air without invading the habitat, and they can travel low to the ground, spotting animals that might be more difficult to track from a higher altitude.
Further implications of helicopter wildlife management include:
Total Population Per Acre

Buck Quality Index

Buck to Doe Ratios

Fawn Production

Animal Capture & Release
Animal Harvesting Potential

Predator / Endangered Species Tracking

Herd Count

Migratory Implications
For Information About Our Helicopter Environmental Protection Solutions,
Call 1-800-318-8940 Today!
Through our aerial helicopter surveying solutions, you can take advantage of multiple services. We can arrange thermal imaging aerial surveys, crop dusting and farmland management via frost protection and resolution of over watering, and in heli logging a safer and more environmentally sound method of timber harvesting.
Rehabilitation Operations
Experts are standing by to get you a fast quote for your Environmental Helicopter Services!
Call FairLifts at 1-800-318-8940 now!
Environmental Protection and Emergency Response
Disaster relief helicopter services are a necessary element in the realm of environmental helicopter services. From sky cranes and their aerial firefighting efforts, to the heavy lifting capabilities of helicopter lifts to remove debris and burned or scorched structures so as to start the redeveloping and clean up process after a natural disaster or forest fire, to the emergency response helicopters that fly in and deliver medical personnel or much needed supplies, all of these serve to make a positive environmental impact on the surroundings that they are called upon to work in.
Beyond these incredible efforts are several more options that are available to those in pursuit of developing environmental stability and aerial aid via helicopters after disaster strikes.
Aerial Firefighting

Rehabilitation Operations

Transporting Supplies or Mobile Hospitals
Removing Wreckage

Recovery or People, Property, Machinery and Wreckage
Contact our agents to arrange any of the aforementioned environmental helicopter services. We'll work hard to establish the very best in helicopter solutions to satisfy the requirement of your particular environmental helicopter service need.
Call 1-800-318-8940 for Eco-Friendly Helicopter Services!
Reserving Through Fairlifts Delivers So Many Advantages
Reserving with FairLifts is easy and convenient. Simply place a call, relay detailed information regarding your transmission line construction or project specifics and agents will get to work securing an ideal resolution for you. By hand selecting from an extensive network of operators located globally, agent's will source the most effective operator, aircraft and hardware to get the project done according to your specification. Need additional services beyond transmission line construction or want to learn more about a particular service? Read on to see a brief explanation of the services available to you.
When there is a lot of acreages to cover, helicopters provide the ideal method of delivery for pesticides, fungicides and other chemicals. The mid-sized Robinson R44 helicopter has the capacity to carry up to 80 gallons of liquid, and pilots use GPS and flow-rate controllers to apply the right amount of chemical in the right areas. They also conduct aerial seeding operations.
---
Using thermographic IR cameras, helicopters provide valuable real-time information for firefighters, utility companies and rescue personnel. Light-duty helicopters like the Bell 212 are equipped with the technology to produce high-quality thermograms that can pinpoint hot spots in structural fires and degradation of solar panels or power lines.
---
When the environment is involved, people don't typically think of helicopters as being efficient. However, when an operation can take twice as long on the ground as it can from the air, helicopters can actually speed up operations - not only saving money, but also saving fuel and leaving less of an ecological footprint!
---
In the timber industry, precision and speed are important. Heli-logging is safer and more efficient than traditional logging. Stems are removed vertically, avoiding potential impacts to the environment or nearby pipelines or utility lines. With a heavy-duty helicopter like the S-64 Skycrane, production can reach more than 10,000 pounds of timber a month. Staying power to operate in hot conditions and at high altitudes without overheating. The Bell 212 is a popular helicopter choice for interior forest work. It can carry nearly 4,000 pounds externally and has a service ceiling of 20,000 feet.
---
The mining industry requires flexibility and stamina on the part of prospectors, investors and support staff. Helicopters play a vital role in the discovery and harvesting gems and precious metals. The survey areas to find a source, transport equipment and parts to the mining site and assist in long line and vertical reference slinging.
---
The use of helicopters in aerial photography has gone beyond the film industry. Real estate companies, developers and investors utilize aerial videography to market their holdings for sale or to scout new development areas using thermal or geophysical surveys. Government entities also study aerial films to predict potential flood zones, create topographic maps for conservation efforts and inspect areas for signs of seismic disturbance.
---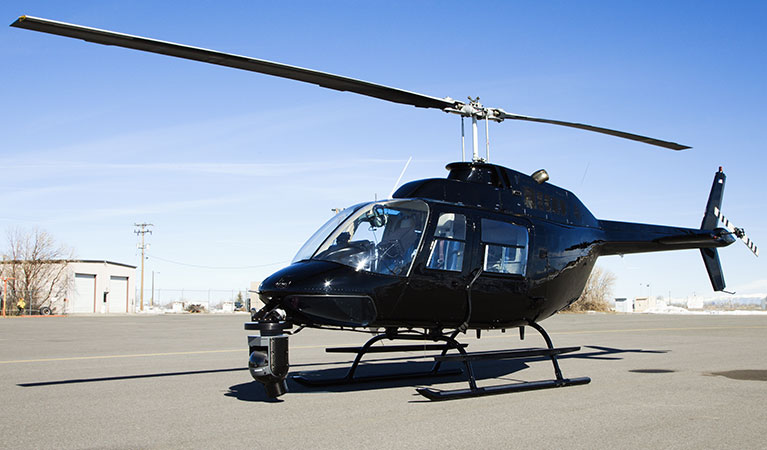 Helicopters offer precise, accurate, and swift solutions. This makes them perfect for time-sensitive operations. Rescuing, fighting fires, and lifting for what our aircraft do best!
---
Working largely over water, helicopters assist in the maintenance and construction of wind farms and oil/gas platforms, assist ships with daily operations, and transport cargo, equipment, and personnel to and from offshore rigs or vessels. FairLifts coordinates helicopter services using experienced pilots with the training to work safely in all environmental settings.
---
In the case of a wildfire, helicopters are important tools to slow the spread of an established fire by creating fire lines or firebreaks. Because they can be deployed quickly and make multiple trips to the source of a blaze, helicopters make the ideal transport vehicle for firefighting personnel and water to a site. They can also hover over hot spots and treat vegetation and brush ahead of the fire with a retardant to avoid spreading the wildfire any further.
---
Land that has been scorched by wildfires or covered in water often needs help to return the habitat it once was. Light-duty helicopters have the speed and maneuverability to locate areas of land that might need reseeded or fertilized to encourage new growth. Pilots can also spread retardant to areas that might be affected by nearby fires, or fertilizer to help crops flourish.
---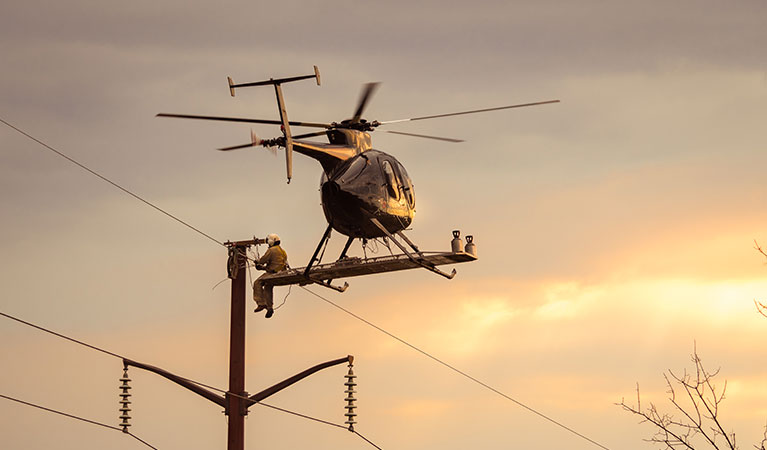 After a natural disaster, there is destruction. From individual homes to businesses and forest acreage, tornadoes, hurricanes, floods, fires, and other quick-hitting events can destroy whole communities within minutes. In situations like this, air travel might be the only way to enter and leave areas hardest hit. Mid-sized helicopters and aerial cranes are often used to remove large debris like tree trunks, crushed vehicles, and parts of homes.
---
It is popular for law enforcement and EMS to use helicopters for transporting people out of communities that have either: already been hit by or in danger of being affected by a disaster, flooding, wildfires, or hurricanes. Mid-sized helicopters like the MD500 are perfect for evacuations and other search and rescue missions because they are constructed to be able to travel into tight spots and maneuver over unpredictable terrain. The bubble window design also permits the pilot to see the surroundings even during a close approach.
FairLifts - Fighting the Good Cause from the Air
FairLifts Environmental helicopter services span every industry, from logging to law enforcement and all those in between. Our pilots are certified by the FAA and have the experience and insight to handle emergency situations quickly and efficiently. There are many environmental operations that we can handle, if you don't see your need addressed here, give our friendly customer service professionals a call today.
Need a helicopter for emergency response?