Search & Rescue Helicopter Services
Fast Response for Urgent Needs

For Search and Rescue Assistance
Call FairLifts at 1-800-318-8940 now!
Helicopter Service Capabilities
Search and rescue (SAR) helicopter pilots carry a lot of weight on their shoulders. Every mission is time-sensitive and requires intense concentration and multi-tasking abilities. Our pilots are well-trained, licensed and experienced in the industry. They excel in the stressful and often unpredictable chaos that ensues when there is a missing person or natural disaster. Helicopter pilots serve in many capacities during a search and rescue mission, including:
Survey Debris Fields for Survivors and Damage Reports
Evacuate Injured Subjects to Local or Designated Hospitals
Transport First-Responder Personnel into or out of a Disaster
Thermal Imaging of Densely Wooded Areas in the Search for Signs of Life
Deliver Supplies to Search Parties and Coordinating Teams
for more information on Helicopter Assistance
Call FairLifts at 1-800-318-8940 now!
Using the Right Tool for the Job: Choose Helicopters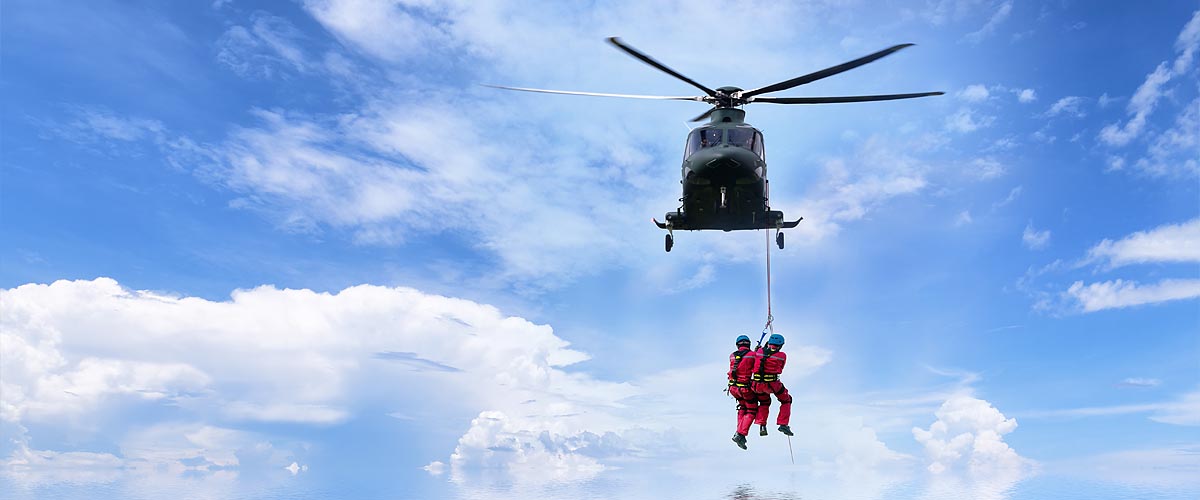 In search and rescue missions, helicopters that are both fast and easy to maneuver are vital to ensure the best possible outcome. That's why FairLifts has such a large pool of helicopters available. For searching densely wooded areas or for nighttime searches, added technology like thermal imaging cameras and specialized GPS systems is necessary to provide extra support to on-ground search parties and law enforcement.
FairLifts uses helicopters like the UH-1F, a light-lift helicopter that is also known as the "Huey." There are a number of variants of this style helicopter, but the small distinctions don't affect their use as transport and medical evacuation units. The cruise speed is 125mph, and it can hold up to six people on stretchers.
While heavy-lift helicopters don't typically take part in search and rescue surveillance, they do participate in other ways during missing person or recovery missions, often transporting equipment, personnel, and supplies to locations of a large-scale disaster. Helicopters like the Sikorsky S-64 Skycrane can be used in a search and rescue capacity by removing debris or structures that are getting in the way of the SAR mission.
---
---
With the ability to travel quickly into areas that prohibit bigger aircraft, search and rescue helicopters take on a large role in emergency response situations. They often help locate and transport victims from the scene of accidents or natural disasters by navigating difficult terrain and debris-laden areas. In some cases, EMS helicopters must land with limited space to evacuate victims of medical emergencies who live in rural areas.
---
Helicopters commonly used for search and rescue missions can also be used by law enforcement agencies to locate victims of crime or fugitives traveling through wooded areas. Additionally, compact helicopters like the MD500 and its relatives provide power and maneuverability along with the ability to take off and land from almost anywhere without sacrificing the safety of the crew and passengers.
---
Search and rescue support is one of FairLifts most common requests for helicopter service, but there are a plethora of other search/rescue-related events that often require the use of a professionally-trained helicopter pilot and crew. Government agencies, gas/oil industry leaders, the military and other entities often need surveillance, mapping, thermal imaging and other services that utilize the same process, or components of a SAR mission.
Helicopter Service Capabilities
It takes focus and commitment to be a helicopter pilot in a search and rescue scenario. Our pilots are specially trained to handle emergency situations with the same calm focus that they use for more mundane tasks, and many of them have had prior experience in search and rescue or natural disaster events. Don't underestimate the need for a qualified, flexible helicopter pilot and crew when performing search and rescue missions. In SAR and emergency response situations, time management is critical. You need a helicopter pilot who knows the procedures and can start the search process quickly. Our experienced pilots have hundreds to thousands of hours in the cockpit and are trained to handle emergencies of all types, from accidents to natural disasters and missing persons cases.
Get a quote for Search and Rescue Services!
Call FairLifts at 1-800-318-8940 now!
FairLifts is a professional provider of helicopter search and rescue services all over the country. From mass casualty accident scenes to natural disasters and missing person events, we have access to the helicopter that will best fulfill the needs of your organization or recovery effort. Our pilots are located all over the United States and can be deployed within hours of a phone call in most cases.
For Rescue Services via Helicopter, call 1-800-318-8940 now.